Defense CEOs to Examine the Future of the Industry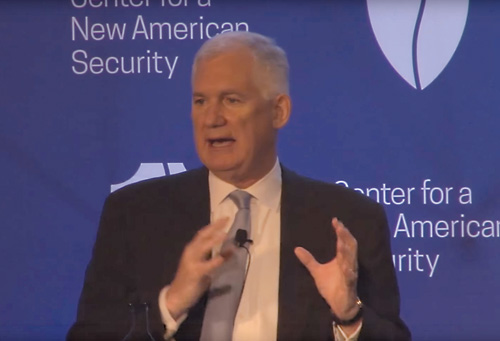 William Lynn
A group of defense CEOs will be working with a top Washington, D.C., think tank in the coming months to analyze the state of the industry and its relationship with the Defense Department as a new administration comes into office.
The project, called "Future Foundry: Forging New Industries for Defense," is led by the Center for a New American Security. The plan is to "develop and articulate a positive vision for healthy collaboration between the Department of Defense and its partners from multiple industries," said a CNAS news release.
William J. Lynn, CEO of DRS Technologies and former deputy secretary of defense in the Obama administration, is one of the co-chairs of the project, along with Sean O'Keefe, former CEO of Airbus Group Inc., and former administrator of NASA in the George W. Bush administration.
"Our goal is to study the defense industrial base, and where it is going in the next five to 10 years," Lynn said in an interview.
The study is being launched at a time of growing concern in the Defense Department about its access to technological innovation and the implications of corporate realignments in the defense sector.
"There will be shifts in the industrial base," Lynn said. Disruption already is happening as companies consolidate into fewer players and become more globalized, he said. Another force of change is the increased demand for technology in the defense market that is being developed outside the defense sector.
"The future structure of the defense industrial base will have to have a larger commercial element," Lynn said. "That could mean commercial companies entering the defense industrial base or existing companies expanding into the commercial space, or some hybrid of that," he added. "We still don't know. We need to examine that."
The study is scheduled to be completed by fall, said Lynn. One of the likely conclusions is that, as the industry changes, the Pentagon is "going to have to take a different approach to competition," he said. "There will be only one or two vendors that will be qualified to build major categories of weapon systems, but in other areas — like information technology, communications and robotics — there is "robust competition," said Lynn. "On the platform side, they'll have to be more creative to have competition." Some efforts already are under way at the Defense Department to address this problem, but the CNAS study will look further into the future. "How do we set ourselves up for the trends that seem to be accelerating?" With increasing worries about the United States maintaining its military edge, this will be an important discussion, said Lynn. "We're at an inflection point. The structure of the defense industrial base is under pressure to change."
CNAS said the project will "take advantage of the momentum currently surrounding acquisition reform" and lay out issues for the next administration.
During a congressional hearing last week, Pentagon officials predicted that the technology and innovation dilemmas that bedevil the Defense Department are going to be long lasting.
"I'm sure that any transition team for any administration to come is going to face the same set of challenges that we face today," Stephen Welby, assistant secretary of defense for research and engineering, told the Senate Armed Services' emerging threats and capabilities subcommittee. "This is not driven by personalities. It's driven by the nation's need to refresh our technology," Welby said.
The Pentagon's focus in the near term is to reform its acquisition process so it can attract fresh talent and new suppliers, Welby said.
"We've been challenging ourselves to be able to move faster especially at that cutting edge of new technologies," he said. "We've been looking for ways to be able to engage new partners in time lines that might be measured in weeks rather than months and often a year to contract."
Many of the companies the Pentagon would like to work with see little incentive to bid on government contracts, he added. "If there's no return on that, they would rather focus on commercial sector engagements." Defense officials intend to turn that around by using more streamlined acquisitions and proposing "new ways to bring technology into platforms and systems." In the future, said Welby, "we won't see 30-year development programs in anything. And adversaries will have counter measures prepared a decade before we field something if that's the case. And so, we need to up our game in terms of speed."
The testimony of William Roper, director of the Pentagon's strategic capabilities office, suggests that the government is acutely aware and concerned about the changing industrial landscape worldwide.
"The impact of commercially available technologies is going to be large," Roper said. "It's also going to be available to everyone. And so this is going to force the department as well as our adversaries and competitors, it's going to force us to become fast adapters."
Roper cautioned that the Pentagon is not just seeking innovation at any price. The "third offset" strategy — focused on the development of next-generation weapon systems to counter future enemies like Russia or China — is about trying to avoid the "exquisite requirements" problem that has made many weapons unaffordable, Roper said.
"Cost is going to be a very important metric in the offset," he said, both the cost to the U.S. military and the cost to the enemy. "What are we spending, what are they spending and, then, what do we think the refresh rate of that technology will be? … If we're wise, we will try to find capabilities in the commercial world where we're getting good bang for the buck. Is it something we can share with allies and partners? If we can, then our coalitions that we build play for us and not against us."
Photo: CNAS
Topics: Defense Department, Infotech, Procurement, Robotics