SOCOM Spending Data Shows Heavy Reliance on Private-Sector Services (UPDATED)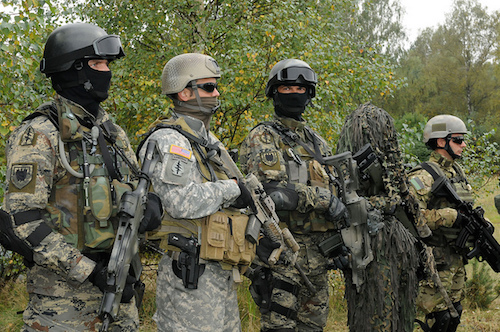 International special operations forces in a training exercise
U.S. Special Operations Command — with about 10,000 forces deployed around the world on any given day — draws heavily on the private sector for jobs like logistics support and information technology services.
New data show that most SOCOM unclassified spending is on logistics and IT support such as cloud computing and other information-focused services, according to a report provided to National Defense by thecontracting analysis firm Govini, in Arlington, Virginia.
Analysts came to the conclusion that much of SOCOM technology development and procurement contracts are either classified or pale in comparison to spending on services. Equipment purchases — based on subcontractor data — reveal significant investment in body armor.
SOCOM spending choices dovetail with its missions — agile, light-footprint operations such as counterterrorism campaigns in the Middle East and training foreign troops. "The majority of SOCOM spending over the last five years has been on supporting operations, not R&D," the Govini report said. The predominant spending categories are logistics, communications, signals intelligence and enterprise information technology. In a recent "broad agency announcement," SOCOM hinted at future acquisitions in areas like biometrics, embedded communications, sensors and vehicular technologies.
The numbers also reflect the fact that SOCOM doesn't develop systems like the conventional military, but takes existing equipment and adapts it. From about $15 billion in unclassified contracts awarded between fiscal years 2010 and 2015, Govini estimated, less than $1 billion was for research and development. The rest went to logistics support and professional services.
These spending trends have implications for contractors at a time when the services-focused sector is undergoing realignment. Lockheed Martin Information Systems & Global Solutions, which was recently sold to Leidos, did about $2 billion worth of business with the Special Operations Forces Support Activity over the last five years. "Recent M&A activity will have a big impact on the competitive landscape with the recent acquisition of Lockheed Martin IS&GS by Leidos and L-3 NSS by CACI," noted the Govini report.
A Lockheed Martin spokeswoman challenged the analysts' assertion that the company's logistics support work for SOCOM is likely to transition to Leidos. 'The SOF CLSS contract remains an important part of Lockheed Martin as it has and currently does fall under our fire control/SOF CLSS line of business," she said in a statement.
Govini CEO Eric Gillespie said in response: "This work was very clearly awarded to the IS&GS division of Lockheed, which was sold to Leidos. It's a natural assumption that it would be transferred to Leidos as part of the sale; however, Lockheed's retention of the SOF CLSS work is an example of corporate cherry-picking where a division is sold, but the seller holds on to choice pieces of that business because of profitability, visibility or strategic importance for other parts of the business."
Lockheed's contractor logistics support to SOCOM included equipment maintenance, infrastructure support and business processes. This work has likely transitioned to Leidos. L-3 Communications had significant work supporting "enterprise IT," Govini said. "The CACI acquisition of L-3 NSS significantly boosted its presence as a SOCOM prime contractor."
Govini's data reveals that body armor is bought primarily through subcontracts, with Point Blank representing nearly 50 percent of subcontract purchases. Small businesses like Future Technologies and Courage Services provide services to SOCOM through the "global battle staff and program support services" program.
The SOCOM market also was examined last month by Bloomberg Government analysts. BGOV estimated the command had $2.8 billion in contracting obligations in fiscal year 2015. Services, according to BGOV, represented 62 percent of the command's fiscal year 2015 contract obligations.
The Obama administration has put SOCOM at the center of its strategy to combat terrorist groups, and the command draws much of its funding from the war budget, or "overseas contingency operations" accounts. The president's fiscal year 2017 defense budget request includes $10.3 billion in base funding for SOCOM, a 2.3 percent increase from 2016.
SOCOM is widely viewed as being a more nimble buyerof equipment and advanced technology than the conventional military. It is drawing the attention of many small businesses, particularly, since the opening of the SOFWERX technology outreach and prototyping facility in Tampa.
Before he departed SOCOM to run U.S. Central Command, former Special Operations Commander Gen. Joseph Votel told lawmakers during a March 2 House Armed Service's emerging threats subcommittee hearing that he believedSOFWERX would "help identify solutions faster."
"It provides us a publicly available platform where we can bring operators, members of academia, members of industry, a variety of others into our spaces and we can collaborate on problems," said Votel. "We're able to take advantage of technology, laser printing, other things that are right there for us to do rapid prototyping. Rapid prototyping, I think, is one of the biggest lessons that we have learned out of this," he added. "We can address hard problems. And as we look at the solutions that industry provides to us we can provide them immediate feedback from an operator." This approach, said Votel, is changing the way SOCOM buys technology. "It's much more collaborative, much more focused on rapid prototyping and much more focused on being open and available to industry and academia."
EDITOR'S NOTE: This story was updated with comments by Govini CEO in response to Lockheed Martin's statement on logistics work being transitioned to Leidos.
Photo: U.S. Army
Topics: Special Operations-Low Intensity Conflict, SOF Training, SOF Weapons Systems, Logistics