Launch Industry Rivals Spar at Space Symposium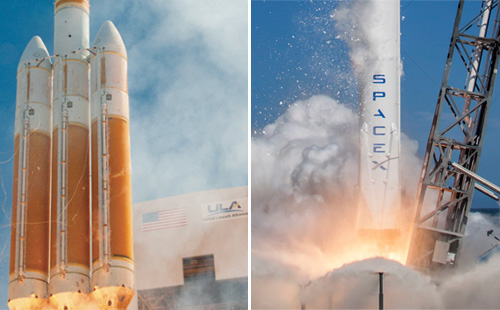 COLORADO SPRINGS, Colo. -- Rival engine manufacturers and launch providers squared off at the last panel discussion of the Space Symposium April 14 with long-time manufacturer Aerojet Rocketdyne and upstart Blue Origin touting their respective rocket engines and the presidents and CEOs of rivals SpaceX and United Launch Alliance exchanging barbs.
Ten company leaders of the red-hot launch industry participated in the panel, including new starts that have yet to launch any spacecraft and entrenched providers such as ULA, Arianespace, and International Launch Services.
Audience members at the annual symposium have come to expect pointed exchanges between SpaceX's Gwynne Shotwell and ULA's Tory Bruno, and this year's panel lived up to expectations, although the comments were more tempered than in the past.
A question on whether space launches will ever be common enough to where they are considered commodities provoked an exchange, with Bruno maintaining that lofting heavy payloads will never be commonplace.
"Commodities are tires, commodities are cars, commodities are things like that. None of those items involve a million pounds of high explosives in a circumstance where years of work and hundreds of millions of dollars in investments can disappear in a fireball in less than 10 seconds," he said. "We are going to have a wonderful, vibrant competitive marketplace for space but heavy lift is never going to be a commodity," he said.
Shotwell replied that the airplane industry was seen in the same way a century ago. "If we say we can't do it, then we won't do it and that is a mistake. It is a significant emotional event every time you lift off, but I really look forward to the time when it is not. When we have figured almost everything out that you can and we look at rocket reliability like airline flights."
Shotwell added: "Tory, I'm not saying that this isn't going to be hard. I just think to brush it away and say 'it is not possible and will never be' is doing a disservice to the industry."
Bruno said comparing a passenger jet to an airliner is a poor fit. "Once that engine ignites and leaves the pad, there is no second chances. There is no emergency landings. There is no ability to recover from that."
Shotwell replied that the crewed capsule program for NASA has a requirement to protect astronauts in the event of a catastrophic failure. "We can continue to think about ways to protect payloads on those unfortunate days."
A question on whether the two companies would ever work together on a project elicited laughter from the audience and an immediate response from Shotwell: "I don't see that." But even this resulted in disagreement.
Bruno could see it. "As far as a business opportunity where we could collaborate, I wouldn't rule that out. There is a long tradition in the aerospace industry of something we call compet-imates. There are places where we compete and there are places where together we can make a stronger offering."
Amazon Founder Jeff Bezos' Blue Origin rocket manufacturer and engine maker Aerojet Rocketdyne were two other rivals on the panel. The two companies are vying to develop an alternative to the Russian-made RD-180. Congress and the Obama administration asked the Air Force to develop the alternative in the aftermath of Russian aggression in the Ukraine.
Eileen Drake, chief executive officer and president of Aerojet Rocketdyne said the company has a laser focus on affordability as it develops it's AR-1 replacement for the RD-180 engine.
"In developing our AR-1 engine, we have specifically chosen a proven propellant, a proven engine cycle and a proven design methodology to make sure we minimize any risk to [the] schedule," Drake said.
"We are doing this through affordability by implementing state-of-the-art techniques," she said. It is using additive manufacturing "where it makes sense" across the entire portfolio of subcomponents, she said.
Robert Myerson, Blue Origin president, said its BE-4 will be the best alternative because work on it already began four years ago. It takes seven years to develop a rocket engine and that timeline cannot be shortened. It can also quicken the development time because it owns its test facilities — as opposed to a government facility — so work can be done faster. "We have shown that we can operate five times faster in our own test facilities over government facilities."
And with a single shareholder in the company (Bezos), Meyerson said decisions can be made rapidly.
Gen. John Hyten, Air Force Space Command commander, told reporters earlier in the day that the newly emerging launch industry is good for the Air Force. "Look at all the options out on the table that if we just encourage industry and continue to support industry, are very likely to become available as we go into the next decade."
"What we need to do from a long-term perspective is to encourage this industry to continue to blossom," he said. That can be accomplished with continued engagement with the private sector launch companies and public-private partnerships.
However, the Air Force has to make a bridge from now until that day when all these efforts come to fruition by continuing to use the RD-180 engine. "That is why we continue to be consistent in saying the continuing use of the RD-180 to handle the bridge period is the most cost-effective way for the taxpayer," he said.
Photo Credits: ULA, SpaceX
Topics: Space