Air Force, Intel Community Developing New Vision for How to Fight Adversaries in Space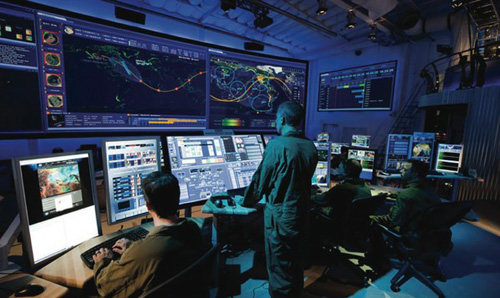 COLORADO SPRINGS, Colo. -- Air Force Space Command, Department Department agencies and the intelligence community are coalescing around a new "space enterprise vision" in order to thwart potential adversaries in the realm called "the ultimate high ground."
Leaders speaking at the Space Symposium here this week spoke more plainly than in previous years about the concrete measures being taken to deter peer competitors such as China, Russia and a small host of other nations such as Iran and North Korea, all of which see U.S. space assets as a prime target in any major conflict.
Deputy Defense Secretary Robert O. Work earlier in the week said it must be assumed that any war on Earth will extend into space, where the U.S. military relies on satellites for communication, remote sensing and navigation and timing. He acknowledged without going into details that the United States has space weapons of its own, and said if attacked, the nation will respond in kind.
"As long as you continue to look at space as singular stove pipes, we won't build the right things that we need for the future. So we fundamentally have to figure out how to do business a different way," Space Command Commander Gen. John Hyten told reporters April 14. The Air Force and National Reconnaissance Office are working together on this vision, he added.
The effort will take a great deal of new information technology systems to replace the antiquated computers airmen currently rely upon to do command and control, military leaders said.
The most important item on the to-do list is the ongoing effort to modernize the Joint Space Operations Center, the Air Force's command-and-control center, Hyten said. "It was designed in the '80s, deployed in the '90s and we still operate on that database today."
"We have had some challenges with that program but we have to deliver that capability because it allows us to get off that legacy ... system and move into the future," he said. The new open architecture system should allow changes as they come available through prototyping, commercial offerings and incremental changes. The idea is to get out of the seven-year acquisition cycle that makes the system out of date by the time it is delivered, he said.
This JSPOC mission system will become a new battlefield management command-and-control system, he said. The effort has about $2 billion allocated toward it, he added.
Adm. Cecil D. Haney, commander of U.S. Strategic Command, said, "We have to get more automation into the business. ... How can we better command and control our precious assets that we do have up there? And that requires some sort of a system that helps us be more effective and efficient to do just that. That requires the ability to see [and] understand the environment, to understand what's going to happen, or what has happened," he said. That requires as much automation as possible, he added.
For example, the system airmen and analysts use to catalogue objects in space is cumbersome, and not particularly user friendly. They need the ability to pull information and fuse it in a timely manner, he said.
This goes beyond the term "common operating picture," where all parties are seeing the same information. Each operations center should have data fused and tailored to their needs in an automated fashion, he said.
For example, when doing collision avoidance analysis for space objects, a screen should start "pulsing" to alert an analyst that there might be a problem, then if the information is validated and automatically transmitted out to commercial operators, allies and those who need to know, he said.
The Defense Department and intelligence community have stood up two entities over the past year. The Joint Interagency Combined Space Operations Center (JICSpOC) at Shriever Air Force Base in Colorado, brings together the military and spy satellite communities to run experiments to make command, control and communication in the event of conflict in space more efficient. The Joint Space Tactics and Doctrine Forum, a council of senior leaders in the military and spy satellite realm, brings the same communities together with the goal of making space systems more resilient, and to write requirements.
Haney said the two entities are working together. He was meeting this week with National Reconnaissance Office Director Betty Sapp, his co-chair of the forum, to go over a recent experiment conducted by JICSpOC. "We will review some of the lessons learned ... from the last experiment we had and also review and approve the way forward with the next experiment so they are completely intertwined."
Hyten said one example of the old way of doing business is an analysis of alternatives on the next generation of protected communications satellites that Space Command took four years to produce.
The terms of reference were written in 2012, he said. "The world changed underneath the AOAs," he said. Space Command has employed a "tiger team" to coordinate new requirements for satellite communications and to integrate its findings into the new vision for space, he said.
Photo Credit: Air Force
Topics: Space