Industry Mergers: DoD in Uphill Fight Against Market Forces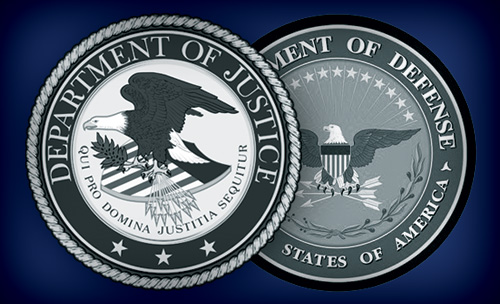 An unusual joint statement by the federal government's antitrust agencies assured the Pentagon that national security concerns weigh heavily in the review of defense industry mergers.
A forceful declaration the Department of Justice and the Federal Trade Commission issued April 12 headed off the prospect of a contentious interagency feud. A protracted bureaucratic battle would have been set off by aDefense Department effort to introduce new legislation that would have given DoD more powers to block mergers.The Pentagon announced soon after the statement was released that it would back off its pursuit of a legislative fix.
Industry watchers told National Defense that they were surprised by the DOJ-FTC move. It was no secret that the Pentagon's push forlegislative action was prompted by the acquisition of helicopter manufacturer Sikorsky by the nation's largest defense contractor Lockheed Martin Corp. The transaction cleared a federal antitrust review after regulators concluded the merger would not weaken market competition as Lockheed was not a helicopter manufacturer. Pentagon weapons acquisitions chief Frank Kendall, however, was outraged by the implications of the takeover, and complained he was not given enough time to make a case against it on grounds that the government was allowing defense contractors to become too big and powerful.
In the joint statement, the DOJ and FTC insisted that competition is "especially critical when it comes to America's defense industry, which provides the equipment and supplies that our men and women in uniform rely on every day."
Government contracting attorney Kathy Brown, a partner at the Washington, D.C. law firm Covington & Burling, said it is rare to see these interagency discussions aired publicly. The threat that Kendall would follow through with his plan to go to Congress was taken seriously by both the DOJ and the FTC , Brown said in an interview. "It's their way of saying to DoD, 'We hear you, we understand what you're saying. But our existing processes do exactly what you're trying to fix with your draft legislation.'"
Defense industry mergers tend to be highly scrutinized and the Pentagon historically has had a say in every transaction since the current review process was put in place in 1994. Pentagon concerns usually are addressed behind the scenes, or even before a merger or acquisition is announced. The Pentagon's vocal criticism of the process last fall was unexpected.
The interagency truce, at least for the time being, should "provide some comfort" to defense contractors that mergers and acquisitions can go forward, albeit "under the right circumstances," said government contracting attorney Scott Freling, also a partner at Covington.
The reality is that the defense sector — especially in the middle tiers —is ripe for consolidation, and the Pentagon will have to play by the rules, Freling said. "We've seen a lot of M&A activity in the last two years in the defense industry. I'd expect it to continue."
Brown noted that the joint statement's acknowledgement that DoD plays an important role in antitrust reviews only emphasizes what defense contractors have always known. But with no DoD legislative effort on the horizon, companies now have some assurance that there will not be "huge perturbations in how mergers are reviewed," she said.
Top defense contractors are ready to start buying companies, Brown said. "The big guys have been sitting on their cash reserves. Sooner or later the dam is going to burst." Mid-size contractors will either be targets of acquisitions by bigger players or will pursue lateral mergers as they try to bulk up in order to compete in an increasingly cutthroat environment.
If Kendall had continued to stay on the path of a legislative fix, he most likely would have not gone far, said Brown. Any proposal would have had to be submitted to the Office of Management and Budget for clearance throughout the executive branch. Antitrust rules cross many jurisdictional committees and "tread on many toes," so the Defense Department's chances would have been slim, she added. Even if OMB had given the green light, the proposal would have faced a messy oversight scramble on Capitol Hill by judicial and defense committees. With a short legislative calendar this year, any action before the end of the Obama administration would have been short of a miracle.
Brown pointed out that Kendall publicly disavowed any link between the approval of Lockheed Martin's acquisition of Sikorsky and his "somewhat strident calls for greater DoD authority in the merger approval process, although it is generally accepted that the Lockheed/Sikorsky transaction was the tipping point." The joint statement "appears to be the antitrust regulators' collective response to the DoD move for statutory approval authority." The statement "reassures DoD and the public that the antitrust agencies are aware of the DoD concerns and not only are they well-positioned to address those concerns, but they have been doing so."
Topics: Business Trends, Mergers and Acquisitions, International