Airbus Seeks to Increase Exports of Made-in-USA Helicopters (UPDATED)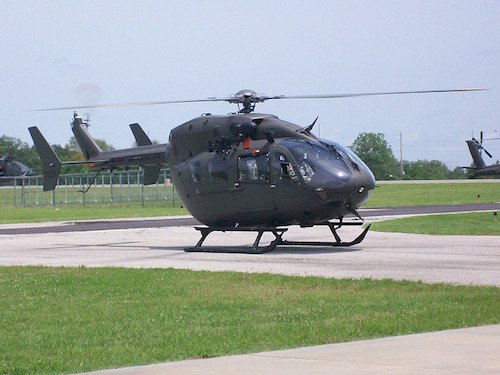 The UH-72A Lakota light utility helicopter
Airbus is stepping up international marketing of the Lakota helicopter that the company has been producing for the U.S. Army in Columbus, Mississippi, for nearly a decade. Lakota production is scheduled to end in 2019, and company officials are looking to foreign buyers to help keep the line open.
So far Airbus has delivered approximately 350 UH-72A Lakota light utility helicopters of an expected total Army buy of 437. With production at a rate of 25 to 30 per year, the Columbus plant could run out of work by 2019 unless new orders are signed relatively soon. The company would need to build at least 15 to 20 helicopters annually to keep the plant in business.
Over the past several months, executives at Airbus Helicopters in Grand Prairie, Texas, have "really focused on foreign military sales," said Ryan Denton, senior manager of business development. The company has deployed a team of executives around the world to market the Lakota, Denton said in a recent interview.
The first overseas customer, Thailand, has bought six, and there is potential for more orders as the country decides if and when it will replace its entire fleet of nearly 100 aging UH-1H Hueys. Airbus is eyeing other countries that have large Huey fleets — Colombia, Turkey and South Korea primarily — as potential customers for the twin-engine Lakota. Denton estimated there are roughly 1,000 Vietnam-era single-engine Hueys around the world, some of which could be candidates for replacement.
The U.S. Army is teaming up with Airbus to promote the aircraft to friendly countries' military forces, as it does with other U.S. helicopter manufacturers. The more foreign buyers, the lower the cost for the United States, said Denton. "They're absolutely behind us in our efforts to market the Lakota."
The company's senior leaders have made no decisions yet on what they will do with the Columbus assembly line if and when Army production ends. It would be a "long shot" to expect that the facility can stay open after 2019 without a mix of foreign and U.S. orders, said Denton. "Airbus could move other work there," he added, including more commercial helicopters, although that market is now in a slump. Airbus started producing the commercial H125 single-engine helicopter in Columbus in 2013. That line requires about 50 aircraft a year to operate efficiently.
The company's U.S. sales have dropped from almost a billion dollars at its peak several years ago to about $750 million. Foreign military sales would bring a considerable boost to revenues because they come with lucrative spares and training services packages. Hypothetically, a sale of 10 brand-new Lakotas — each estimated to cost between $5 million to $6 million — could result in $100 million in revenues under an FMS deal.
On the U.S. military side, Airbus is counting on new business from upgraded equipment for the Lakota. The Army National Guard, for instance, operates a "security and support" version that has more advanced surveillance sensors for use along the border with Mexico. The company also is offering a new "health and usage monitoring" system to the Army. "We'd like to get the entire fleet equipped with HUMS," said Sebastien Delmaire, vice president of business development and strategy at Airbus Helicopters.
Airbus' congressional backers have expressed concern about Lakota production winding down, and what that means for the future of the plant's 200 workers. During a hearing of the Senate Armed Services Committee last week, Sen. Roger Wicker, R-Miss., challenged Army officials for not requesting funding for the Lakota in the fiscal year 2017 budget.
"Should you lose your UH-72 production capability, what is the Army's long-term plan to replace or conduct major repair and overhaul of the Lakotas if there is attrition or loss due to unforeseen accidents down the road?" Wicker asked.
Army Deputy Chief of Staff Lt. Gen. John M. Murray, noted that no money has been requested in 2017 because current requirements were met as of 2016. "Basically, we bought what we needed," said Murray. A blue-ribbon national commission on the state of the Army recommended the service buy an additional 17 Lakotas for pilot training at Fort Rucker, Alabama. That would require more money from Congress.
There has been speculation in the industry that Airbus will pitch a militarized version of its H145 commercial helicopter as a future replacement for the Lakota. The average age of the Lakota fleet is about four years. The first aircraft were delivered in 2007 and the bulk of them have been in service since 2010. So it is still a relatively young fleet. Down the road, Airbus would offer the H145, which hasbigger engines, as an alternative to investing in upgrades to the Lakotas. Germany has bought militarized H145s for use by its special operations forces.
Airbus officials declined to comment on the potential U.S. market for the H145. The Army has not made any public statements about its interest or lack thereof in the aircraft. Like the Lakota, it is a commercial-off-the-shelf rotorcraft, with performance and systems enhancements. Airbus has promoted the H145 as an example of commercially funded development from the original BK117 to EC145, from which the Lakota is derived, and then became the H145. The company would make the case to the Army that many of the technologies it wants already have been brought to market and the Pentagon thus could save money on costly research and development.
Correction: An earlier version of this post reported an inaccurate age of the Lakota fleet.
Photo: Army
Topics: Aviation, Rotary Wing, International, Logistics, Manufacturing