Tactical Wheeled Vehicle Programs at Critical Juncture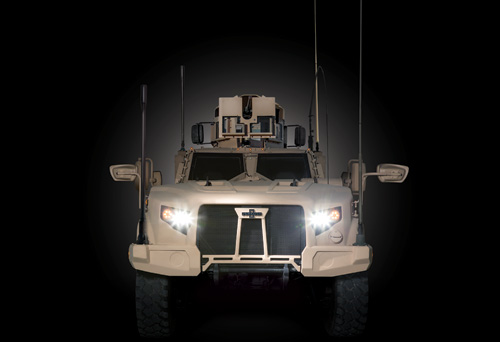 Selected JLTV vehicle
The U.S. military is trying to modernize its ground vehicle fleet after more than a decade of war by buying new trucks and upgrading or divesting older models. Procurement priorities include the joint light tactical vehicle and the ground mobility vehicle, while the Humvee and the mine-resistant ambush protected vehicles are getting a facelift.
Meanwhile, concerns have been raised about the state of the fleet. The National Commission on the Future of the Army, an independent panel created by Congress to examine the service's plans and needs, released its final report in January.
"The plan for readiness in tactical mobility is one area that is alarming," the report said. "Commissioners received numerous reports from soldiers and commanders about tactical wheeled vehicle shortages."
The commission called on the Army to provide Congress with an assessment of risks in current and planned tactical mobility, including the costs and potential tradeoffs for closing significant readiness gaps.
The service will comply with that request, Lt. Gen. John Murray, deputy chief of staff, G-8, told lawmakers.
"Our numbers don't necessarily agree with the commission's report," he said. "For both the light, the medium and the heavy we're showing excess wheeled vehicles. … We've got some work to do to figure out where the disconnect is, and we're looking at that right now."
Production work on the joint light tactical vehicle was paused for three months last fall after competitor Lockheed Martin protested the Army and Marine Corps' decision to award the lucrative contract to Oshkosh. In December, the Government Accountability Office lifted the work stoppage order and Lockheed decided to take its protest to the Court of Federal Claims.
Lockheed backed down after the court denied the company's request for a preliminary injunction in February. In a short press release on Feb. 17, Lockheed said: "After careful deliberation, Lockheed Martin has withdrawn its protest of the JLTV contract award decision in the Court of Federal Claims."
When asked why the decision was made, Lockheed spokesman John Kent said in an email: "We're not currently in a position to discuss this issue beyond the information contained in our statement."
In a press release following Lockheed's announcement, Oshkosh noted that it is now "clear of the legal challenge."
The joint light tactical vehicle is the Army's top truck procurement program. In fiscal year 2016, the Defense Department is buying about 800 of them for the Army and Marines, and the Pentagon expects to procure more than 2,000 JLTVs in fiscal year 2017. Over the next five years, the services plan to buy more than 17,000 at an expected cost of $6.9 billion.
The delivery schedule for the next tranche of vehicles has slipped due to Lockheed's protest and the government-ordered work stoppage.
"We'll be beginning to deliver vehicles at the end of the summer instead of in the middle of the summer," said John Bryant, senior vice president of defense programs at Oshkosh Defense.
The program is in a position to recover from the delay, he said.
"The overall schedule of the JLTV program … represents a fairly slow ramp up to a full-rate production and to full-rate production quantities," he said. "There are a number of opportunities within the fairly deliberate overarching program schedule to save schedule and to save time, and there are many opportunities to accelerate."
In its latest budget request, the Marine Corps cut 77 joint light tactical vehicles from the planned buy in fiscal year 2017 — a 29 percent reduction — in order to protect funding for the amphibious combat vehicle and other capabilities.
The service is still committed to the program, said Marine Corps program executive office land systems spokesman Manny Pacheco.
"The Marine Corps made some adjustments to ensure affordability across its modernization portfolio," he said in an email. "The 77-vehicle reduction will be realigned later in the procurement cycle to ensure that the Marine Corps fully fields its objective of 5,500 vehicles. … It remains a priority for the Marine Corps to fill a critical capability gap."
Oshkosh isn't worried about the cut, Bryant said.
"We're not concerned," he said. "They haven't reduced their commitment to the program … [and] the overall quantities that they seek have not changed."
In its 2017 budget request, the Army asked for about 1,000 more vehicles than they had planned to buy when the previous budget request was released, Bryant noted. "The slight reduction in Marine Corps quantities was way more than offset by an increase in Army quantities."
The JLTV is a troop transport that is expected to be more heavily armored than the high mobility multi-purpose wheeled vehicle, or Humvee. The Pentagon plans to buy 55,000 of them for the Army and Marine Corps, and the program has an estimated value of about $30 billion.
James Hasik, a military vehicle expert at the Atlantic Council, is skeptical that the U.S. military will end up procuring the planned number of joint light tactical vehicles because the requirement for well-armored trucks has been overstated.
"I don't think they're ultimately going to get to [55,000]," he said. "If you can cover 150,000 troops [in Iraq and Afghanistan] with 10,000 blast-protected 4x4s, then why would you buy 50,000? The reason you would buy 50,000 is because you were going to invade China or fight the Russians in Poland or something like that, and if you do that, landmines are probably not going to be your number one problem."
Another truck project shifting into higher gear is the Army's ground mobility vehicle, an ATV that would sacrifice armor for speed and mobility to close what Army officials have identified as a capability gap for light infantry airborne forces. The Army is requesting $5 million in fiscal year 2017 to procure 10 GMVs. Over the next four years, the service plans to buy 120 at a cost of $30 million. Current plans call for the Army to ultimately buy 250.
The analysis of alternatives is ongoing and should wrap up this summer, said Jennifer Johnson, the Army's provisional deputy product lead for the ground mobility vehicle.
A number of companies have expressed interest in pursuing the GMV contract and have participated in platform performance demonstrations hosted by the Army. The service expects to award a contract in the second half of fiscal year 2017.
"We are looking at multiple capabilities, so from a 5-man to a 9-man [truck] and even some Humvee changes in this analysis of alternatives," Johnson said.
The 10 vehicles procured in 2017 will be for low-rate initial production and they will be used for production qualification testing, she said.
The Army aims to equip units with the vehicles in fiscal year 2019.
Despite its relatively low price tag, Hasik said the program could still be at risk going forward. "I would not actually say, 'Oh, it's small therefore it will survive,'" he said. "I think that the budget people could go through and kill lots of little stuff in order to try to free up a couple extra bucks for something."
While procurement is slated to ramp up for the JLTV and GMV, there is no new procurement funding for the Humvee in the Army's 2017 budget request. The service also did not budget for maintenance of the vehicle above the field level, Army spokesman Dov Schwartz said in an email.
"Field level sustainment is funded through operations tempo … dollars provided to units, and is not discernable [in budget documents] by equipment type or vehicle," he added.
The Marine Corps' Humvee sustainment modification initiative procurement program has already been canceled as the service waits for JLTV to come online.
But the U.S. military still possesses more than 100,000 Humvees in its vehicle fleet, and manufacturer AM General has existing contracts with the Army and international partners for procurement of trucks and parts.
The company has been working with the National Guard and Red River Army Depot in the refurbishment and upgrade of older models that are expected to remain in the fleet for decades. Congress appropriated $100 million in fiscal year 2016 for the Army National Guard's Humvee modernization program.
"We've been able to do a recap … and do an upgrade to the suspensions, the powertrain in order to bring those vehicles up" to the condition they need to be in, said Lt. Gen. Michael Williamson, principal military deputy to the assistant secretary of the Army for acquisition, logistics and technology, during a recent House Armed Services subcommittee on tactical air and land forces hearing. "As I look at '16, '17 and '18, that funding [provided by Congress] has given us a great ability to upgrade over 400 vehicles in the Reserve and about 1,000 in the National Guard."
The effort is "a great example of the public partnership that we've had with industry and with our organic industrial base," he added.
In September, the company was awarded a six-year $428 million contract for new Humvee ambulance chassis vehicles intended to support Army National Guard and Reserve domestic disaster relief efforts.
Despite the lack of new procurement in the Army and Marine Corps' 2017 budget plans, Hasik sees a bright future for AM General's Humvee business because of the vehicle's wide international use in about 60 countries.
"There are a hell of a lot of Humvees in the world," he said. "If you operate in places where you're not rolling over lots of landmines, there are a lot of happy customers. … They're the one producer, so they've got this ginormous installed base."
Another U.S. military truck program that is not seeing much new procurement is the mine-resistant ambush protected vehicle, or MRAP. The Army decided to keep 8,500 trucks — roughly 3,000 Navistar-built MaxxPros and 5,500 Oshkosh-made M-ATVs — while divesting itself of the rest of its inventory.
"Right now their main focus is getting the vehicles back and resetting them to a common configuration," said John Akalaonu, senior program manager for the MaxxPro family of vehicles at Navistar.
The company's MaxxPro revenues from the U.S. government over the past few years have been tied to doing the reset and upgrades, he said.
For fiscal year 2016, lawmakers appropriated more than $400 million for Army MRAP modifications. Navistar is on contract to reset another 785 MaxxPros and the company is pursuing another potential deal, Akalaonu said.
"There's still roughly 800 trucks unallocated between us and Red River as to who is going to reset those," he noted. "Right now we're working on a contract with the government to add roughly half of those trucks to our scope of work."
If Navistar lands that award, it expects to complete its reset work by the middle of next year. If not, it will be finished this summer, Akalaonu said.
The company is also pushing forward with other MRAP activities.
"We continue to have very strong parts sales to support the fleet of trucks that are still sitting out there and running around in theater," Akalaonu said.
Navistar is supporting the Army's transition of the MRAP to a program of record. The company is creating manuals and carrying out sustainment efforts necessary for the service to be able to provision parts and order spare parts in the Army system, Akalaonu said. "I call it cleaning up after the parade a little bit, getting all those things in place."
The company is also courting international customers. Some of the trucks that the Army chose not to keep have been transferred to foreign allies as part of the excess defense articles process. "There have been opportunities there as these different countries are getting new vehicles, or new-to-them vehicles … for providing support, spare parts, training, different things like that," Akalaonu said.
Pakistan is buying new MaxxPros through the U.S. government foreign military sales process, he noted. The company is also helping the United Arab Emirates conduct a MRAP reset similar to that of the U.S. Army, he said.
"There's still a lot out there from an FMS perspective," he said. Meanwhile, the company continues its work with the Army.
"It's not … the billion dollar contract every other month that you maybe saw back in 2009, but still significant numbers and it's a lot of smaller opportunities that are cumulatively very lucrative," Akalaonu said.
Oshkosh is performing reset work on its M-ATVs. The 1,260 vehicles the company is on contract for will be completed this fiscal year, Bryant said.
"They come to Oshkosh in varied condition and Oshkosh inspects them, tears them apart, replaces all the parts that need to be replaced, and returns them to issuable condition and delivers them back to the customer," he said.
Like Navistar, Oshkosh is looking overseas. The company has delivered 750 M-ATVs to UAE through a combination of foreign military sales and direct commercial sales, Bryant noted.
"We've delivered a few hundred vehicles to other customers and we're in the process of finalizing orders for significantly larger quantities for a Middle Eastern customer that I can't actually name," he said.
The Islamic State terrorist group's use of improvised explosive devices has created more demand for M-ATVs in the region, he said. "When you look at what the M-ATV offers it's really tailor made for that threat and that environment."
In its MRAP modernization roadmap, U.S. Army Training and Doctrine Command envisioned upgrading the trucks that remain in the fleet in the coming years as threats evolve.
"There's a great opportunity for the integration of additional capabilities and kits because we designed the M-ATV with the capacity for growth and we also designed it to be modular and scalable," Bryant said.
Potential upgrades include: protection packages; weapon suites; command-and-control, communications and computer capabilities; and intelligence, surveillance and reconnaissance suites.
A modular integrated command post capability could be added to the MaxxPro to power and support mobile Army command posts in the field, Akalaonu noted.
"I think there's definitely interest and opportunity there in the long term for continuing to upgrade the truck," he said. But "it's definitely not going to be at the speed that we've seen in the past."
Photo: Oshkosh
Topics: Land Forces