New Ecosystem Emerging in Military Logistics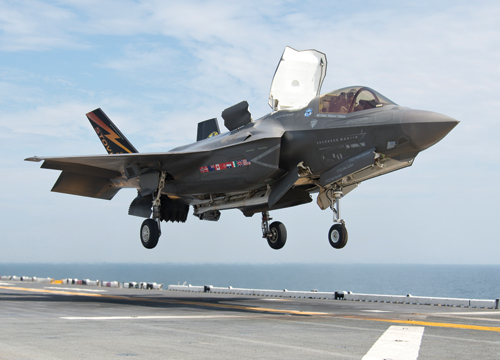 The global defense market is emerging from the challenges it faced over the last five years.
In the Asia-Pacific region, sustained economic development and industrial and social maturity is leading to projected increases in defense expenditure. In Western markets, the budgetary cutbacks of recent years have passed their peak, and in some countries, such as the United Kingdom, there are projected increases in defense expenditures.
Major military conflicts are waning, while being counter-balanced by significant increases in terrorist-based, insurgency-type operations.
Without a doubt, the growth in machine-to-machine and connected devices, along with the transformational power of emerging technologies and revolutionary arrivals such as the F-35 joint strike fighter are going to change the military support environment.
We will start to see the growth of demanding ecosystems involving multiple relationships between contractors and manufacturers based on complex contractual agreements and varying levels of capabilities. These "protected" military ecosystems are likely to result in a more concentrated defense manufacturing market. The more protected ecosystems there are, the more competitive it will be for tier-two manufacturers to play roles as suppliers.
There are some key developments that will change the way defense organizations will operate and, in turn, bring huge changes to military support chains.
First, new technologies offer promising advantages for defense organizations, helping keep control and full visibility at every step in the support chain. Connected devices are now playing a big role in maintenance hangars. The next generation of warplane has arrived in the F-35, and military logistics needs to move with this. An F-35 has internal and external sensors that send real-time data to a ground-based logistics support system, which then seeks to optimize the end-to-end support chain. Hours can be saved in the maintenance bay by making sure the right equipment is available in the right place at the right time, so engineers are prepared for the task in hand and ready with the right part as soon as the aircraft lands.
The emergence of 3D printing, or additive manufacturing, has big potential for military ecosystems, perhaps more than most realize. The most obvious advantage is being able to produce parts when they are needed, meaning organizations can keep control of their support chains and end-to-end manufacturing processes by controlling distribution and quality of parts, affording increased opportunity for tier-two manufacturers.
Producing parts in theater, on what is now increasingly mobile 3D printing technology, means potentially spectacular advantages in the military context and a reduced logistics footprint in terms of not having to ship large, complex assets that are vulnerable to enemy attack over long distances. There is less risk associated with forecasting, less need to hold assets in large logistics parks and less staff involved in managing those assets and in managing the turnover.
For example, the U.S. Navy has adopted 3D printing technology on board the USS Essex to produce custom drones. Data files and models can be sent from land bases to ships hundreds of miles away and can be printed and fully operational in a matter of hours.
New technology such as 3D printing has the potential to disrupt military ecosystems. The main concern is quality control: how can defense manufacturers, the military and performance-based logistics service providers adopt 3D printing technology while maintaining quality control and airworthiness standards?
Another question is whether the threat of counterfeit parts will disrupt this change? A report from the Organization for Economic Cooperation and Development put the value of counterfeit goods that crossed international borders at over $250 billion as far back as 2007, while the International Chamber of Commerce expects the value of counterfeit goods globally to exceed $1.7 trillion this year. If linked to the parallel challenge of International Traffic in Arms Regulations and the Export Administration Regulations, organizations need an enterprise approach for the management of underlying software support solutions if the transition to an effective and safe environment is to be achieved.
A second trend is a new and emerging military ecosystem that will continue to become more complex.
As outlined above, this complexity will grow as new technologies emerge and support chains are disrupted. But manufacturing and procurement constitutes only 20 percent of the total cost associated with modern jets, for example, with the remaining 80 percent of costs being spent through its life on in-service support. Effective maintenance and operational support can help produce significant cost savings at a time of changing defense budgets.
Tier-one defense manufacturers will look to protect this 80 percent as a means to boost revenues, creating a "locked-in" and protected ecosystem. For example, a typical defense manufacturer might have a profit margin of just 7 percent, meaning contractors can only realize large revenues from these through-life costs.
The emergence of a "protected ecosystem" means that manufacturers will become involved in the design, support and delivery of their own product. The increasingly direct link between customers and suppliers can lead to fragmented services across the enterprise — services that must be integrated into the wider military ecosystem. The use of defense products — such as engines, weapon systems or military planes — often spans years or decades. The contracts to manage and maintain those products can be long term, adding further to potential fragmentation.
All parties — whether they are the government, systems integrators, top-tier manufacturers, tier-two or component manufacturers — experience the same defense contracts constraints, which can involve a significant level of risk. Tier-two manufacturers can find huge opportunities in this, but only if they can minimize the risk they currently present to the top manufacturers. They must become more cost competitive and be able to demonstrate compliance — a significant part of which will be the need to adopt agile software solutions that are able to adapt to business transformation.
Finally, with increased industry involvement in the support chain — as well as new technology — defense organizations need better control and visibility over increasingly fragmented logistics operations and services. A 360-degree view of defense operations is needed if organizations are to become fully protected and better informed military ecosystems, which is particularly pertinent in today's unpredictable geopolitical landscape.
Defense departments will also have to continue to become more business-like in the way they operate by balancing value for money with operational effectiveness and safety. One of the leading examples of this capability is the Enterprise Operational Intelligence part of IFS applications, which allows defense organizations to map, monitor and manage the entire support chain or defense enterprise.
In 2016 and beyond, organizations will need to embrace new technology and the shifting geopolitical landscape in order to become fully protected military ecosystems, or risk disrupting operational effectiveness.
The future will see a sixth generation of logistical solutions, which will be characterized by several factors.
Soldiers, their equipment and the fully integrated support chain will allow for an increased agile response to changing tactical situations. Simple, precise information delivered effectively to soldiers and commanders will enable real-time, intelligence-led decision making.
Real-time optimization, or end-to-end solutions will emerge but as the "logistics support enterprise," or ecosystem.
In this, access to quality performance data will be critical to the process of continuous equipment improvement.
And there will be fewer military/industry solution islands. They will move toward solutions where data is contractually shared across a project/platform and encompassing a joint strategy.
But the driving theme is that we should consider the soldier in all this prediction and speculation. Military programs have too often imposed functionality-rich solutions onto the soldiers in the field, who don't want, or need, to be bothered with complex functionality and information management.
These new developments must ensure that soldiers have access to the right information, in the right format, at the right time — enabling them to execute their tasks effectively.
Graham Grose is industry director at the IFS Aerospace & Defense Center of Excellence.
Photo: Air Force
Topics: Aviation, Defense Department, DOD Policy