More Procurement Falloffs on the Horizon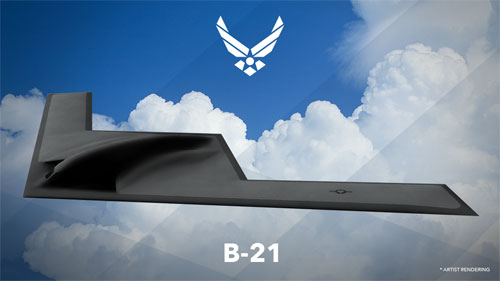 Concept art for the new B-21 bomber the Air Force is planning to procure
The Defense Department's fiscal year 2017 budget request would reduce procurement relative to what was planned in the fiscal year 2016 request, and additional cuts are possible after the proposal makes its way through Congress, according to a recent report.
The Pentagon's latest request calls for a $6.8 billion drop in procurement relative to what was enacted in 2016. That would represent a $9.6 billion reduction compared with previous plans for 2017, said the American Enterprise Institute report, "2017 Defense Budget: Offset promising but today's procurement disproportionately pays the bills."
It notes that some high-tech weapons programs — such as advanced munitions — will see larger investments in line with the Defense Department's new "offset" strategy.
These "investments are paid for by procurement reductions not only in 2017, but also throughout the entire five-year future years defense plan," the report said.
A number of programs took a hit, it notes.
"The budget's bill payers are many. They include Navy and Army aviation programs, the new Air Force bomber and airlift, and many small reductions spread across hundreds of line items in the modernization accounts, including procurement and research, development, test and evaluation," it said.
Procurement could take a further hit if anticipated savings in the budget proposal are not realized and topline spending is not increased by lawmakers, the report noted.
"Defense leaders made many rosy assumptions," it said. "In total, the bean counters assumed $9.3 billion of tenuous savings in 2017 — money that will come out of already stripped procurement accounts if the savings do not materialize on time or are rejected by Congress."
While the fiscal year 2016 budget saw a major increase in topline dollars relative to the previous year, that is not the case in the latest budget request, noted Andrew Hunter, director of the defense-industrial initiatives group at the Center for Strategic and International Studies.
"The FY '17 budget levels out again compared to FY '16," he said during a recent panel discussion. "If there's a leveling of the topline, guess what? Modernization once again is in trouble."
"The FY '17 budget is down for modernization … mostly in the procurement accounts," he said. "Almost all of that reduction is in aircraft."
Hunter hopes lawmakers will reach an agreement to boost procurement.
"If there is not a larger budget deal, I am concerned that the increases of FY '16 will be something of a false dawn for the acquisition system," he said.
Photo: Air Force
Topics: Defense Department, DOD Budget, Procurement