Intelligence System Moving to the Cloud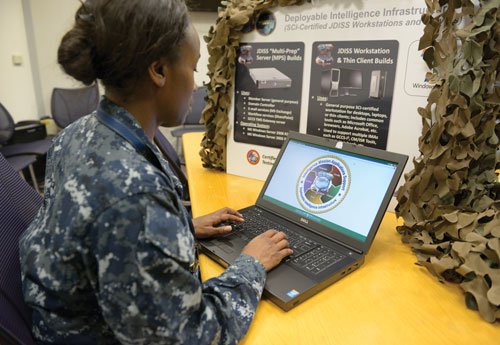 As more engineers transfer defense networks to cloud computing, developers of a decades-old intelligence system are embracing the move.
The joint deployable intelligence support system, which was created in 1992, connects deployed troops with the military's top-secret network known as the joint worldwide intelligence communications system, or JWICS, said Navy Cmdr. Brian Hoffer, program manager for JDISS.
"It arose after the Gulf War as a need to get intelligence into the hands of the warfighter," he said. "Complementary to that network was the need to get a one-size-fits-all intelligence workstation to hang on the edge of the network."
At the time, JDISS was a physical box or workstation where service members could create intelligence documents and send information from system to system, he said. Now, JDISS — which includes a number of applications — has gone from hardware to software.
Webster Essex, technical director for JDISS, said: "Our customers are relying on us more so today as not necessarily the physical box, but to provide a certified software that they can include on their" systems.
JDISS currently has about 600 different customers, Hoffer said. The largest one is the Air Force's air operations center. The Navy's maritime operations center also uses the system, he noted.
Developers at JDISS' joint program office are now embracing calls to move the system over to a cloud-based system, Hoffer said.
"We're embracing the federal mandate about trying to move our applications into an enterprise environment, essentially into the cloud," he said. "We're focusing on the basics, figuring how to support the best of breed intelligence mission applications."
There are two different ways to do that with the JWICS network, he noted. One is using GovCloud, which was created and is supported by the National Security Agency. The other is through commercial cloud services provided by Amazon, he said.
Photo: Office of Naval Intelligence
Topics: C4ISR, Intelligence