AM General Puts JLTV Defeat in Rearview Mirror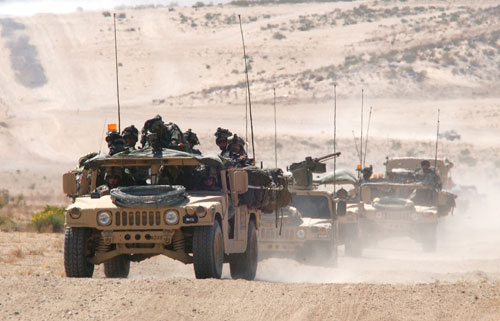 AM General is going to be just fine.
Thanks for the concern.
That sums up the attitude of the South Bend, Indiana-based maker of the venerable Humvee in the wake of the hotly contested competition to field a new light tactical wheeled vehicle, which it lost last year to rival Oshkosh Corp.
After the loss, some analysts predicted its owner — billionaire businessman Ron Perelman's diversified holding company, MacAndrews & Forbes Inc. — would sell off the company. That has not come to pass yet.
"We have got great visibility of a deep pipeline of Humvee sales into the future," said Chris Vanslager, the company's executive vice president for defense programs.
Along with sales of new vehicles, the company plans on sustaining and modernizing older models for decades to come. It also has two non-military businesses to keep its plants humming: a subsidiary making purpose-built wheelchair accessible cars and a contract to build station wagons for Mercedes-Benz.
"We're very bullish about where we are at right now," Vanslager said in an interview.
The joint Army-Marine Corps program's original goal was to field a replacement for the Humvee, which went into service in 1985. For starters, it will be quite some time before the JLTV supplants the Humvee, Vanslager said. It will be in the inventory through at least 2048, and perhaps longer.
"According to the DoD's vehicle strategy, the JLTV does not and will not replace the Humvee. Additionally, the program's acquisition strategy calls for several years of testing before a full fielding decision is made. At that point, it's projected the program will take almost 10 years to complete full fielding," he said.
The JLTV program of record calls for 17,000 units to be delivered in the first five years of the contract. That is in contrast to the 230,000 Humvees that have been fielded globally since 1985. About 160,000 of those are in U.S. forces, he noted.
And the Defense Department continues to be a customer, both domestically and for foreign military sales. Shortly after it lost the JLTV competition, it announced a six-year $428 million contract for up to 3,000 new M997A3 Humvee ambulance vehicles intended for National Guard, Army Reserve and Army domestic disaster relief missions.
Another big contract for new-build Humvees signed in 2015 included $372 million in foreign military sales to Afghanistan, Iraq, Kenya, Lebanon, Ukraine and Tunisia totaling 2,082 vehicles. More recently, the company announced that it had secured $57 million in contracts and vehicle parts for Iraq, Serbia, Argentina, and the U.S. National Guard and Reserve.
The company is "rolling new vehicles off our production line, driving them to an airport and loading them on to a C-17 to deliver right into a theater of operations. That's happening today," Vanslager said.
Overseas, "there is an ongoing significant critical operational need for the Humvee," he said. There are 17 different models and 26 variants with more than 100 different configurations, operating in about 60 countries, he noted.
"Strong global demand demonstrates the ongoing critical need for the Humvee and how AM General remains the unmatched leader in building, modernizing and maintaining the premiere light tactical vehicle fleet in the United States and the world," he said.
That leaves a robust global business in supplying parts, providing training, modernizing and refurbishing the aging models, he said.
"As long as the fleet is in demand and out in the world, we have a continuous demand for spare parts and training for U.S. and foreign customers," Vanslager said.
AM General is beginning its fourth year of a public-private partnership with Red River Army Depot in Texas to recapitalize National Guard Humvees. It has modernized more than 1,300 vehicles so far, he said. And "the Guard has thousands more Humvees that need the recapitalization to maintain their high state of readiness," he said.
The Army and Marine Corps have repeatedly emphasized the need to modernize and maintain their Humvee fleets and ensure the vehicle can meet the requirements of missions through at least 2050, he noted.
The company, however, will have competition for future modernization contracts. The Army has already announced that it will be competing the recapitalization of its fleet.
"Our customers believe in competition and we're going to be ready to compete. We're not going to stand by. We've got the product. We've got the innovation. We know how to do this. We are demonstrating recapitalization at Red River with our partnership. We are modernizing this vehicle right now," he said.
"We have not stopped innovating, investing, which is what we have done for the past 30 years," he said.
The Humvee has changed considerably, and the vehicles that come to the Red River depot leave with significant upgrades. They weighed about 7,700 pounds in 1985 and now come in at about 12,900 pounds. The original 160 horsepower engine now ranges from 190 up to 240 horsepower. Suspensions have kept pace with the higher weight as well as with improved shocks and struts, he noted.
There is a new state-of-the-art transmission, a tank that can hold 13 additional gallons of fuel and a high-volume air conditioning unit.
"We're going to continue investing and we are very focused on looking to the future to modernize and improve the capability and making sure we have the high standard of readiness for our customers," he said.
Vanslager said there remains a possibility that customers will emerge for its entrant into the JLTV competition, the BRV-O.
"There is a high interest from multiple countries overseas and there is definitely a possibility for offering it. It is just another one of our tactical vehicle offerings for customers who have specific needs and requirements," he said.
The company is also diversifying.
"We have a very robust commercial automotive business," Vanslager said.
Mobility Ventures LLC, a subsidiary owned by AM General, is manufacturing and selling the MV-1, a wheelchair accessible, purpose-built car that meets the guidelines of the Americans with Disabilities Act. It has a side-entry ramp and seating for five, which includes two wheelchairs.
Taxi fleets are early customers. The company sees opportunities for sales to consumers, Veterans Administration hospitals and retirement homes. Vanslager declined to say how many of MV-1s it has sold so far, but they are currently on the streets.
AM General also owns a 675,000-square-foot commercial assembly plant in nearby Mishawaga, Indiana, where it once manufactured the now discontinued consumer version of the Humvee — the Hummer H1 and H2 models.
That space is now being used for the contract manufacturing of Mercedes-Benz R-class wagons that are sold in China. It's the only non-Mercedes-Benz manufacturing facility in the world, he said.
"And we have room for additional contract manufacturing customers. … This is a very robust and expanding segment of our business … and we're very bullish on it," he said.
Analysts interviewed shared AM General's optimism.
"I'm sure short term it hurt them to lose JLTV, but let's face it, the Humvee isn't going anywhere," said Dean Lockwood, a weapons systems analyst at Forecast International.
Even without major Humvee procurement on the part of the U.S. military, the sustainment piece of the business will keep the company busy for another 20 years, he predicted.
The fact that military officials have backed off the idea that the JLTV will be a one-for-one replacement for the Humvee is telling, he said. "The Humvee is still going to be the primary utility vehicle and I can see why AM General feels optimistic. … That revenue stream is not going away, at least not in the foreseeable future."
The Defense Department for years monopolized Humvee production, he noted. Now that domestic orders are winding down, the company has the capacity to sell to customers overseas.
"AM General now has the capacity to meet export demand, which is growing and growing and growing," he said. It's a demonstrably good vehicle that does what it is intended to do, which is be a light utility vehicle for missions that don't require heavy armor, he said.
"All these customers overseas have seen Humvees and now they can finally get their hands on them," he added, and not just "American hand-me-downs," he added, but new ones.
Other countries manufacture light military vehicles, but the Humvee has that brand-name recognition. "It almost has become a generic term," he said. "When your brand name has come to represent a whole class of vehicles, your advertising is done for you at that point," Lockwood added.
He didn't believe that the JLTV, once it is opened up to exports, will be a direct competitor to Humvee sales. But there might be some synergy when foreign customers see that the new vehicle is being used as a supplement, rather than a replacement for the Humvee. Countries may buy a mix of the two, he added.
And there will also be a big gap in the price, he noted, with the Humvee selling at about $100,000 to $195,000 per copy and the JLTV at around $250,000 to $306,000 depending on the amount of armor.
AM General's loss to Oshkosh "is not an ideal situation. But they are busy and they should stay busy," said Brad Curran, an analyst at Frost & Sullivan. He rattled off a list of foreign military sales, including a December 2014 contract for 2,200 Humvees and contractor-unique spare parts, totaling $245 million for Mexico.
"They're staying busy. And the Hummer isn't going anywhere with the U.S Army and Marine Corps. We've got an awful lot of them and they have to be maintained, and need a spare parts base," he said. "I would say they are in good shape for the next few years."
The JLTV is much more heavily armored and sophisticated. "You're still going to have your more routine functions … when you don't need a full-size family of medium tactical trucks," he said.
As for a future when Oshkosh's JLTV is competing with the Humvee, Curran doesn't see it. The JLTV "is so expensive. It's really expensive for us. I wouldn't be surprised if we don't buy as many as we think we're going to buy."
Plans call for the Army to procure 49,100 JLTVs and the Marines 5,500. The Marine Corps in the 2017 budget request already reduced by 77 the number of its initial planned buy.
Other countries sell military vehicles in the same class as the Humvee, but at a much lower price, Curran said. Canada is seeking to spend $9 billion on light trucks, but is looking at BAE Systems and Patria, a Finnish-German company, rather than AM General. But that program is closer to a heavier JLTV, he said.
"Most countries just don't need an expensive platform [such as the JLTV]. Or even if they want one, for budget reasons, they can't do it," Curran said.
The day when the two vehicles are competing may be far off. There are currently no foreign military sales planned for the JLTV, noted a Feb. 18 Congressional Research Service report written by Andrew Fiekert, military ground forces specialist.
Vanslager added: "There is a world out there that has changed and there is demand out there for additional deployments. So it's all about readiness of the vehicles and assuring that readiness for our customers."
Photo: AM General
Topics: Land Forces