Air Force Modernization at Risk as Maintenance Costs Continue to Climb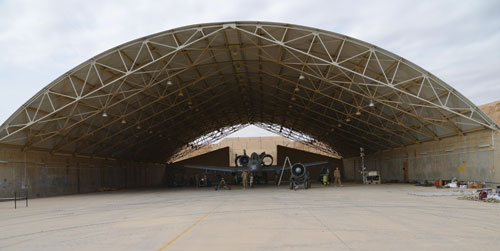 An A-10C Thunderbolt II under repair
Rising operations and support costs could affect the Air Force's ability to modernize as it prepares to fund the F-35 joint strike fighter, KC-46 tanker and long-range strike bomber in the mid-2020s, service officials and experts said.
One cost driver that has been scrutinized in recent months is the extension of aircraft beyond their anticipated life spans. The service's planes average more than 27 years in the fleet, according to Air Force Materiel Command documents.
"Some of the challenge with the rising costs is the fact that the parts aren't available," said Gen. Ellen Pawlikowski, commander of AFMC. She noted that with older platforms many of the companies that once supplied aircraft components have gone out of business.
At the same time, skills that were required to sustain those aircraft decades ago may not be relevant anymore, she said. For example, some systems still use floppy disks, which may not be familiar to modern maintainers, Pawlikowski said.
"As the age of aircraft increase, the amount of maintenance they require goes up," said Todd Harrison, the director of defense budget analysis at the Center for Strategic and International Studies. "That's not much of a surprise. It's like if you have an old car, more things are going to break. That's part of what's happening because the average age of aircraft in the Air Force inventory has been getting older and older. Now it's the oldest it has ever been."
Another contributing factor is the expansion of Air Force missions. Current operations in Iraq and Syria, in addition to increased presence in both Europe and the Asia-Pacific, are putting a lot of stress on the service's fleet, Harrison said. It "is leading to more maintenance costs, and it is forcing the Air Force to make tradeoffs in its modernization programs."
The composition of the force can also increase operations and support costs. The Air Force today has fewer aircraft spread out over many different fleets, Harrison said. When there's a small number of a specific platform, "the maintenance cost per aircraft goes up because you've got all of that overhead of training, maintainers and the equipment that they need … that gets applied to a smaller number of aircraft."
Gen. Herbert "Hawk" Carlisle, commander of Air Combat Command, used the controversial A-10 Thunderbolt II, fondly referred to as the "Warthog," as an example of this phenomenon.
"Keeping legacy fleets around when we've tried to divest them has an impact on modernization," he said at an Air Force Association Conference in February. "If we keep those, we're keeping maintainers, we're keeping [operations and maintenance] costs, we're keeping program depot maintenance. We're doing all of those things for those A-10s and that money can't be put into F-35s."
The A-10 entered into service in the 1970s. The fiscal year 2017 budget request would delay the retirement of the platform to 2022. Previous budget requests sought to divest the fleet but ran into opposition in Congress. Service officials have estimated that it will cost the Air Force $3.4 billion to keep the platform in its inventory over the next five years.
Because the A-10 is being retained longer, the Air Force has been forced to ask Lockheed Martin for contractor logistics support. According to Jeff Babione, executive vice president and general manager of the F-35 program at Lockheed, the company has taken over maintenance of an entire wing at Luke Air Force Base in Arizona to sustain the joint strike fighter. Eventually, Lockheed plans to have 400 technicians working at the base to maintain 47 international F-35s.
When transitioning to modern airframes, the most logical course of action would be to divest entire fleets of older aircraft so that logistical support and training costs can also be saved, Carlisle said.
Gen. Robin Rand, commander of Air Force Global Strike Command, noted a similar problem within the service's legacy bomber fleet. There are currently three bombers in service today — the B-52, B-1 and B-2. As the new long-range strike bomber, officially designated the B-21, comes on line, one of those legacy platforms should be considered for retirement, he said at the AFA conference. The B-52, which entered into service in the 1950s and the B-1, introduced in the early 1980s, are the most likely candidates.
"When we get the LRS-B in production and start delivering it, it will be very, very difficult" to keep all of the bombers in the fleet, Rand said. "We couldn't maintain four bombers if we wanted to."
Meanwhile, both industry insiders and service officials noted that there are some exceptions to the idea that legacy aircraft always have higher sustainment costs.
Scot Oathout, program director for aircraft modernization and sustainment of legacy tankers and B-52s at Boeing, said from a sustainment perspective on their end, operations and support costs for the aging tanker fleets have been stable.
Pawlikowski supported that claim for the KC-135. A shift in culture and the employment of leaner sustainment techniques within the Air Force Sustainment Center at Tinker Air Force Base in Oklahoma has improved throughput for some legacy aircraft, she said.
"The KC-135 is by far a legacy aircraft, right?" she said. Well, "the folks at Tinker have not only maintained the production rate but they have reduced the number of days that those aircraft spend in depot."
Because of that success the Air Force recently sent maintainers to speak with a Northrop Grumman team to discuss applying similar methods to the Joint Surveillance Target Attack Radar System, which has been experiencing longer depot turnaround times, she said.
Oathout said for the B-52, overall O&S costs have also been steady. "There are probably pockets of areas that have risen over the years, but overall that sustainment cost is pretty good." When adjusted for inflation the operational cost per flying hour for the B-52 has grown about $36,000 from 1996 to 2015. However, that rate has remained relatively flat from 2010 to 2015, averaging about $67,000, based on Air Force Materiel Command documents.
One component that the Air Force and Boeing would like to replace in order to decrease operations and support costs is the bomber's engine. The service spent $74.2 million on depot repairs related to engine rework and overhaul for the platform in fiscal year 2015, according to the AFMC documents.
Oathout said there have been indications that the bombers will be in service well into 2040 and beyond. Replacing the current engine to gain more efficiency could save the service money in the long run, especially if the planes are expected to fly for 30-plus more years.
There are "new engines being developed for regional jets that are the exact same size as the B-52 engines, and the fuel efficiency is incredible compared to 1960 TF33" turbofan engines, he said.
There are three main players in these discussions — General Electric, Rolls-Royce and Pratt & Whitney, according to Boeing. Commercial engines used in those medium-sized jets could provide 30 percent more fuel efficiency, range and loiter time, Oathout said.
Pawlikowski — who noted that fuel expenditures often comprise a large proportion of O&S costs — agreed that the service is interested in examining that issue. However, it is having a difficult time fitting the re-engine plans into its tight budget. "Whether it's a complete engine replacement or a significant modification to the engines … the fact of the matter is right now when you look at all of the things the Air Force needs to modernize, we haven't figured out a way to put it into our budget," she said.
When it comes to increasing operations and support costs, Harrison noted that it isn't only old aircraft that contribute to the problem.
"As we replace our old aircraft with new aircraft, the new aircraft we're buying are much more expensive to maintain," he said. "And that's because the maintenance costs of aircraft are pretty directly tied to the procurement costs of the aircraft."
For low-rate initial production lot 8, the average cost of the F-35 with its engine was about $108 million, but Lockheed believes its Blueprint for Affordability — which aims to improve the manufacturing process for the plane — will bring that price point down to less than $85 million per jet in then-year dollars by 2019.
One Lockheed executive said its autonomic logistics information system will be a "game changer" for reducing sustainment costs on the modern airframe. ALIS is an information technology system designed for the F-35 joint strike fighter. It tracks data coming off the aircraft, delivering diagnostics reports that inform maintainers when parts need to be replaced and ensure that components are not being removed prematurely, said Mary Ann Horter, Lockheed's vice president for F-35 sustainment support.
The system will assist with mission planning and help to preemptively identify problem areas, which should improve affordability and readiness, she said.
Last summer, the company deployed ALIS 2.0.1 for the Marine Corps to support the initial operational capability of the service's F-35B. Referred to as "expeditionary ALIS," the version included a hardware modification tailored to support the Marine Corps as it uses the fighter on carriers, amphibious ships and forward operating bases. "That software capability is now deployed to all locations … to support all of the services over 10 different sites," Horter said.
Lockheed is focused on completing ALIS 2.0.2 for IOC of the Air Force's F-35A, which is slated for August.
One of the key selling points of ALIS is that, unlike legacy platforms that use multiple information systems to share sustainment data, its software will pull all of those analytics into one system, Horter said. However, in F-35s today, the engine data provided by Pratt & Whitney is still delivered through a separate tool. "ALIS 2.0.2 … will enable us to bring the data for the engine into the same one system," she said.
Even though the company is optimistic about ALIS' potential, Harrison is skeptical that it will have a significant impact on costs. "So far that has not played out in reality," he said. "There are problems with ALIS — that it's not yet up to speed, that it's not yet performing as it's supposed to perform."
He believes the cost of parts replacement for the F-35 will outweigh any savings. "Expensive aircraft are made up of expensive components."
If the Air Force doesn't successfully address the problem of rising operations and sustainment costs, it will continue to affect modernization efforts, Harrison said. "I don't think the Air Force will be able to follow through on its currently planned modernization schedule, particularly the big three programs — the F-35A, LRS-B and the KC-46A," he said. "It's unlikely that they would cut one of the big three. I think it is more likely they would just scale back either the schedule or the planned procurement."
The F-35 program is already experiencing some of those effects. Forty-five fighters were cut over the next five years within the fiscal year 2017 budget request to offset the costs required to keep the A-10 in the fleet.
"They were supposed to ramp up production to 60 aircraft per year in FY '18 and now they've pushed that out. They won't hit 60 … until FY '21," Harrison said. "And then beyond that, they're supposed to eventually ramp up to 80 aircraft per year and I just think it's unlikely that that will ever happen."
Rising operations and support costs could also impact the B-21 program, he said. "What we may see happen is that they'll be forced to slow down the development even though it's not cost effective to do that," he said. But "they may have little choice if they just can't ramp all the way up to $3 billion a year in the development of that program like they're currently planning to."
Photo: Defense Dept.