Army Acquisition Executive: NDAA Reforms Are Working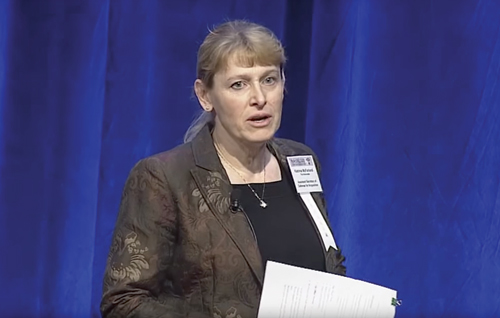 Katrina McFarland
The Army already is reaping benefits from one of the most controversial Pentagon procurement reforms that Congress mandated, the service's top weapons buyer said.
As part of an extensive package of reforms in last year's National Defense Authorization Act, the service chiefs and secretaries are given more overall responsibility for acquisition programs. Much of the decision making has been delegated from the office of the secretary of defense to the services.
In the Army, the power shift already is having considerable impact, said Katrina McFarland, acting assistant secretary of the Army for acquisition, logistics and technology.
"I can tell you that the chief's involvement has already reaped dividends," McFarland said March 9 at the Women In Defense annual national conference in Arlington, Virginia.
McFarland is a seasoned veteran of the defense procurement business, having served as assistant secretary of defense for acquisition and president of the Defense Acquisition University. She replaced Heidi Shyu, who retired last month.
McFarland is taking over the Army's top procurement job amid lingering uncertainty about modernization priorities and resources, and renewed scrutiny of the service's acquisition programs.
She said the Army's senior leadership is enthusiastic about the NDAA "reenergizing the chief's role in the requirements development process." Army Chief of Staff Gen. Mark Milley is "personally very engaged," she said. "I've been witness to it."
Having the chief of the service participate and influence debates that shape priorities, and determine whether a program is ready to move forward is significant, McFarland said. "It gives a common perspective on how to build and form programs and where the requirements trade space needs to be, which will help him build that future."
These latest NDAA reforms have not dramatically changed the acquisition process but are making a difference because they put the right people in charge, she said. "It's the people that will make a difference," she said. "Making sure the right people are involved, the ones that will lose their job" if programs do not perform is essential, she added. "That's where the majority of the focus is currently at."
The chief's involvement, and ensuring that people with the appropriate skills are in charge "I think will make one of the more marked improvements inside of acquisition that I've seen for a long time," McFarland said. "In many acquisition reform studies that have been written over the years, you'll find that most of the time people focused on the process and not on the people and the product. There was a lot of discussion on people but everyone fell back on the process because it was more convenient and possibly easier."
Photo: Defense Dept.
Topics: Defense Department, DOD Budget, DOD Leadership