Pentagon Coming to Terms With Technological Realities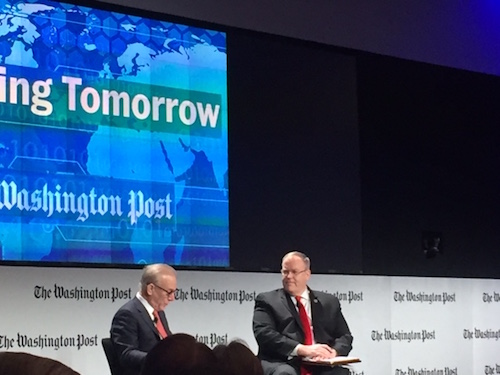 Deputy Defense Secretary Robert Work (right) speaks with Washington Post columnist David Ignatius
To defeat daunting enemies like the Islamic State, the Pentagon expects to continue to rely on precision bombs and missiles. But it also is pinning big hopes on brain-like computers designed by commercial companies to crunch unprecedented amounts of open-source data.
"We are absolutely confident that deep-learning machines will let us get after ISIS," said Deputy Defense Secretary Robert Work.
This realization dawned on him during a visit to a Silicon Valley tech company, where he witnessed a real-time recreation of the July 2014 downing of the Malaysia Airlines flight MH17 by a Russian surface-to-air missile. This was done entirely from social media posts, images and other open source information, Work marveled during a March 30 talk with columnist David Ignatius at The Washington Post.
Computers that draw and analyze data from the Internet are ubiquitous in many industries. But the new wave of deep-learning machines makes this technology far more compelling for military use. This is attributed to the proliferation of data collectors like drones and smart devices — known as the "Internet of things" — combined with advances in software algorithms and the vast computing power available in the cloud.
How the Pentagon could use smart machines to gain an edge on the battlefield is now the subject of many closed-door conversations and exchanges with the intelligence community and Silicon Valley firms. Work believes that the right combination of artificial and human intelligence can become the next big thing in the Pentagon's search for non-kinetic weapons to combat terrorist groups and other foes.
This technology "will help us identify attackers and targets," Work said. The "connections" are made by computers, but only humans can make decisions, he added. "Deep-learning machines help analysts understand the connections, will help commanders understand the effects they are trying to achieve."
The challenge for the Defense Department is how it can take advantage of the technology knowing that it is widely accessible to everyone else. "Any competitor can take these things and use it to cause us problems," Work said. "Our strategy is that we can't expect to have a 40-year advantage. People will steal our intellectual property, our ideas."
This sense of losing control of how technology is exploited and accessed has motivated Defense Secretary Ashton Carter to reach out to the private sector more aggressively, Work said. "The secretary wants to tap into commercial technologies that are military relevant. He wants to make sure we connect operational problems we have in the Pentagon with the commercial sector. How do we get different ideas in? How to we make people outside the department understand our problems?"
Similar thoughts were expressed by Marine Corps Gen. Joseph Dunford, chairman of the Joint Chiefs of Staff. The Pentagon has to recognize that buying more Predator drones and deploying more aerial surveillance is not going to be enough to produce the battlefield intelligence that commanders need to fight ISIS, Dunford said March 29 at the Center for Strategic and International Studies in Washington, D.C.
"If you talk about an area where something disruptive is necessary, something innovative is necessary, it's what information do we need to make decisions, and how do we get that information?" he said. "It's the question we're trying to solve, not how can we afford to buy more caps."
Topics: C4ISR, Intelligence, Infotech, Netcentricity, Open Technology, Virtualization