Navy Official: UCLASS Program's Conversion to Refueling Tanker May Require a New Industry Competition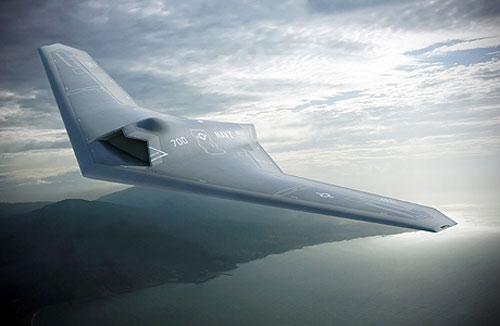 Lockheed Martin's UCLASS concept
The Navy may have to launch a new industry competition in the wake of a decision to convert the unmanned carrier launched airborne surveillance and strike program to an aerial refueling tanker, a service official said March 3.
The office of the secretary of defense has already ordered the Navy to begin work on converting the UCLASS program to the carrier-based aerial refueling system, said Michael Novak, deputy director of the newly created unmanned maritime systems office under the office of the chief of naval operations.
Four industry teams were competing for the UCLASS platform, but they may not have a guaranteed spot for the new version, Novak told National Defense in an interview. "There is going to be some discussion: 'Do you open it up again?'"
That may be for OSD to decide, he said. "I think we can take the four guys we have right now [and] they can make the changes to their particular designs and hit the mark for the CBARS," he said. They have designs that have already come through a program design review process, he said.
The four competitors are Boeing, Lockheed Martin, Northrop Grumman and General Atomics.
The change in the program's direction is in the president's 2017 budget request, which is yet to be approved by Congress. Prior to the announcement, there was a vigorous debate between some lawmakers and the Navy as to whether the aircraft would carry out strike missions and require stealth technology, or be an intelligence, surveillance and reconnaissance platform.
Novak, who while in the Navy carried out refueling missions, told National Defense that the CBARS aircraft will be a multirole aircraft doing both ISR and refueling.
"We used to go out and do tanker missions. When we weren't doing tanker they would vector us out and say, 'Go look at this. Go look at that.' Which is an ISR mission. It's the same thing with this.
While it's up there flying around looking for gas, we'll put an ISR system on it [or signals intelligence] and it can at least provide information and send it back to the carrier," he said.
The four UCLASS industry teams, if the program is not recompeted, will have to go back to the drawing board to convert the strike platform to a tanker, he said. The Navy is working on a new draft request for proposals. After industry has commented on that, there will be a final RFP that will have to go through the normal approval channels, he said.
"We're having those conversations now so they [industry partners] are not surprised and they can start looking at their designs" to see what they may have to do to change from the strike to the refueling/ISR mission, he said. They can also begin to look at their price proposals, he added.
Basically, it is still an aircraft designed to operate off a carrier, he said. The four competitors may not have to come up with an entirely new airframe. They could convert the weapons bay to a refueling tank, he said. It depends on how modular their designs were to begin with, he added.
"You could always hang more tanks on the things," he said. Not having to deliver bombs frees up a lot of weight, he added.
Photo Credit: Lockheed Martin
Topics: Robotics, Unmanned Air Vehicles, Science and Engineering Technology