GAO: Change in Navy's UCLASS Mission Will Push Contract Award to 2018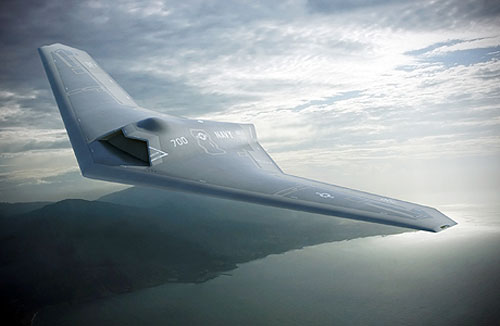 Lockheed Martin's UCLASS concept
The Navy's decision to switch its carrier-based unmanned aerial vehicle program from an intelligence-gathering platform to a refueling aircraft will force contractors to resubmit their proposals and push the contract award to 2018, the Government Accountability Office said in a March 24 report.
The change of plans will also reduce the overall development costs by $1 billion. The unmanned carrier-launched airborne surveillance and strike system (UCLASS) was to cost some $3 billion through fiscal year 2022.The redubbed carrier based refueling system (CBARS) will cost $2 billion through 2021, the report said.
The fundamental debate over the UCLASS' role caused initial delays, the report said. Discussions within the Defense Department centered around whether the drone would be mostly a strike platform capable of penetrating robust air defenses with some intelligence-gathering capabilities, or primarily a sensor platform. The indecision pushed back the expected contract award date from 2014 to 2017, the report said.
The 2017 budget proposal outlined the Defense Department's decision to scrap both ideas and make the drone a tanker that can conduct intelligence, surveillance and reconnaissance missions when needed.
Four teams submitted proposals for the UCLASS program: Boeing, Lockheed Martin, Northrop Grumman and General Atomics. The Navy will issue a new request for proposals in early 2017, the report said.
The contractors' UCLASS designs centered on a mostly surveillance aircraft, GAO said.
"The preliminary designs were based on a more surveillance-centric set of requirements. We concluded that if the final UCLASS requirements emphasized a strike role with limited surveillance, the Navy would likely need to revisit the technologies and proposed designs for the system, as well as the amount of funding that would be needed for development," the report said.
Michael Novak, deputy director of the unmanned maritime systems office under the office of the chief of naval operations, told National Defense March 3, that the change in missions may mean a new competition. "There is going to be some discussion: 'Do you open it up again?'" he said.
Yet Novak said the UCLASS designs had already been through a program design review process. They may not have to undergo radical redesigns, since they are all basically aircraft that have to fly off a carrier. The Navy could choose to stick with the four teams, he said.
Meanwhile, the service continues work on supporting technologies such as modifications to shipboard systems and command-and-control capabilities, the report noted.
The Navy expects CBARS to provide an initial operational capability to the fleet by the mid-2020s, the report said.
"Although the general direction of the restructured program is outlined in the fiscal year 2017 budget submission, a more detailed acquisition strategy for this program has yet to be released," it noted.
The 2017 budget request asks for $89 million, with the development costs ramping up to $349 million in 2018, $544 million in 2019, $646 million in 2020 and $532 million in 2021.
Photo: Lockheed Martin
Topics: Aviation, Tactical Aircraft, Robotics, Unmanned Air Vehicles