Admiral Pushing Plan to Network Aerial Fleet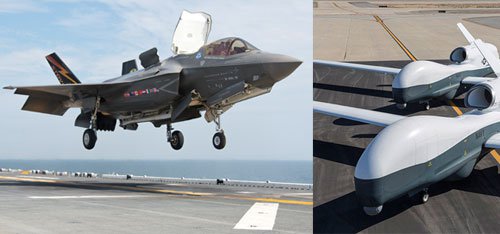 An F-35B and MQ-4C Triton surveillance drones
The Navy needs manned aircraft to be networked with drones in order to stay ahead of potential enemies, the service's director of air warfare said March 22.
The manned-unmanned teaming concept is a key element of the Pentagon's new offset strategy that would utilize new technologies and operational concepts to achieve military overmatch against advanced adversaries.
"That's what we're breaking into now," said Rear Adm. Michael Manazir during a speech at the Air Force Association's headquarters in Arlington, Virginia.
He envisions the Navy linking the joint strike fighter with unmanned aerial vehicles.
"The instantiation that I think about is three [drone] wingmen and an F-35," he said. "Combat spread now is 25 miles apart in fifth-generation [fighter] tactics. Imagine a single aviator owning a 100-mile front of air dominance or air superiority because that pilot is talking to the extended unmanned systems."
The MQ-4C Triton surveillance drone and the manned P-8 Poseidon maritime patrol aircraft could also be connected, he noted.
The ability to pass intelligence and battle space information between aircraft is critical in the 21st century, Manazir said. In the same way that pilots and crew in different aircraft are currently able to speak to each other on their radios, "now I want to be able share actual information across our machines with them."
The joint strike fighter is promising in that regard, he said. "The F-35 … is bringing us that capability in a single platform to be a node of information," the air warfare chief said. "Now we're trying to figure out how do we share that information? The ability of that computer system … to suck in all this information and then distribute it out is something that we haven't quite cracked."
Part of the problem stems from how the joint strike fighter was expected to operate.
"We designed it to … go into heavily defended territory … and do the mission very, very effectively and then come back out," Manazir said. "But now in order to bend that technology curve we have to figure out how to get the information off of that airplane while [the pilot] is inside of that [anti-access area denial] environment."
Past thinking about the stealthy F-35 was: "'No, you can't transmit anything. They'll detect you.' But I need all that stuff. So we have to figure that kind of thing out," he added.
Different aircraft architectures also pose challenges to connecting planes, he added.
"The current architectures of our platforms is proprietary. They were built a certain way," Manazir said. "So when a Super Hornet sees a target in a certain way and develops a weapons quality track, that's going to have a different orientation and different math behind it than the E-2 does that sees exactly the same" enemy.
In order to fully share information between aircraft, the Navy has to find a way to solve these technical issues, he noted. The service hopes to eventually link its aviation platforms with those of the Air Force and international partners.
"We talk to the Air Force about … how do I connect my AWACS to my E-2D? How do I connect the E-2D to an F-15? How do I connect an F-22 to a Super Hornet?" Manazir told reporters after his speech. "We're exploring all those things, and they're just hard technically."
"We really want to get to our … coalition allies to be able to do that as well," he added.
Before carrier-based drones can be linked to joint strike fighters and other aircraft, they need to be deployed. By the early-to mid 2020s, the Navy hopes to have an operational unmanned tanker that would also be capable of performing intelligence, surveillance and reconnaissance missions.
"I would hope … that when that aircraft in the mid '20s comes off the flight deck doing an ISR and tanking role, we can connect it through a waveform still to be determined to an F-35 or an E-2 or a Super Hornet and be able to give that aircraft commands," Manazir said.
"As we send it out to surveil the battlespace using whatever sensor is on it, it's already going to send that information back to the ship. Why could it not send the information to the cockpit of a manned aircraft, whether it's an E-2 or a tactical airplane across the same length that it sends to the ship?" he added.
Down the road, the Navy could eventually network unmanned strike aircraft.
"What capabilities that they have eventually … the sky is the limit," Manazir said.
Photo: Defense Dept.
Topics: Aviation, Robotics, Unmanned Air Vehicles, Robotics