Senator: U.S. Must Boost Presence in Arctic to Counter Russia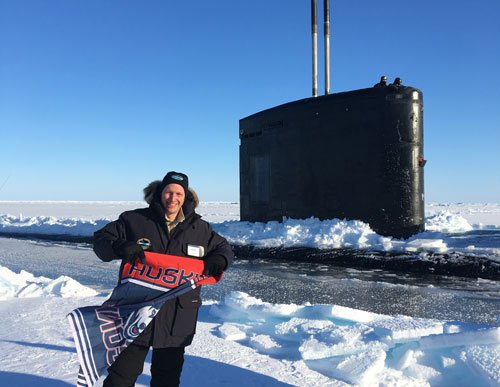 Sen. Murphy poses with a University of Connecticut flag during ICEX.
As Russia conducts a series of provocative and worrying exercises in the Arctic, the United States must respond by increasing its footprint in the region, said one senator March 21.
"In the wake of the Cold War, the Russian submarines essentially retreated to the immediate waters around their ports," said Sen. Chris Murphy, D-Conn. "In the last several years, Russian submarines have been pushing out to the very precipice of NATO ally waters. … We have seen Russian boats coming closer to the U.S. and to our European partner ports than ever before … in immensely proactive ways."
Murphy's home state of Connecticut hosts Naval Submarine Base New London — the East Coast's largest submarine base — and General Dynamics Electric Boat, manufacturer of five classes of Navy submarines.
Murphy, speaking to reporters by telephone, said he had returned March 20 from a weekend-long trip to the Arctic to observe the U.S. Navy's ongoingIce Exercise taking place 200 miles north of Prudhoe Bay, Alaska, in the Beaufort Sea.
ICEX began in late February and will take place over five weeks. The Navy — alongside partner nations such as the United Kingdom, Canada and Norway — plans to participate in more than 20 tests over the exercise as well as conduct maneuvers with submarines. More than 30 organizations are involved, including the Army, Coast Guard, Alaska Air National Guard, the Department of the Interior and the Department of State.
Murphy, who toured the ice camp and also spent time aboard the Los Angeles-class USS Hartford submarine, said Russia's unpredictable behavior is worrying.
"No one is suggesting that Putin is contemplating a nuclear launch against a NATO country, but it's not clear how tethered to reality Putin is and it should make us nervous that many of his submarines are starting to get dangerously close to the U.S. and our allies," he said.
Murphy noted that he would like to see ICEX, which takes place every two years, be conducted once per year. That frequency will be necessary as the region becomes more important than ever with increased commercial shipping navigating through the waters due to melting sea ice.
"I would like to find a way to fund this program every year," he said. "ICEX is a way for us to both have a military presence but also a research presence. The Russians have a permanent research facility in the Arctic. We may not have the means to build a permanent research facility but having this exercise be an annual event sends an important message to the Russians that we're serious about the future of the Arctic."
The United States must also prioritize its fleet of Virginia-class fast attack submarines in order to counter threats like Russia and China, he said.
"China is as we speak making moves to try and control navigation in the waters around China. The Russians are playing in the Arctic today because they ultimately want to own those routes," he said. "Global commerce has been able to take for granted open access to the seas for decades only because the United States and our sub fleet are protecting open navigability."
If the United States' subs are not challenging Russia and China, then those countries will control the flow of commercial shipping and that would be "catastrophic" for the nation, he said.
Los Angeles-class subs, such as the USS Hartford that Murphy stayed on during ICEX, are aging quickly and will soon reach the end of their service lives, he said.
Virginia-class fast attack subs are meant to replace those. The first Virginia-class submarine entered service in 2004. Each boat costs about $2.7 billion to procure, according to aCongressional Research Service report.
The Navy is currently on track to build two Virginia-class subs a year through 2020. In 2021, that number goes down to one. In 2022 and 2023 it goes back to two per year and then it alternates, Murphy said.
"We go to one and two then one. So we're building three every two years," he said.
"The problem is that the Los Angeles-classes will be coming off line more quickly than we will be building if we revert to building three Virginias every two years.
"If you look at the pace of Russian and Chinese building programs we can't afford to drop Virginia-class production," he said. "We are working with the Navy right now to recommit ourselves to two submarines throughout the 2020s."
The reason for the pull back is because of the Navy's Ohio-class submarine replacement program, known as SSBN(X), kicks off in the early 2020s, Murphy said. That will eat up a significant portion of the service's procurement dollars.
"The Ohio-class replacement submarines … at the outset are five times as expensive as the Virginia-class," he said. "The Navy has good reason to propose a temporary pullback on the Virginia program because of the massive scale of the Ohio replacement class, but we've got to find a way to do both."
Murphy said he was confident Congress would be able to appropriate enough funds to the Navy to get Virginia-class production up to two per year while also building SSBN(X).
"It's a lot of money and it will squeeze out other shipbuilding programs and other DoD priorities so we've got some work to do," he said.
Photo: Office of Sen. Murphy
Topics: Shipbuilding, Submarines