ROBOTICS AND AUTONOMOUS SYSTEMS
Off-Road Combat at Maneuver Speed is Army's Ultimate Robotics Goal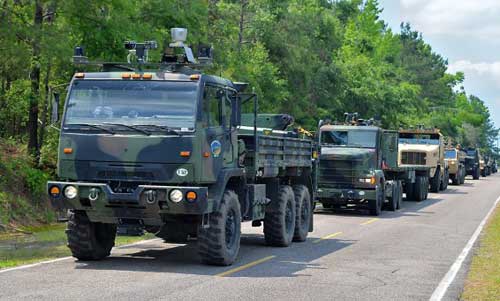 Autonomous convoy demonstration
The big "prize" for Army researchers will be autonomous or semi-autonomous combat vehicles that can maneuver off road at high speeds and be just as lethal as manned platforms, one of the service's leading experts on robots said March 2.
"We should be looking at a robotic vanguard, particularly with maneuver formations," Bob Sadowski, the Army's chief roboticist, said at the National Defense Industrial Association's Ground Robotics Capabilities conference in Springfield, Virginia.
The ultimate goal "is big heavy things with tracks moving off road. ... That is not an easy problem to solve," he said.
There is no reason why the first contact with an enemy force, which brings the greatest risk to the operators, should be carried out in manned platforms, he said. "Put the risk on the robot. It doesn'tcare if it gets blown up."
The robotic vanguard would be the "bullet catcher" that reveals where he enemy may be hiding.
"Will we get there at some point? Yes, we believe we will get there, but there are stepping stones we have to take," he said.
The first step will be robotic mules that can carry loads, weapons or do casualty evacuation for dismounted troops, he said. The next step is autonomous convoys operating on paved roads.
Before autonomous combat vehicles enter battlefields, the Tank and Automotive Research and Development Center intends to deploy autonomous supply convoys. This has been the center's primary focus over the past decade since insurgents in Iraq began attacking trucks, he said.
TARDEC is looking into leader-follower concepts first, and then will attempt full autonomy. However, he cautioned that such convoys will still need protection. There might be gun trucks accompanying them that are semi or fully autonomous, Sadowski said.
"Everyone says the autonomous convoy is entirely autonomous, but that is probably not the case," he said. There has to be a man in the decision chain who decides when it is necessary to fire back at attackers.
"When you take 16 soldiers out of that convoy, you just lost 16 M-16s," he said. That convoy still has to protect itself in case it gets into a firefight, he added. There will probably also be an unmanned aerial vehicle providing overhead surveillance as part of this manned-unmanned teaming.
"We are trying to move away from the idea of robots as tools to robots as teammates," he added.
While companies such as Google's Alphabet and its autonomous cars are gathering data based on real-world tests totaling millions of miles of driving, TARDEC is far behind. Sadowski estimated that it has recorded less than 10,000 miles in its driverless trucks.
This summer, TARDEC will test a leader-follower convoy and its radio connectivity on Interstate 69 in Michigan.
Bryan McVeigh, Army project manager for force protection, said modeling and simulation will have to be used to gather all the data needed since these will be mostly a software-based systems.
The testing community wants to see everything they possibly can to assure safety, but there are too many scenarios, he added. It is too expensive to run tests on every possible condition when vendors bring products for autonomous vehicles to TARDEC, he said.
"It allows me to make sure that whether it's the cybersecurity portion, how it's going to react in fog, how it's going to react in snow, how it's going to react in dust, etc., without having to go out and send vehicles across the world, literally, to figure out how it is going to react to different environments," McVeigh said.
Photo: Army
Topics: Robotics, Unmanned Ground Vehicles, Land Forces