INTELLIGENCE AND SURVEILLANCE
Bottomless Appetite for Battlefield Information Makes for Booming Business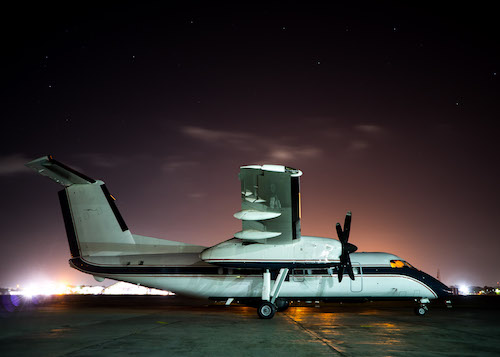 Dash aircraft
It's been common practice for the military to hire contractors to beef up thinly staffed intelligence operations centers in faraway warzones. With crises unfolding in many parts of the globe, the Defense Department simply doesn't have enough people or equipment to keep up with the demand.
The business of "ISR" — short for intelligence, surveillance and reconnaissance — has been good for the private sector and now appears to be moving to a new level.
Stunning technological advances in areas like spy sensors and data mining are springing up in commercial industries at a rapid pace. Government agencies, including the Defense Department, are finding it difficult to keep up with this technological revolution and are turning to private companies for increasingly sophisticated ISR services.
This trend has fueled the growth of companies like Momentum Aviation Group, founded six years ago by a former Army pilot, Joseph Fluet. Known as MAG Aerospace, the Woodbridge, Virginia-based company already has booked $150 million in orders in 2016, and anticipates steady growth.
"The appetite for ISR is pretty much insatiable," Fluet said in an interview. As someone who flew scout helicopters during the 1991 Gulf War, "I'm not at all surprised by this," he said.
The U.S. and other governments have used contractors for ISR services for decades, but the traditional "private pilots by the hour" approach has morphed into full service operations.
"We serve as an aerial surveillance unit for a customer," Fluet said. "It would be exactly like their own aerial surveillance unit."
That soup-to-nuts type of service is more expensive but can be, depending on the circumstances, more financially advantageous for the government in the long run because the upfront costs of people and equipment are huge. "They can create their own unit or hire somebody to do it," Fluet said.
MAG operates on five continents, with a Toronto subsidiary that specializes in long haul aviation logistics. Its 600 employees include many former service members, including conventional aircraft and drone pilots, intelligence and data analysts, mission system operators, maintainers, technicians and cybersecurity experts.
People underappreciate how much cybersecurity work goes into ISR missions, he said. "We do all the backend work in cyber for the U.S. Air Force Predators. We make sure all those Predators can talk to each other and talk to the ground control station securely. We do the same for the Royal Air Force."
Contractors like MAG have been brought in to do the information backbone work for Predator units — the operations centers, the communications architecture and cybersecurity. But company personnel do not fly or operate the actual aircraft. So far there has been institutional resistance to having contractors at the controls, Fluet said. Predators and comparable high-end drones also are out of reach of the private sector as they are tightly controlled systems not sold commercially.
In the face of soaring demands and a chronic manpower shortage, the Air Force might consider hiring contractors in the future. Congress in fact has directed the Defense Department to study alternative methods of staffing ISR units although contractors would not be allowed under any scenario to operate armed drones. Private-sector help for nonlethal operations is one option on the table as the Air Force weighs whether it can recruit and train sufficient crews to fill air patrol demands in warzones.
This is a legitimate crisis in the U.S. unmanned aviation force, Fluet said. "They're burning them out, doing high stress missions for long hours," he said. "You can't appreciate how grueling it is to spend 15 to 16 hours a day flying a UAV. You're locked in a box with no windows and in absolute concentration the entire time. It's very exhausting." Many companies would be happy to come in and do the work but it's not clear how far the Pentagon will go in this area.
The Defense Department is MAG's largest source of business. Other customers include the United Nations, NATO, several friendly foreign governments, as well as non-governmental organizations.
The company operates the United Nations' Falco drone, a medium-size aircraft about a third smaller than the Predator. The UN owns the aircraft in the Democratic Republic of Congo. "We do everything for them," Fluet said.
For NATO, the company provides full "turnkey services," which requires the contractor to bring its own small surveillance UAVs, operators and support infrastructure.
No matter how deep the hunger for intelligence, everyone has budget constraints. "This market is growing but is not unlimited," Fluet noted. "This is expensive. The customer has to decide how much resources to allocate to information."
The issue often comes down to a larger question of whether it's worth investing in an infrastructure to do the work in-house, compared to hiring a company to provide a service.
For military leaders, creating their own unit requires them to go through the onerous Defense Department acquisition process to buy airplanes, sensors and other equipment, "All of which will be obsolete by the time it's acquired," Fluet said. A military unit also may lack experienced operators. "We bring guys with decades of experience doing this," he said. Further, the commander can stop using the services when the mission is over and is not stuck with a big load of expensive hardware. "I bring state-of-the-art equipment. You're just buying information from me. I can have it up and running in six months, rather than five years. If you don't exercise your option on the contract, you can stop writing checks," he added. "As a taxpayer I really like that, maybe not so much as a business owner."
These might seem like no-brainer decisions, Fluet said, but there is considerable aversion to outsourcing in organizations that have grown accustomed to buying their own ISR platforms.
"There's some resistance to this new way of procuring surveillance," said Fluet. "I see it in foreign governments." Potential clients start asking for Predators before they really know what they're trying to accomplish. "If what you need is information, and the circumstances are challenging, the environment is not permissive, that's where I come in. What problem are you trying to solve, and I'll design you a solution."
A similar case is made to corporate executives in industries like oil and gas, where surveillance needs are significant. An oil company typically needs to be able to monitor offshore platforms with hyperspectral cameras and thermal imagery to find cracks or leaks in the structures. "Instead of trying to decide what UAV to buy and figure out how to use it, you should find somebody that knows how to do this," Fluet said. "They hear that and the light bulb comes on."
To this day, people still don't think that way when it comes to surveillance. They think about what gee-whiz gadget they're going to buy. Fluet warns against that approach in today's market. "You won't get optimal results when you're stuck to a particular machine." As they say, when all you have is a hammer everything starts to look like a nail.
Photo: MAG
Topics: Aviation, C4ISR, Cybersecurity, Infotech