TRADOC Unveils 'Big Eight' Modernization Priorities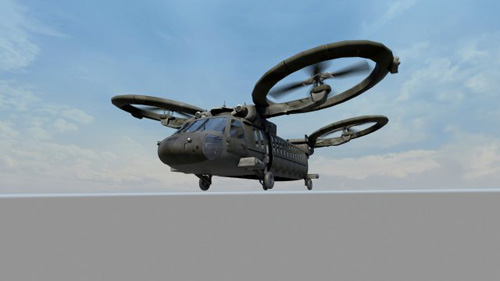 Future vertical lift concept
HUNTSVILLE, Alabama – U.S. Army Training and Doctrine Command has developed a list of eight capabilities that service leaders should prioritize in acquisition programs, a senior officer revealed March 16.
"Our intention is … to focus force modernization on the Army's most critical gaps," said Maj. Gen. Robert "Bo" Dyess, deputy director of the Army Capabilities Integration Center at TRADOC.
The "Big Eight" are: future vertical lift; advanced protection; cross-domain fires; combat vehicles; robotics and autonomous systems; expeditionary mission command; cyber and electromagnetic warfare; and "soldier/team performance and overmatch."
Dyess did not elaborate on the categories during his presentation at the Association of the United States Army's Global Force Symposium and Exposition in Huntsville, Alabama.
Some of the capabilities, such as autonomous systems and electromagnetic warfare, dovetail with those that have been embraced in the Defense Department's new "third offset strategy" to counter high-tech enemies. Others, such as future vertical lift and combat vehicles, are more Army specific.
TRADOC identified the Big Eight during an analysis of warfighting challenges and capabilities gaps, Dyess said.
Focusing prioritization efforts on capabilities rather than individual platforms is prudent in light of how quickly technology advances and the slow nature of the Pentagon's acquisition system, he said.
"Unlike the 'Big Five' of the '80s, which focused on specific systems, we believe that to cope with the complex challenges of the future … no single system or small numbers of systems will deliver the overmatch that we require," he said. "Focusing on systems alone might doom the Army to always shooting behind the target."
Investing in the Big Eight will enhance the Army's ability to conduct joint combined arms maneuver warfare, wide area security, and air and ground reconnaissance operations against advanced adversaries, Dyess said.
"Army leadership should prioritize resources for these capabilities and monitor them closely to mitigate … risk and develop means to adjust the requirements and acquisition processes to ensure implementation," he said.
TRADOC will work with Army headquarters staff to develop specific management practices to facilitate acquisition, he said.
The omission of a capability from the Big Eight list doesn't mean the Army doesn't want it, he noted. "I think it's human nature to go down the list of capabilities to try to find the capability that you are most endeared to," Dyess said. And "if your capability area … [isn't there] you don't think that that's an important thing for the Army. … I can tell you that's not true."
The Big Eight are on the list because they are areas where "we need senior Army leaders' investment in time and resources in order to bring those solutions to the fore," he added.
Photo: Army
Topics: Aviation, Rotary Wing, Robotics, Science and Engineering Technology