Lockheed Martin Steps Up Push for International Sales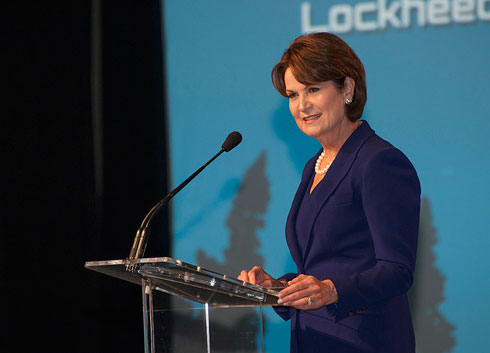 Marillyn A. Hewson
Lockheed Martin Corp., the Pentagon's largest contractor, is seeking to expand its international customer base in the face of toughening market conditions in the Middle East.
The $46 billion company expects to draw 25 percent of its revenues from non-U.S. sales during the next few years, said Lockheed Martin President and CEO Marillyn A. Hewson.
"One area where we expect the majority of our growth potential to come from in the years ahead is our international customers," Hewson said March 15 at a news conference in Arlington, Virginia.
Lockheed's non-U.S. sales were $9.5 billion in 2015, or 21 percent of its total revenues. To reach the 25 percent target, the company is heavily counting on bigger aircraft orders, especially of the F-35 joint strike fighter, C-130 J cargo planes and Sikorsky helicopters.
Hewson recognized the company will have to reduce its reliance on Middle Eastern buyers as these countries struggle to cope with the financial fallout of falling oil prices.
"While we see global demand for security products continue to increase, this demand is being met with economic headwinds that have the potential to slow global defense spending in some areas," Hewson said. "We are starting to see some pressure on countries that rely on oil revenues for a significant portion of their income."
A strong U.S. dollar is another hurdle to international sales, but Hewson insisted that "global growth is expected to continue albeit more slowly than in the past."
The collapse of the oil business may put some deals on hold in the Middle East but that is only temporary, she said. "We haven't seen a drop in their requirements for national security." Because of raging conflicts, there has been some uptick in munitions orders. "We may see decisions slip, and they may not buy as great a volume," said Hewson. As is the case in the United States, even when nations have economic challenges, "national security is the first priority."
To bolster its Middle East presence, Lockheed has partnered with a Saudi Arabian firm to build Black Hawk helicopters locally. And it has stood up a "center of innovation" in the United Arab Emirates with a goal to strike up new partnerships.
More broadly, U.S. policies that have shifted security responsibilities to other countries are creating new opportunities, she said. Threats from powers like Russia and China are "driving many current and prospective customers to increase their defense budgets and accelerate buying."
Europe is still recovering from a crippling eurozone debt crisis, but in the face of the deepest security crisis since the end of the Cold War, some countries are increasing their defense spending. Military budgets are projected to stabilize or rise steadily for the first time in years, Hewson said. "The expansion of Russia's military presence in Eastern Europe continues to drive concerns about regional stability and has also revitalized NATO."
For Lockheed, this means new openings for F-35 sales and other products like its MEADS air and missile defense system. Eight of the F-35's international partners are members of NATO. "The F-35 will be the backbone of future air operations," Hewson said. "The F-35 will give NATO capabilities that are now uniquely held by the U.S." The company expects to deliver 53 F-35s in 2016, five of which will be produced in Italy.
Lockheed will be looking to make a big splash when the F-35 flies this summer at an international air show for the first time. The aircraft was scheduled to make its international debut two years ago at the Royal International Air Tattoo and the Farnborough International Air Show in the United Kingdom, but engine problems grounded the airplane for several weeks.
An active marketing push also is under way for MEADS, which already has been sold to Germany. Poland and Turkey are seen as possible future buyers.
In Asia, Lockheed anticipates more deals as nations seek to modernize their forces to tackle regional threats, particularly those posed by China and North Korea. "We believe nations will seek closer to ties with the United States."
Japan will receive its first F-35 in December. The first was assembled at Lockheed's plant in Fort Worth, Texas. But 39 of Japan's projected buy of 42 F-35As will be assembled in country at a facility built by Lockheed and Mitsubishi Heavy Industries.
In Adelaide, Australia, Lockheed opened a research laboratory for submarine combat systems. It is teaming with Australian firms to test and validate Royal Australian Navy concepts of operations for next generation submarines.
Asian buyers of Lockheed's Aegis ship combat system continue to be courted. Aegis is currently produced for Japan and South Korea. "We see opportunities for additional partners in Asia Pacific," said Hewson.
Lockheed Martin executives who briefed reporters March 15 at the company's annual media day were emphatic about the importance of foreign military sales for the future of their business.
Jeff Babione, F-35 general manager, noted that 115 aircraft are in various stages of assembly worldwide, and by 2021, there will be 1,218 aircraft in production, of which only 751 will be for the United States.
The company is awaiting decisions by Denmark and Canada on F-35 procurements. Meanwhile, it is negotiating with current F-35 partners on a potential "block buy" of 40 aircraft for 2018. "Expect an announcement in the next few months," said Babione.
In the helicopter world, Lockheed has become a major international player following the acquisition of Sikorsky last year. A big prize from that acquisition is the Marine Corps' CH-53K heavy lift helicopter, an estimated $20 billion program.
The company sees significant international sales of the Sikorsky Black Hawk helicopter, of which 4,000 already have been produced for the U.S. military and foreign buyers.
"We think there's more opportunity," said Samir B. Mehta, Sikorsky president of defense systems and services. Current buyers include Saudi Arabia, Slovakia, Mexico, Tunisia and Jordan. The company is hoping for a new contract from Poland.
Sikorsky signed a partnership with Saudi Arabia's Taqnia Aviation to produce the Black Hawk. "The Saudi government made it clear they want to diversify their economy away from oil." Assembling high-tech helicopters creates manufacturing jobs and gives the country access to advanced technology, Mehta said.
There are many potential deals to be struck, he added. "We can't accurately predict where some of the next customers will come from," he said. "It is a very dynamic world. There is a lot of interest from places in Eastern Europe that five years ago for us was unthinkable. These are countries that were flying Soviet helicopters. A lot of them don't want to be tied to that supply chain."
Dana Fiatarone, vice president of commercial systems and services at Sikorsky, said there are efforts to adapt the commercial S-92 and S-76D helicopters for missions like border patrol, paramilitary operations and emergency medical services. This comes on the heels of a dramatic drop in sales in the oil and gas market.
Being owned by Lockheed Martin gives Sikorsky a leg up on other helicopter manufacturers that don't have access to advanced armaments and sensors that can be installed in aircraft. "We're seeing more customers that want multi-mission capability in the Black Hawk," said Mehta. Foreign customers with small budgets can't afford to buy dedicated attack and utility variants. "With us, they can turn a utility helicopter into an attack aircraft."
Small countries also are finding that when they buy aircraft off a hot production line, they get reduced prices compared to what they would pay to build their own. Slovakia bought nine Black Hawks, for instance, but are paying the same price the U.S. Army pays under a 360-aircraft multiyear contract, Mehta noted. "That's key for affordability."
Photo Credit: Lockheed Martin
Topics: Defense Department, DOD Budget, International