Lockheed Frigate Design to Use Proven Systems to Increase Affordability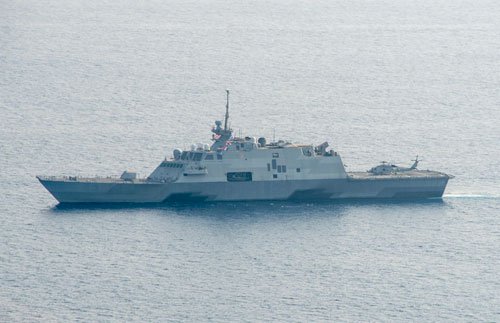 USS Fort Worth
Lockheed Martin plans to use proven components from existing ships when it sets out to compete for the Navy's upcoming frigate program. Doing so will make its offering more affordable, a company executive said March 15.
The frigate will be a follow-on vessel to the service's littoral combat ship, which currently exists in two variants — the Freedom-class manufactured by Lockheed and the Independence-class built by Austal USA.
In a December memorandum Secretary of Defense Ashton Carter directed the Navy to reduce its combined procurement of littoral combat ships — and the more heavily-armed frigates to follow — from 52 to 40. The memo also called for a downselect to one variant of the vessel in fiscal year 2019. These changes were reflected in the president's fiscal year 2017 budget request in February.
"We anticipate as we look forward, affordability is going to be a key requirement for this [the frigate] program," said Neil King, capture executive for the fiscal year 2017/2018 littoral combat ships and frigate opportunity. King did not wish to comment directly on the downselect and future acquisition plans of the program, noting that would be "premature."
"Right now we're trying to understand the Navy's schedule as it is today," he said during a briefing at Lockheed's 2016 Media Day. "We're working through that acquisition strategy. It hasn't been approved yet. Once that's been approved we'll get some additional insights into the associated schedule."
For now the company is looking at perfecting its offering by focusing on ways in which it can reduce costs. As the Navy prepares to transition to the frigate, there is a focus on affordability, he said.
"There's a fair amount of commonality – commonality with the LCS program and also commonality with the DDG-51," he said.
From LCS, the frigate will derive longbow hellfire surface-to-surface missiles; the 57 mm Mk 110 gun; two 30 mm guns; the MQ-8 FireScout unmanned aerial system for reconnaissance and precision targeting; a variable depth sonar as part of its anti-submarine warfare package; and an upgraded 3D air search radar (TRS-4D). "We took advantage of a radar development program to integrate an active electronically scanned array into LCS, and this is going to be baselined on LCS 17 and going forward," King said.
From the DDG-51 destroyer, the frigate design will utilize over-the-horizon surface-to-surface missiles and Nulka decoys, which are Australian designed and developed active missile decoys. The company is also adding an enhanced electronic warfare capability, derived from the destroyer platform. "This is an area that we're focused on trying to leverage the Block 2 program from the DDG-51 and having a smaller version — they call it SEWIP [Surface Electronic Warfare Improvement Program] Lite — that provides a lot of flexibility and increased performance in the electronic warfare area."
The frigate will also use systems common to both ships. It will have an Aegis-based combat management system (COMBATSS-21); SeaRAM air defense missiles; MH-60 helicopter with hellfire missiles and torpedoes; and multi-function towed array, SQQ-89 sonar processing and torpedo countermeasures as part of the vessel's anti-submarine warfare package.
"As we look to our configuration for the frigate, it's built upon the 118-meter design. We did increase the displacement just with this additional capability," King said. "This ship had a lot of flexibility with the 180 metric tons [of additional space] so we're taking advantage of that. We're also taking advantage of [removing] certain systems that are no longer applicable," he noted.
Older versions of the LCS had an overhead crane system for launch and recovery activities. "Going forward we don't think that's available so we'll take that system off," he said. "That will give us some additional weight and margins that we can apply to these capabilities that we're going to be adding."
In addition to commonality, the company believes that block buys will provide an opportunity for significant cost savings moving forward.
Ships 5 through 24 in the LCS program are being procured under a pair of 10-ship block buy contracts that were awarded to the two LCS builders in December 2010. "That block buy allowed us to establish a shipbuilding plan that spanned multiple years," King said. The block buy enabled the company to maintain a workforce, achieve significant price reductions both from a material and labor standpoint and cut the average ship cost across the block buy to approximately $360 million, which is significantly below the $480 million fiscal year 2010 cost cap, he said.
King advocated this type of strategy for future procurement of LCS and frigate platforms. "We're looking forward to having a similar type of approach from an acquisition in which we can leverage multi-years of procurement of these ships to maintain and keep the costs at a very affordable price to the U.S. Navy."
Photo: Navy
Topics: Shipbuilding, Surface Ships