Service Chiefs: Time to Speed up Acquisition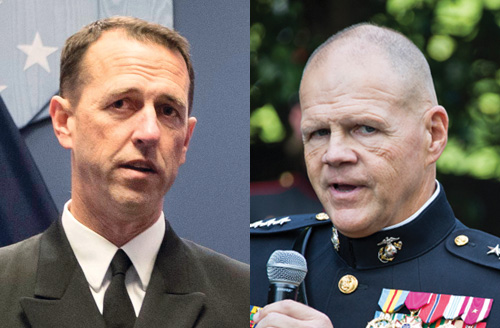 Adm. John Richardson, Gen. Robert Neller
If the military hopes to keep its competitive edge against rival nations, it must remedy its slow acquisition process, service chiefs said March 10.
Gen. Robert Neller, commandant of the Marine Corps, said he is afraid that the United States will one day not be able to acquire technology quickly enough to compete with its opponents.
"My concern is that our potential adversaries are going fast," he said during remarks at the New America Foundation's Future of War conference in Washington, D.C.
During a recent visit to Joint Base Anacostia-Bolling in Washington, D.C., Neller said he saw one example of how slow the military is at acquiring emerging technology.
"I went in the AAFES [Army & Air Force Exchange Service] over at Bolling and there's like a Chinese-made DJI [Phantom] quadcopter right there as a Christmas present," he said. The drone, which includes a camera, was available for $500.
"So why didn't every rifle squad have one of those things?" he asked.
Under the military procurement system, it could take years for an infantry battalion to acquire small drones. At the same time, "I can go on Groupon and buy one for 100 bucks today. With a camera," he said. "That's the thing that concerns me. … We've got to go faster."
Adm. John Richardson, chief of naval operations, echoed Neller's concerns on the acquisition process.
"While we still enjoy a margin of superiority right now, I would argue that if we don't pick up the pace we will certainly not meet our potential, and worse, may fall behind our competitors," he said.
The Navy is working on a number of initiatives to try and speed up procurement, he said. For example, the service recently stood up a rapid prototyping and experimentation division where resident technologists will respond to urgent needs from combatant commanders as well as look for "opportunities that maybe haven't been articulated yet in order to further our way forward," he said.
The Navy also recently established the Maritime Accelerated Capabilities Office, Richardson said.
"It's a fast track if you will, an HOV lane … so that you can kind of go faster and you've got the resident authorities in place that can make quick decisions. They can maybe adjust the acquisition requirements because of the confidence that they have in the program and get things moving faster," he said.
The service plans to migrate more programs into this fast lane over time. However, said Richardson, "you've got to think that through. You don't want that fast lane so close that it's not startlingly different, but you don't want it too far out that it just sort of dies on the end of the yardarm and doesn't flourish."
Photo: Defense Dept.
Topics: Defense Department, Procurement, Acquisition Reform, Defense Department, Robotics, Unmanned Air Vehicles