Report: The Time to Get Serious About Hypersonics Research Is Now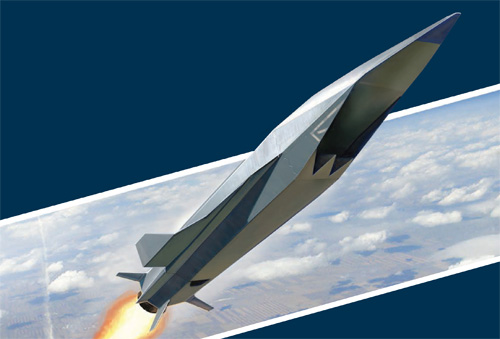 The United States should immediately begin a measured, but steady march toward fielding hypersonic vehicles, said the authors of areport released March 1.

"It's well past time for the U.S. military to get serious about hypersonic weapons,' said retired Air Force Lt. Gen. David Deptula, at a Capitol Hill briefing on the Mitchell Institute report: "Hypersonic Weapons and U.S. National Security: A 21st Century Breakthrough."

China and Russia continue to invest in the technology, which is defined as speeds of Mach 5 or above, said Deptula, who is now dean of the Mitchell Institute. China alone has carried out six tests in the past two years on a boost-and-glide system that sends a rocket to the upper atmosphere, then releases a glider that reaches hypersonic speeds upon descent, he noted. The other concept is an air-breathing cruise missile.

Laboratories under the Defense Advanced Research Projects Agency, the Air Force, Navy and NASA all continue to invest in the technology in fits and starts, said one of the report's co-authors, retired Air Force Maj. Gen. Curtis M. Bedke. The report's goal is to chart a path forward to take it out of the labs and into the field, he said.

The Air Force has already named hypersonics as one of its top five game-changing technologies. A high-speed weapon could penetrate heavily fortified air defense and strike targets in a more timely manner, its leaders have said.

"We're not just talking faster, we're talking awesomely faster," Bedke said.

There have been many programs in the past that bit off more than they could chew by trying to field a hypersonic aircraft all at once, Bedke said. They ended up being cancelled with a loss of know-how as development teams were broken up and scattered to take on other projects.

Bedke called for a new program that is "steady and disciplined and [to] see that the wasted opportunities of the past are not repeated."

It's not just a matter of building a huge rocket engine that achieves high speed in a short burst, he said. That has been done before. It needs to be sustained.
"At these speeds the heat is not just intense, it is so incredible the air begins to ionize, individual molecules break apart and start to shed electrons," he said. One of the main technological hurdles is simply ensuring that the aircraft doesn't melt, he added. Hypersonic weapons will need to travel at farther distances for a longer period of time, he said.
The report recommended putting the Air Force in the lead of all hypersonic research and development. It should establish a program office reporting to the assistant secretary of the Air Force for acquisition, it said.

The report had five main recommendations. Congress and the military must understand the potential of hypersonics and commit to a steady path to reach practical weapons capabilities. The Defense Department must also establish a "realistic" acquisition strategy.

It must mature the subsystems to a high technology readiness level before beginning actual weapons development. And it must assure that test facilities and ranges are up to date and ready for hypersonic research. Finally, it must create and sustain a cadre of professionals and maintain this expertise.

The goals will be to develop an air-launched medium range hypersonic strike weapon in the 2020s; a more capable weapon with intelligence, reconnaissance and surveillance capabilities by the 2030s; and a reusable weapon/ISR platform by the 2040s.

Bedke noted that there is money being put into hypersonics research and that the laboratories were doing important work to buy down risk. But he was concerned about a fickle budgeting process.

"We need to make sure that somebody doesn't decide, 'You know there isn't enough money, so let's drop one of these concepts,'" he said. The military can't just keep hypersonics on "life support" funding and never field a weapon, he added.

"History shows that we have not done right by hypersonics, and hypersonics has not been allowed to do right by us," he said.

The report did not address how much funding fielding such a system would require and Bedke declined to state a number, only saying it would not cost as much as fielding the new B-21 bomber or F-35 joint strike fighter.
Concept Art: Andrey Zhirnov / Mitchell Institute for Aerospace Studies
Topics: Aviation, Science and Engineering Technology, DARPA, Air Power