ANALYSIS DEFENSE DEPARTMENT
What NATO Must Do to Contain Russia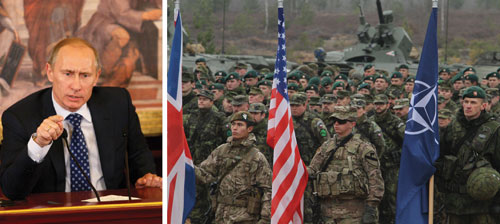 Photo Credit: iStock, Defense Dept.
From encroachment in Ukraine to offensives in Syria, the Russian bear is awake and in motion. Though claims of an impending second Cold War may be overstated, Russia has gone so far as to call NATO's recent overtures a threat to the country's national security while at the same time refusing the Western alliance's efforts to set up a military-to-military dialogue.
Rumblings from the East coupled with troubling wargame results (spoiler: NATO loses badly to Russia) have presidential hopefuls, Congress and Western military brass rightfully concerned about where Putin aims to pounce next. With tensions mounting on the European front, NATO needs to develop a new resource strategy that does more to build trust among its members and achieve interconnectivity between its networks.
NATO must rapidly and publicly redress shortcomings on both of these fronts even among serious financial constraints. Though Defense Secretary Ashton Carter's proposal to quadruple the Pentagon's budget for European defense is a positive step, it is unreasonable to expect that many other NATO allies will meet this U.S. spending uptick with funding surges of their own.
Clear evidence to this point is the fact that only five of 28 NATO countries met their 2015 targets of 2 percent of GDP on defense spending.
When NATO thinks interoperability, members often turn to joint military exercises. In 2015 alone, NATO planned for approximately 270 exercises, notably with about half devoted to "reassuring Eastern European allies." One big-ticket activity to note is Trident Juncture 2015. As NATO's largest exercise in over a decade, it brought together more than 36,000 personnel from 30 countries.
Longstanding tools in NATO's arsenal, joint exercises are cost-effective ways to put faces to flags and to test capabilities in no-risk combat scenarios.
Andrew Hunter, director of the Defense-Industrial Initiatives Group at the Center for Strategic and International Studies, notes that for a bill "well south of a billion dollars, exercises drive quite a lot of value by helping soldiers gain familiarity with other countries' engagement strategies and by increasing the probability of allies coming to each other's support." Retired Army Gen. Raymond Odierno comments that recent exercises have helped allied forces identify and remedy interoperability challenges "that could have outsized impact in a fight against Russia." Along these lines, militaries get to test drive new technologies in exercises, working out kinks with industry suppliers and driving allies to consider new toys for the collective fight.
NATO could yield even greater interoperability benefits from joint exercises if allied leaders would downsize and narrow their scope to more accurately reflect Europe's diverse battle space.
Magnus Nordenman, a European security expert at the Atlantic Council, called out the fault in thinking of the Russian military as a singular, ground-based machine; Putin's aggression could emerge from the sea in Northern Europe or descend from the air upon countries bordering the Black Sea. To this point, the all-encompassing nature dilutes their value and limits their ability to address individual participants' dissimilar threat environments.
A U.S. Air Force colonel with two European tours under his belt went on to validate this view, noting, "Really small, specialized exercises, almost grassroots campaigns, are really valuable." Though they may not trigger the same PR spike as a 30-country wargame like Trident Juncture, narrower exercises should better prepare NATO to defend different partners in targeted ways. Such customized simulations are superior trust-building tools as well, as they demonstrate to vulnerable allies that the collective security organization knows how to fight their fight; the "bigger is better" brand of exercises is the wrong way to go.
Platform tours are a second notable approach for promoting interoperability. In the recent past, the United States has sent a range of jets, ships and tanks overseas to train with European allies and bolster regional security. In September, it deployed four advanced F-22 fighter jets across the pond as part of a continued push to deter Russia.
Aside from their less tangible signaling value, in-theater platform demonstrations have a practical upside. They are undeniably effective in syncing up the multinational cohort of pilots and platforms that would need to cooperate in the same contested airspace should Russia attack.
Several NATO countries deployed two European fighter aircraft — the Typhoon and Gripen — to train with the F-22. Additionally, the trip from a U.S. base to a European battlefield isn't a quick or easy one and rotating big platforms overseas ensures that NATO allies can come to each other's defense rapidly and effectively. In this vein, the same Air Force colonel commented, "We need to flex the muscle to ensure that we still can be expeditionary if we need to be."
Though not altogether hollow, platform tours are less valuable when the goal is just to show off one's hardware. The Army's Stryker infantry vehicle went to "Dragoon Crossing" in Central Europe and "Arctic Pegasus" in the Arctic Circle. With Strykers out of the shed, European allies may breathe a little easier and Putin may be put on edge.
Yet, signs of solidarity and scare tactics don't make for a more interoperable NATO coalition. If the Strykers had drilled with Czech Pandur IIs or infantry vehicles from other European allies, the takeaway would be different. But, as the Strykers toured solo, they left NATO's collective defenses no better than when they had arrived. What's more, active collaboration builds trust far better than just giving one's allies something to cheer at as it rolls by.
The third domain of NATO interoperability is software systems. In terms of both communications and cybersecurity, allied nations appear committed to synchronizing and securing their networks. Leveraging the Command and Control Centre of Excellence, NATO uses and retools its communications infrastructure through training scenarios like Trident Juncture and real-time field activities like Operation Active Endeavor. Similarly, the Cooperative Cyber Defence Centre of Excellence in Tallinn, Estonia, works to align and bolster NATO-wide cyber defense, executing annual "Locked Shields" cybersecurity exercises.
These institutions signal NATO's awareness of how crucial interconnected networks are, yet the alliance has struggled on these fronts in an operational context. It took years to set up "alliance networks" both in Afghanistan and Iraq. Communications difficulties plagued missions in Libya as well. Just last year, information sharing during a joint exercise was so bad that a NATO unit would have killed its own allies had it been a real operation. Potential blunders in allied cyber defense are unsurprisingly kept hush hush; however, with NATO members succumbing to hackers on their own turf, it's fair to assume that the challenge of defending joint military networks is still very real and enduring.
If NATO is to have a hope of effectively defending against Russia in 21st century warfare, it is abundantly clear that the organization's members need to pump more resources into better aligning their networks. Members should invest in training that isolates communications problems outside of full-fledged combat exercises — as they do for cyber — and should deploy the Battlefield Information Collection and Exploitation Systems across the alliance at an accelerated clip.
With Putin allegedly pouring money and manpower into Russia's hacking forces, NATO is long overdue to outgrow its Estonia-based cybersecurity hub, which Nordenman labels a "policy and strategy shop." Instead of committing limited resources to churn out cyber regulations, NATO should strive towards an integrated cyber defense apparatus that expands NATO's cyber relationship with the European Defence Agency and builds similar bonds with the National Security Agency, as well as peer agencies in Europe.
None of these networking milestones are feasible without a serious change to NATO's information-sharing ethos. In this spirit, the Air Force colonel from above critiqued, "The U.S. offers NATO a scaled-down version of our own communications technologies, which provides them just enough to operate." Against this backdrop, the United States' goal appears not to be interconnectivity, but rather to have allies just squeak by. Meanwhile, according to this serviceman, the advanced networking capabilities of the Italians, Dutch and certain other tech-savvy NATO members languish on the sidelines.
To be sure, there are very real security considerations that would come along with enabling a truly integrated NATO network, especially for the United States. Escorting other countries — even NATO allies — beyond U.S. firewalls is not an easy sell. Yet, as Russia could pick the Internet for its next battlefield, the United States cannot afford to invest halfheartedly and hold NATO back from achieving a reality where everyone can actually talk to each other.
Few predict that Europe is soon to be engulfed in full-scale war. Some, like Lawrence Korb at the Center for American Progress, even have argued that concerns of being underprepared are overblown or a ploy to secure funding for the Pentagon's large purse.
As long as Moscow's unpredictable leadership team remains intact, calls for heightened and realigned NATO defenses should be strongly considered. To responsibly balance the skeptics and hawks and effectively brace for potential aggression from Moscow, NATO must cultivate a collective defense built on trust and interconnectivity. The alliance will be left vulnerable to an emboldened Russian bear if it fails to evolve on these fronts.
Alex Haber is a senior analyst at Avascent, an aerospace and defense consulting firm.
Topics: International