Standards for 3D-Printed Rocket Engines Coming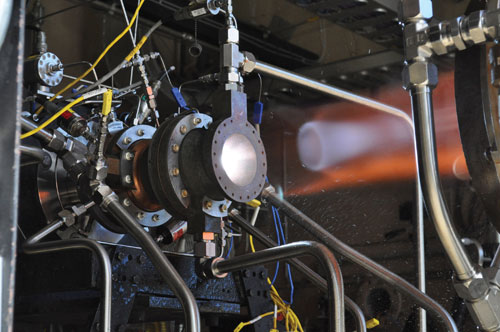 Photo Credit: Aerojet Rocketdyne
Additive manufacturing — which combines layers of a substance, often a polymer or metal, to create an object — has for the past several years been touted as a way to reduce manufacturing costs across the defense industry. Aerojet Rocketdyne has now been tapped by the Air Force to set standards for using the process in rocket engines.
As part of an Air Force broad agency announcement, the service awarded the company a $6 million contract to define standards to qualify 3D-printed parts for liquid-fueled rocket engines, said Jay Littles, Aerojet Rocketdyne's director of advanced launch vehicle propulsion.
"We're going to outline a process by which you can qualify some of the really complex geometry additively manufactured components," he said. "We're going to be working with our customers at the Air Force, and we have our customers at NASA participating in the program as well."
A standard process would help companies using the technology to identify material microstructures and properties and detect where defects may be present, he said.
"It's an approach to more effectively … qualify some components that you wouldn't be able to qualify with the traditional processes," he said.
The contract is part of the Air Force's larger effort to transition off of the Russian-made RD-180 engines used on Atlas V launch vehicles, he said.
"Frankly, if you go all the way back to when we started utilizing the RD-180 domestically there was actually a requirement way back then that we would eventually evolve to a domestic engine for that application," he said. "This is really going back to trying to enforce the requirement that was there years ago. And obviously the tensions [with Russia] can kind of underline that importance of having that domestic source."
The contract is over 24 months, at which point Aerojet will supply the Air Force with a draft process. Toward the end of the contract there will be component demonstrations, he said.
Aerojet Rocketdyne has already built a liquid-fueled Bantam rocket engine using the technique. Littles said the company often uses a process known as selective laser melting "that gives us the real fine feature control that we need for some of our complex geometry parts."
Topics: Manufacturing