VIEWPOINT ACQUISITION PROGRAMS
One Way to Improve Defense Acquisitions: Human Systems Integration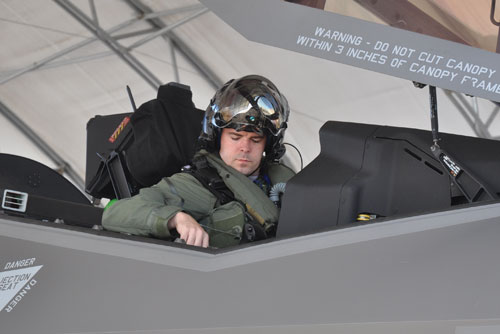 Photo Credit: Defense Dept.
Many of the current acquisition reform initiatives have been focused on programmatic and bureaucratic changes. The system design and development protocols are also ripe for review and improvement, to include ensuring that tools already in the acquisition framework are used.
One of those tools is human systems integration, or HSI. It is a discipline that contributes to improved system design, development and mission effectiveness.
The Defense Department has invested in this capability yet the use of HSI is often overshadowed by the desire to add system functions before assessing human functionality.
HSI must become a more prominent and consistent component in the acquisition process, which includes being an evaluation factor during source selection.
The U.S. Air Force defines human systems integration as "integrated and comprehensive analysis, design, and assessment of requirements, concepts and resources for system manpower, personnel, environment, training, safety, occupational health, habitability, personnel survivability and human factors engineering."
The Air Force further defines human factors engineering as "the comprehensive integration of human capabilities and limitations (cognitive, physical, sensory and team dynamic) into systems design, to optimize human interfaces to facilitate human performance in training operation, maintenance, support and sustainment of a system."
Simply put, HSI works to ensure that defense systems meet fundamental cognitive and physiological needs of the users and improves system reliability, efficiency and safety.
From an acquisition perspective, the goal is an efficient design and development process that addresses and incorporates user requirements before limited-rate or full-scale production. If HSI is not applied then it is likely that the system will not interact with the human properly and will require added time to field the system, added cost to redesign and redevelop the system, or require human interaction mitigation procedures, which will greatly reduce mission effectiveness.
The International Council on Systems Engineering states that "as a management strategy, HSI helps to ensure that human-related concerns are properly considered in an acquisition program."
For maximum effect, HSI is applied early in the design and development process to ensure the system is built to accommodate characteristics of the user population.
HSI improves human interaction with autonomous and decision support technologies by leveraging cognitive processing. It addresses issues such as combat clothing, equipment, rations, vehicle escape and safety. It supports force management and modeling and training methods and technologies, and it improves understanding of complex human terrain and sociocultural environments.
One current defense system effort is the Air Force redesign program for the unmanned aerial system pilot ground control system. The operational need for combat support outpaced the ability for the ground control stations to go through a traditional development cycle. As such, the stations were patched together quickly, are hard to use, and poor human interface created operator stress and fatigue.
The current program will produce ergonomically correct control stations, which will reduce operator stress and enhance mission effectiveness. Operator interface issues include seat recline angles; head and eyesight viewing angles; arm rest and operation stick placement; display screen size, shape and distance from the eyes; mission display icons, colors and placement; operator information flow; and information display structures just to name a few.
Recent HSI applications include the Joint Tactical Radio System Handheld, Man-Portable Radio. Analysis and feedback from multiple user assessments drove design decisions and identified missing system requirements resulting in reverse engineering the iPod user interface and applied lessons learned to the radio design. The operator keypad was redesigned to reduce complexity, enhance menu navigation and improve access to mission critical radio functionality. Soldier input resulted in streamlined menu flows and prioritized menu item placement to meet mission needs.
Another example is the Aegis Weapons System Display Suite. User inputs resulted in display improvements that included color-coded symbology, increased symbol size and color-coded map backgrounds. These changes resulted in reduced time to identify threats and improvements for all task executions that included operator and thus mission performance improvement and improvements in situational awareness.
And then there is the F-35 ejection seat and pilot helmet. It was recently disclosed that in an ejection pilots weighing less than 136 pounds can be seriously injured, even though the ejection seat was specified to accommodate pilots in the 103 pound to 245 pound range. In addition, it has been discovered that the helmet designed for the JSF pilots is approximately six ounces too heavy, which can cause pilot fatigue, reduce the G's that a pilot can sustain in combat and exacerbate the ejection seat problems.
The Defense Department has recognized the value of HSI in the acquisition process and has established a number of venues to promote its value. Within the office of the deputy assistant secretary of defense for systems engineering there is the "HSI Initiative," the stated purpose being to focus on the role of the human in the acquisition process, specifically to provide equal consideration of the human along with the hardware and software. Further, the role of HSI within the acquisition process has been formalized through DoD Instruction 5000.02 (January 2015), which states that the program manager will "plan for and implement HSI beginning early in the acquisition process and throughout the product life cycle. The goal will be to optimize total system performance and total ownership costs, while ensuring that the system is designed, operated and maintained to effectively provide the user with the ability to complete their mission."
Concurrently, the Defense Acquisition University Guidebook contains a section on HSI and its applicability in the acquisition life cycle, which provides the program manager information to support HSI integration into the acquisition effort. And there are a number of active efforts to address HSI integration in the entire defense research, development, acquisition and engineering process, one of which is the Joint Human Systems Integration Working Group with representation from all the armed services and the Defense Department.
By providing the knowledge necessary for program managers to apply this discipline, it is clear that the department understands and values HSI in the acquisition process. But it should be noted that these documents simply help program managers have "background and understanding" of HSI and direct that they "ensure that HSI is considered" in the design and development effort.
There is no stated requirement that HSI be a "key performance parameter" or "key system attribute." KPPs and KSAs are defined by the Defense Acquisition University as "metrics, which contain those attributes or characteristics of a system that are considered critical or essential to the development of an effective military capability."
The argument here is that HSI is a critical or essential metric that materially impacts military capability. In defense acquisition programs with finite budgets and in a perpetual state of hard decisions and tradeoffs, HSI is currently just an optional design and development tool that can be set aside in order to add system capability without a clear understanding of the human impact of that capability.
Key to enhancing HSI participation in the acquisition process is ensuring acquisition program managers and service program executive offices clearly understand its value. This can prove difficult as the HSI community of interest is not a conventional acquisition constituency.
The HSI industry doesn't build things in the conventional sense. It is an industry of capability. And since the field is based on human cognitive and ergonomic principles, practitioners can have difficulty explaining in lay terms its value, which is intuitive. As such, a critical component of the acquisition reform path is for the HSI community to ensure its participation and to continue to convey its value in the acquisition process.
Gary Gomez is a national security consultant and the deputy chair of the National Defense Industrial Association Human Systems Division.
Photo Credit: Defense Dept.
Topics: Defense Department, Human Systems