Military Eyes Sixth-Generation Fighter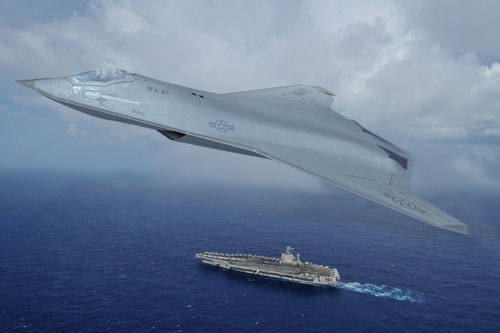 Northrop Grumman's sixth-generation fighter concept
As key Air Force and Navy fighter jets — such as the F-22 Raptor and F/A-18E/F Super Hornet — face the end of their service lives in the 2030s, work is being done in earnest by the two services to field a new fighter.
The sixth-generation fighter, as it has been called, is still largely conceptual. While the services have ideas about some requirements and industry has already begun distributing artist renditions of potential aircraft, a formal program is still years away.
Sterling Anderson, deputy chief of Air Combat Command's air superiority core function team, told National Defense that the Air Force already has a few capabilities in mind.
The service wants to cut down on the amount of mid-air refueling, he said. Fighters, which are traditionally small and compact, often have less space for extra fuel, he noted.
"We think it's going to have to be long range, for sure," he said. "If you look at almost any part of the world, even in the Middle East, and look at some of the distances required and the tankers required, we would like to have a fighter with a longer range probably than the standard 500 miles that we have today."
Since the end of the Cold War, combat aircraft have had the luxury of operating from bases that are close to the enemy, like in Iraq, said Mark Gunzinger, a senior fellow at the Center for Strategic and Budgetary Assessments, a Washington, D.C.-based think tank. In the future, where enemies have precision-guided weapons like cruise or ballistic missiles, those bases could be at high risk.
"We might need to operate our future combat air forces from great distances from an enemy in areas that are not at such risk," he said.
However, that doesn't necessarily mean that the Air Force will go for a larger aircraft that resembles a bomber, Anderson said. "We're working on a lot of really advanced propulsion technologies … that are going to have a pretty good … increase in specific fuel consumption, so even keeping aircraft fairly small, we believe we are going to be able to get some pretty good range increases."
An aircraft as big as a bomber would likely be extremely expensive, he said. "That's probably out of reach to be that big. It's just not affordable."
Stealth will also be a key requirement, he added. It "is the price of admission in future conflicts."
Additionally, the service wants to field smaller weapons.
"One of the issues we have today is just the amount of weapons we can carry on any given fighter," he said. "The weapons are fairly large and the fighters are fairly small because they're fighters. So you don't have a deep magazine."
Emerging technology such as directed energy weapons might be one way to obtain a deeper magazine, he noted.
"We have a requirement for things like survivability and lethality, deep magazines, range and persistence," he said. "When you look at that, the laser kind of helps you in all of those areas. Now, whether it will be mature enough, whether we can figure out how to integrate it on a fighter-type platform, those are all questions to be answered. But it certainly contributes to all of the major areas that we need to work on."
While kinetic weapons will be critical, there is also a need for electronic weapons, he said. Cyber capabilities, offensively and defensively, will be necessary in the future as the United States faces more advanced adversaries, he said.
The Air Force is also looking at ways to better manage an aircraft's heat signature, he noted.
"We've got several efforts ongoing looking at how we manage our power and how we manage thermal loads. Part of that is in the engine itself," he said. "There's a lot of work going on in what they call a third-stream engine, which has a third stream of much cooler air that you can use to mitigate a lot of that heat."
The Air Force Research Laboratory is currently working on developing this next-generation engine, Anderson said.
An Air Force group known as the Air Superiority 2030 Capability Collaboration team is researching much of the requirements for a sixth-generation aircraft, he said. The group includes personnel from Air Force headquarters and from Air Combat Command.
"They're taking a comprehensive look … at air, space and cyber and how we want to do air superiority out there in the far term in the 2030s," he said. "They're going to brief the chief [of staff of the Air Force] in … March and get a vector from him on how to proceed."
"How we do this sixth-gen thing, or if we do it, all depends on the outcome of that study and the chief's direction," Anderson said. At the moment, the Air Force plans to begin an analysis of alternatives in the first quarter of fiscal year 2017 that will run through the middle of fiscal year 2018, he added.
While capabilities are being parsed out, the service is already examining ways it can avoid some of the acquisition pitfalls that plagued other fighter jets, such as the fifth-generation F-35, he said.
"One of the largest single things we're looking at and working on is how to take all the lessons learned from F-35 and other activities here in the last few years and avoid those in the future," he said. "It's everything from starting with requirements to the acquisition process, finding ways to shorten that and make it more efficient."
The service would likely want to avoid concurrency when fielding the aircraft, which can bring "a lot of baggage," Anderson said.
The Air Force intends to partner with the Navy as it makes plans to potentially field a sixth-generation aircraft, he said.
"We're working pretty closely with the Navy, not because we'll have the same airplane — because we won't, we've got significantly different requirements — but there are a lot of things we can take advantage of to reduce cost," he said. "We're going to do a very closely coupled analysis of alternatives — not a joint AOA, but closely coupled — so that we can discover those ways to save the services money."
Rear Adm. Michael Manazir, director of air warfare in the office of the chief of naval operations, said as the service embarks on an analysis of alternatives for the F/A-XX — the Navy's designation for the sixth-generation aircraft — it is keeping its study wide-ranging and examining all options.
"The Navy's point of focus is the capability gap set that occurs when F/A-18E/F and EA-18G start to retire in the mid 2030s," he told National Defense in a statement.
The service's analysis of alternatives team is currently working "with industry and the acquisition, intelligence, science and technology communities along with other experts to find an affordable blend of capability and survivability to address the predicted future threat," he said.
Over the past several months, the Navy has conducted a series of technical interchange meetings to address affordability, modification of current platforms, new start aircraft, propulsion, avionics, weapons and more, he said.
Manazir stressed that the service plans to work closely with the rest of the military to field the aircraft. "It is anticipated that the services will collaboratively investigate common technology investments and interoperability. The analysis will provide insights into the utility of a joint solution, focusing on commonality and interoperability between solutions."
As the military has ramped up its efforts to procure the aircraft, industry has taken note. In a highly coveted Super Bowl commercial slot — where a 30-second ad cost millions of dollars — Northrop Grumman showed off concept art for a potential sixth-generation fighter.
The commercial started with engineers working on what looks like a bomber-type aircraft in a factory. The finished aircraft then zips off a runway and into the sky. A voiceover says, "Just wait until you see what's next."
Chris Hernandez, vice president of research, technology and advanced design at Northrop Grumman, said the company is making investments today to better address the challenges of the emerging operational environment.
"The integrated systems that the nation needs to acquire to assure air dominance in 2030 … [and beyond] will likely be very different than legacy fighter solutions," he said in a statement.
"The emerging operational environment demands long-range, survivable, penetrating, persistent systems with deep magazines to prevail against a numerically superior adversary."
In concept art, a laser weapon is visible on Northrop's aircraft.
Andrew Hunter, director of the Defense-Industrial Initiatives Group at the Center for Strategic and International Studies, a Washington D.C.-based think tank, said the sixth-generation aircraft might not actually be a fighter jet.
"It could be a swarm of" drones, he said. "It could be missile trucks that don't look anything like current fighter aircraft but operate at much longer ranges."
"I think one of the biggest questions that's kind of out there to be answered — is this idea of something called a fighter relevant … in the 30 years from now timeframe," he said.
It can be extremely expensive to try and put capability on top of capability on an airframe while also making it as stealthy as possible, he said. Officials and experts are mulling over whether it is a better payoff to disaggregate some capabilities and reduce vulnerability to losses by distributing the various parts of a fighter in a more networked approach, he said.
Gunzinger, the senior fellow from CSBA, said the term "fighter" is antiquated.
The term tends to "draw a box for this future capability which no longer exists because technology has progressed so quickly," he said. "The next-generation fighter will be capable of multi-missions … and it may look very different from the kind of 'quote unquote' fighters that are now in the inventory."
Gunzinger suggested calling the system "the sixth-generation combat platform" or "the next-generation combat platform."
The aircraft will have to support air dominance, strike and electronic warfare missions, he said.
The United States is moving into an era where the operational environment is going to be increasingly contested, and that means the sixth-generation fighter will have to be "highly survivable, capable of penetrating areas that are well defended by a vast air defense system — surface-to-air missiles and other weapons — and it's going to probably have to have quite a bit of range."
The United States must think about threats from Russia and China and the anti-access/area denial capabilities that they have, Gunzinger said. Additionally, those nations are exporting their capabilities to other countries, including Iran.
"These capabilities are proliferating globally, so you also have to think about the Syrias of the world and what they may be able to get their hands on," he said.
Photo Credit: Northrop Grumman