LCS Cuts Could Strain Shipbuilding Industry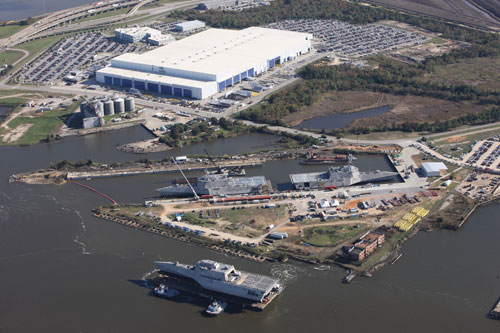 The Austal shipyard located in Mobile, Alabama
Projected reductions to the Navy's littoral combat ship program and the ensuing uncertainty surrounding the platform could have a significant impact on the industrial base, according to experts and industry executives.
New concerns over the program's long-term future stem from a December memorandum in which Secretary of Defense Ash Carter directed the Navy to reduce its combined procurement of littoral combat ships — and the more heavily-armed frigates to follow — from 52 to 40. The memo also called for a downselect to one variant of the vessel in fiscal year 2019.
Carter's directive lays out a construction plan to build one ship per year — at alternating shipyards — from 2017 to 2020, and two ships in 2021, removing a total of eight vessels from the Navy's future years defense program for fiscal year 2017 to fiscal year 2021.
The 2017 budget request released Feb. 9 asked for funding for two ships in 2017 — one more than what Carter had directed in his memo — in order to give the two manufacturers of LCS, Lockheed Martin and Austal USA, a more even playing field when competing in the 2019 downselect. The new budget request will add an extra littoral combat ship, while cutting a frigate that would have been purchased after 2021, committing the Navy to 33 LCS and frigates within the FYDP and seven frigates forecast outside of the FYDP, for a total of 40 ships.
Bryan Clark, a naval expert at the Center for Strategic and Budgetary Assessments, said cuts to the program would have a significant impact on both shipyards. The Austal shipyard located in Mobile, Alabama, and the Fincantieri Marinette Marine shipyard in Marinette, Wisconsin — where the Lockheed variant is being constructed — were sized for the three ships per year the Navy originally planned to build through 2025, Clark said in an email. Fiscal year 2019 was an exception with only two ships allotted for construction.
"A reduction from that level will result in layoffs at both shipyards to control costs," he said. "If the Navy does not develop and fund a follow-on ship, the shipyards will have to begin laying off workers as they work through any backlog on their current ships, which is not large at this point."
Employees who work in the initial construction phases such as welders, shipwrights and pipe fitters will be the first laid off, and those who outfit the ships such as electricians and combat systems installers will be let go last, he noted.
Layoffs of the former could occur at one of the shipyards as early as fiscal year 2018 when the Navy is projected to buy a single ship, allocated to only one of the LCS manufacturers, Clark said. "The other shipyard is going to be stuck and not going to be able to keep those people [working in those initial stages] gainfully employed."
The directive in Carter's memo to downselect from two vendors to one in fiscal year 2019 is "perhaps the most disruptive aspect of the decision," Clark said.
Technically, both shipyards could bid on the single variant for the frigate design, and the Navy could award the ship to both shipyards at about one per year, he said. But that scenario is unlikely. "The two LCS variants are so dramatically different — one is a steel monohull and the other an aluminum trimaran — that either builder would have to invest tens of millions of dollars to retool to construct the other builder's ship," he said. "Both yards have already invested $30 million to $70 million in their infrastructure to become more efficient, much of it not recouped. It is unlikely they will want to make another large investment just for a chance to build three to four ships without a potential for a follow-on ship."
Only one builder will be able to realistically bid a reasonable price on the 11 LCS-derived frigates, which will give one of the yards a reprieve until the frigate program ends, Clark said. The other will have to come up with alternative projects.
"I believe both would vie for some other government projects such as Coast Guard patrol vessels, Army and Navy lighterage and ship-to-shore connectors, and special warfare boats," Clark said. They could also pursue commercial construction projects, he noted. "In particular, the continued oil production in the upper plains and Ohio Valley has created a big business for barges to carry petroleum down to refineries in the Gulf of Mexico. The energy industry also continues to want offshore support vessels."
The shipyards might not be the only ones to suffer from a downselect in 2019. In a January report, Ronald O'Rourke, a specialist in naval affairs at the Congressional Research Service, said an oversight issue Congress needs to examine is: "What impact would necking down to a single shipyard have on the Navy's ability to use competition to help minimize procurement costs, achieve schedule adherence and ensure production quality in the construction of modified" littoral combat ships?
At a Pentagon briefing in February following the release of the budget request, Deputy Assistant Secretary of the Navy for Budget Rear Adm. William Lescher, said it would not be fair to say that a downselect would automatically equate to higher costs because there are "so many factors" at play. He added that the competition for the 2019 decision and a block buy of the initial frigates could save the Defense Department money upfront.
"I think the competition — it's fair to say — for the downselect and if we do a block buy for the first frigate ships, is going to drive some significant savings to the department as well," he said. "In terms of after that initial block buy of frigates, how that plays out in terms of pricing, I won't speculate."
Craig Perciavalle, president of Austal USA, said reductions to the program would not have an impact on the shipyard in the near term because current LCS buys will take deliveries into the early 2020s. However, the company would have to address long-term consequences.
The shipyard currently has a workforce of more than 4,000 employees building both littoral combat ships and expeditionary fast transport (EPF) vessels that are under contract with the Navy as part of a $1.6 billion, 10-ship block buy. Additionally, there are upwards of 500 suppliers in roughly 37 states supporting the company's Independence-class LCS. It has "a very sizable economic impact, nationally and certainly locally," Perciavalle said.
Current full-rate production at the shipyard involves building two of each type of ship per year, he noted. "Obviously if there are reductions in volume for the [LCS] program, that demand would reduce for us and we would have to figure out how to work through that going forward, but we don't see any short-term impacts and we would certainly look at offsetting any of that in the long term going forward," he told National Defense. "No business has infinite work, so we've got to always look into the future and see what other opportunities we can support."
Lockheed, similarly, was not worried about short-term impacts on the shipyard, but agreed that there could be consequences down the line. "Less ships is usually not as good as more ships," said Joe North, vice president of littoral ships and systems at Lockheed, to reporters in January. "We will be impacted from the long-term look."
According to the company's website, its Freedom-class variant is supported by about 9,000 jobs across 40 states, including approximately 100 suppliers in Wisconsin and Michigan. Marinette Marine's shipyard employs more than 2,000 workers daily, according to the company's President and CEO Jan Allman.
Both LCS manufacturers are exploring other options that could offset a reduction to the program.
Austal is looking at growing its sustainment business as one opportunity, Perciavalle said. "With the ships that we deliver, we want to make sure that they're supported well, and we're looking at growing that aspect of our business."
The company is exploring potential foreign military sales for its LCS platform in addition to pursuing other government projects much like the ones Clark mentioned, Perciavalle said.
Lockheed is also pursuing foreign military sales contracts. In October the State Department announced its approval of a proposed sale for four heavily armored versions of Lockheed's Freedom-class littoral combat ship to Saudi Arabia. It valued the deal — including associated equipment, parts and logistical support — at $11.25 billion.
A positive outcome to a reduction in the Navy's LCS program would be giving Lockheed more flexibility to build ships for Saudi Arabia, North said. "It could be a positive thing in a way because we could probably accelerate certain ships."
The company is hopeful that there are additional foreign military sales on the horizon. "There is a lot of interest across the globe," he said. "The deployment of those ships in Southeast Asia has driven even more interest."
Meanwhile, the LCS program has been a contentious topic, often pitting Pentagon leaders against senior Navy officials.
In his memo, Carter bluntly stated that the Navy has for several years "overemphasized resources used to incrementally increase total ship numbers at the expense of critically needed investments in areas where our adversaries are not standing still, such as strike, ship survivability, electronic warfare and other capabilities." The Navy has focused too much on presence and not enough on posture or lethality, he said. At an average cost per ship of about $360 million, cutting 12 ships will free up over $4 billion, which Carter suggests spending on high-end capabilities such as additional F-35 joint strike fighters, Flight III destroyers and upgrades to the Navy's submarine force.
Robert Work, deputy secretary of defense, said at a Pentagon budget briefing in February that the decision to cut the LCS program coincides nicely with the Defense Department's plan to focus on shape rather than size.
"If you take a look at last year's plan, the Navy was going to build up to 321 ships and then come down," he said "And we asked ourselves, what can't we buy because we're going from 308 to 321? We said, well we can't buy a lot of capability."
Reducing LCS numbers is not an indictment against the program, he said. "If we didn't like the ship we would stop buying it." Cutting the 12 ships allows the Pentagon to "put more money into torpedoes, more money into P-8s, more money into advanced munitions, more money into tactical aviation."
The Navy is much stronger because of the decision, he added. With the current plan the service will reach 300 ships in fiscal year 2019, get to 308 ships in 2021 — which is the requirement — and stay above 300 ships through 2030.
Addressing the Pentagon's desire to trade ship numbers for lethality, Secretary of the Navy Ray Mabus said the number of ships directly correlates to the service's warfighting capability. "I think that those two concepts may be broken apart for other services, but for the Navy and the Marines there is a whole lot of overlap. It's almost exactly the same thing," he told reporters following a speech at a Surface Navy Association symposium in January.
Mabus defended the ship, which has faced criticism for lacking lethality and survivability. He said the newer, more heavily-armed frigates to be procured after 2019 will have more firepower, could deploy with a carrier strike group and have robust anti-mine and anti-submarine capabilities. "They are longer, faster, heavier, more maneuverable than many destroyers in the world today."
At the same conference, Rear Adm. Peter Fanta, director of the Navy's surface warfare division, lauded the littoral combat ship's utility against enemy submarines.
"The sonar going on LCS will increase our capability multi-fold against all submarines," he said. "If our submariners are afraid of a continuous, active sonar at double-digit miles, what do you think the adversaries' submariners are afraid of?"
It is not perfect, he said, but "bottom line is we'll get it there. It's like every other ship — we're building it, we're deploying it and we're figuring out what it can do."
Fanta requested industry's help to "sell the story" on LCS.
The Navy's plans to place an over-the-horizon missile on LCS by the end of 2016 will improve the ship's lethality and capabilities, he noted.
Several missiles are currently being considered.
Boeing's Harpoon would be the "worst case scenario" as it is the heaviest system under consideration, North said.
Lockheed Martin is designing a topside — or deck-mounted — launcher for its long-range anti-ship missile, or LRASM, around the Navy's frigate requirements, but the weapon could also fit on LCS, according to the company.
In addition to considering existing missiles in its inventory, the service is contemplating a second phase to the naval strike missile foreign comparative test that was conducted in 2014, said a spokesperson at the Navy's program executive office for integrated warfare systems. The second phase would occur in 2016. The naval strike missile, developed by Norwegian company Kongsberg Defence & Aerospace, was first demonstrated on LCS-4, the USS Coronado, in September 2014.
In contrast to the optimism and assurance projected by Navy leaders, the fiscal year 2015 Director of Operational Test & Evaluation annual report, which was released in February, cast doubt on the littoral combat ship program's achievements over the last year.
In August and September, the Navy conducted operational testing aboard the USS Coronado of the Increment 2 Surface Warfare mission package, which is supposed to provide fleet protection from small boats and other asymmetrical threats, the report noted. The Independence variant participated in three engagements where it faced off against small swarms of fast inshore attack craft, similar to vessels operated by Iran. Although all of the boats were ultimately defeated, an attacker managed to get dangerously close to the littoral combat ship and penetrate its "keep-out" range in two of the three engagements, the report said.
The document also made note of reliability issues on both variants of LCS including equipment failures, cybersecurity deficiencies and unreliable mine countermeasure systems.
Strong differences of opinion regarding the Navy's LCS program could pose problems for future stability, according to one expert.
The LCS program was built on a "less than robust analytical foundation," O'Rourke said at a conference in January.
"This was true both of the original program and of the restructured version that was put together in 2014," he noted, pointing to the first time the program was transformed by then-Secretary of Defense Chuck Hagel, who directed that the ships procured in fiscal year 2019 and beyond would be the more heavily-armed frigate variant that is in the design stages today.
"The LCS program has now been substantially changed twice, by two secretaries of defense in two years," O'Rourke said. Because it lacks a strong analytical foundation, it is based in the realm of opinion more than other Pentagon programs, he added.
"This [has] made it easier for people in positions of authority who develop a strong opinion about the program to decide suddenly to change" it, he said.
Such circumstances leave the platform vulnerable to yet another restructuring plan when a new president is elected at the end of 2016, he said. "When we have a new administration, they may look at the LCS program and decide to change it again."
Topics: Defense Department, DOD Budget, Shipbuilding, Surface Ships