Lawmakers Want Higher Defense Budget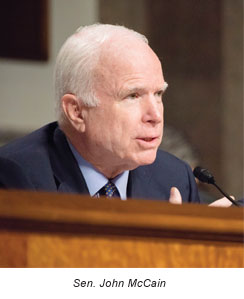 Photo Credit: Defense Dept.
In February the White House submitted its fiscal year 2017 budget request, which included about $610 billion for defense spending. Of that, $58.8 billion would be included in the overseas contingency operations account, also known as OCO.
Many in Congress say it is not enough.
"While the [Senate Armed Services] Committee will closely review the president's defense budget request, it is already clear that this request is inadequate to address the national security threats we face and the growing demands they impose on our men and women in uniform," committee chairman Sen. John McCain, R-Ariz., said in a statement.
"By strictly adhering to the minimum spending level allowed by last year's Bipartisan Budget Act, the president's request would leave the Department of Defense with at least $17 billion less than what it said it needed and planned for this year," he added.
In a recent letter to the head of the House Budget Committee, members of the House Armed Services Committee said that $610 billon is insufficient to deal with national security threats. They also suggested that the budget numbers agreed to in the 2015 Bipartisan Budget Act are a "floor" not a "ceiling" for how much money can be spent on defense in fiscal year 2017.
"We recommend House Republicans insist upon at least an additional $15 billion to $23 billion" above the $610 billon request, the letter said. "We also recommend a further discussion of additional resources for emergent issues we see looming" for overseas contingency operations.
During recent budget briefings, Pentagon officials have said the contingency fund request provides more than enough money to pay for planned activities in Afghanistan, Europe, Iraq, Syria and elsewhere.
"In the OCO budget as submitted we have funded all of our anticipated operational costs," Vice Chairman of the Joint Chiefs of Staff Gen. Paul Selva told reporters during a briefing at the Pentagon the day the budget request was released.
Mackenzie Eaglen, a defense budget analyst at the American Enterprise Institute, expects congressional defense hawks will secure more money for the Pentagon.
"I will predict confidently that the Hill will succeed in adding additional money above President Obama's total defense budget of $610 billion when the final appropriations bill is enacted," she said in an email. "I think Congress will simultaneously adhere to the Bipartisan Budget Act and add funds for defense only using OCO dollars. This does not rule out, however, Congress allowing the emergency supplemental funds of OCO being used for base budget spending priorities; in fact, I expect they will absolutely do so."
Topics: Defense Department, DOD Budget