International Sales Extend Seahawk Production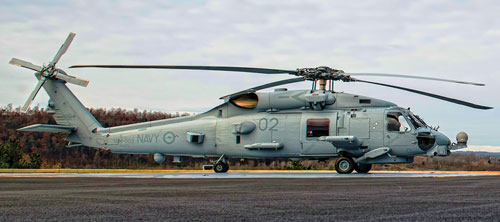 Photo: An Australian MH-60R (Lockheed Martin)
Foreign military sales of Sikorsky's MH-60R Seahawk helicopter will keep the multi-mission aircraft in production past 2018.
In previous years, analysts have been skeptical that international sales would be enough to sustain the aircraft beyond 2018 when the final MH-60 Romeo will be delivered to the U.S. Navy.
However, a $145 million contract awarded in December to Sikorsky — now owned by Lockheed Martin — to deliver 10 MH-60R helicopters to the Royal Saudi Navy will keep production moving into 2019, a Lockheed executive told reporters in January.
"The aircraft will begin delivering in 2018," said Mike Fralen, director of business development for MH-60R. "That dovetails nicely into the schedule." The final aircraft is planned for delivery in April 2019.
The U.S. government approved the sale to Saudi Arabia in May 2015 at a cost of $1.9 billion, which includes the helicopters and associated parts and logistical support, according to a Defense Security Cooperation Agency release. In addition to the 10 aircraft, other requested systems included AGM-114 Hellfire missiles, rockets modified with BAE Systems' advanced precision kill weapon system, M-240 machine guns and multi-mode radars.
Sikorsky is also in the process of delivering on contracts with the Royal Australian Navy and the Royal Danish Air Force.
As of January, 17 of Australia's 24 purchased helicopters had been delivered. The remaining seven are planned for delivery in 2016. Seventeen of the MH-60 Romeos will be used for operational squadrons and seven will be used for training, Fralen said.
At a conference last October, Commodore Vincenzo Di Pietro, commander of the Royal Australian Navy's Fleet Air Arm, lauded the Seahawk program's success.
The first Danish MH-60R was completed and delivered to the U.S. Navy in October. As of January, two aircraft had been transferred to the Navy to undergo testing of unique Danish modifications to the platform. The testing is being conducted at Sikorsky's West Palm Beach, Florida, facility; Lockheed's Owego, New York, facility; and at Naval Air Systems Command in Patuxent River, Maryland. The first aircraft will be delivered to the Danes in the second quarter of 2016 with the final delivery in April 2018.
"They will truly use this aircraft as a multi-mission aircraft platform," Fralen said. "They'll use them in the Baltic and North Seas around Denmark, as well as around Greenland. The all-weather capability will certainly be shown."
The company expects to see additional foreign military sales over the next one to three years, Fralen said. "The MH-60 Romeo is currently being considered by other countries, and we'll work to see how their analysis and contract decisions mature."
Topics: Aviation, International