VIEWPOINT DEFENSE DEPARTMENT
Five Nations Jockey for Military Influence in Arctic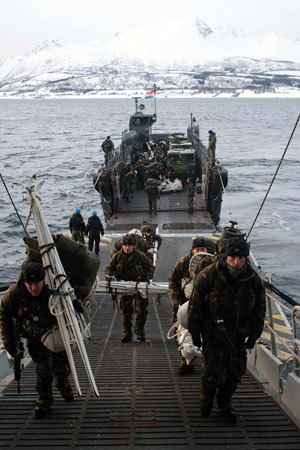 Photo: Norwegian forces during the military exercise Cold Response (Wiki/Soldatnytt)
This is an excerpt from the book, "The Northern Sea Route," published by SpringerGabler. Academic references are omitted here for the sake of brevity but are included in the original text.
Reports of ice quickly melting in the Arctic, Russia boosting its military expenditures and research predicting significant untapped hydrocarbon resources in the region has led many commentators to state that armed conflict and "resource wars" in the Arctic are imminent.
At the same time, many scholars and experts predict that the Northern Sea will soon become a viable alternative to the Suez Canal as a shipping route because it will significantly reduce distances between Asia and Europe.
Few would doubt that Russia — with its northern fleet, naval infantry, air force, coast guard and patrol vessels that support it — is by far the most forceful naval power in the Arctic. Besides its headquarters at Severomorsk, the fleet has four other large naval bases in the high north, each of which consists of multiple bays, facilities, ports and installations: Gadzhievo, Zapadnaya Litsa, Vidyayevo and Gremikha. Current media coverage suggests that a much smaller naval base may be under construction on Wrangel Island.
Norway also has a number of larger naval bases in its northern regions at Haakonsvern, Ramsund and Sortland. By comparison, Canada, the United States and Denmark combined have few naval bases in the Arctic. Among these so-called "Arctic Five," Russia has by far the strongest icebreaking capability, both by the number and the power of its icebreakers, allowing its combat vessels to operate in ice-infested waters with a thickness of up to two meters if they travel in an icebreaker canal.
Given that even military vessels can suffer ice-related damage if they have thin hulls, this factor is not to be underestimated. Also, Russia's nuclear icebreakers only have to be refueled once every four years. Their radius of operation is almost unlimited.
While the U.S. military today has few surface vessels capable of sailing in the Arctic, it has significant undersea capabilities and is able to operate nuclear submarines in the Arctic Ocean and in near-Arctic seas, in open water as well as under the Arctic ice cover. As of 2014, the United States is the only nation able to match the Russian submarine fleet. Both nations operate nuclear and conventional submarines in polar waters today and have done so throughout the Cold War.
The case is more nuanced when air and surveillance capabilities are considered. The United States has a significant number of well-equipped air force bases in the high north: Eielson, Fort Clear, Fort Greely, Fort Wainwright, Joint Base Elmendorf-Richardson and Qaanaaq (Thule) in Greenland.
While Canada's combat aircraft are stationed in southeast and central Canada, they are regularly deployed in the Arctic region and can operate from four secondary air bases in northern Canada. In addition, Canada and the United States have installed sophisticated satellite surveillance and early warning systems in the region such as the Polar Epsilon and Ballistic Missile Early Warning Systems.
Russia has several airfields and airbases north of the 60th parallel, some of which have reopened in the past five years. They are: Alykel, Besovets, Khatanga, Kogalym, Kotelny Island, Mirny, Severomorsk (Murmansk), Olenya (Olenegorsk), Raduzhny, Salekhard, Surgut, Syktyvkar, Tiksi, Dresba airbase at Pevek, Petrozavodsk, Ugolny and Yakutsk. However, it is questionable how many of these are fully operational from a military point of view.
Russia resumed long-range bomber and patrol flights beginning in 2007 after many airfields and bases had been dormant for over a decade or even closed due to a lack of funding in the post-Soviet era. If all of these bases were fully operational for military purposes, Russia would probably match the air capabilities of its Arctic neighbors.
It is important to note that the extreme climate in the Arctic may restrict the use of aircraft, submarines and vessels not configured for such an environment. For example, the Canadian forces' diesel submarines cannot function in Arctic waters. The range of the F-35 joint strike fighter, which Norway and Canada are planning to purchase, along with the F-16, may be limited by a lack of tanker aircraft support in the Arctic regions. Thus, long-range aircraft will probably be at the core of any air capability in the Arctic.
Both from a strategic and a logistics perspective, the hostile environment of the Arctic discourages far-reaching infantry and mechanized operations. Therefore, compared to air and sea capabilities, land capabilities have only limited significance. Canada maintains a unit of 5,000 rangers in its Arctic territories, which was dubbed an "invasion force" in 2009 by some colorful Russian rhetoric. Retired Chief of the Canadian Defense Staff, Gen. Walter Natynczyk said, "If someone were to invade the Canadian Arctic, my first task would be to rescue them."
Relying on reports in the public press about planned military expenditures, some authors have suggested a correlation between the resumption of Russian long-range bomber and patrol flights from 2007 onward — and military maneuvers in the Arctic in the following years. They have concluded that a remilitarization of the Arctic was underway. Of particular concern was the alleged violation of other nations' airspace. Consequently, such perspectives predicted "a resumption of Cold War hostilities." While it is certainly not impossible that Russia aimed to test the air defense readiness condition of its Arctic neighbors, this conclusion ignores two important aspects.
First, each of the Arctic Five has a long history of military operations and exercises in the region. Russian and U.S. submarines operated in Arctic waters and below the North Pole as early as 1960. Canadian forces spent thousands of flying hours in the Arctic archipelago in the 1970s and held frequent exercises between 1950 and 1970, which trained those forces in winter warfare.
The NATO exercise Cold Response was first conducted in 2006 before the resumption of Russian long-range bomber and patrol flights. The exercise has been repeated in 2010 and 2012. Canada's Operation Nanook has been conducted every year since 2007. U.S. submarine deployments to Arctic waters did not cease after the collapse of the Soviet Union, while the Russian military activity significantly decreased due to a lack of funding for operations and maintenance.
In other words, the Arctic is not remilitarized now because it was never demilitarized. What the world has witnessed since 2007 is the re-activation of hitherto dormant or decommissioned Russian military bases and materiel, financed by revenues from increased global sales of hydrocarbon resources. These developments constitute a return to the status quo rather than a new round of militarization.
Second, the extent to which announced investments in military capabilities are realized — if at all — is doubtful due to budget constraints and changing political agendas, irrespective of the announcing nation. Further, many of these announcements — particularly those originating from Russia and Canada — exhibit assertive rhetoric intended for a domestic audience and are often more related to public consumption than realpolitik. Thus, they should not be taken at face value, particularly so when they are reproduced by mass media and the public press in other countries.
Each of the Arctic Five has produced a foreign policy strategy or statement by now that documents their respective security and economic interests in the Arctic as well as their policy for the foreseeable future. While those of Russia, the United States and Canada have a more assertive and security oriented tone compared to those of Denmark and Norway, all five highlight the importance of protecting their sovereignty, their economic interests and the Arctic environment.
Political differences notwithstanding, military installations and materiel are described as defensive and primarily serve to dissuade others from challenging economic interests. For Russia, this strategy represents a significant change, since its Northern Fleet was defined as an ocean-going force during Soviet times, but now is commissioned to protect Russia's borders.
All five strategies highlight their preference for regional cooperation and normal diplomatic and economic relations. If one is to believe what Russia's Security Council defines for its strategy in the Arctic up to 2020 and beyond, the strategic goal is not military confrontation, but the transformation of Russia's share of the Arctic into a strategic resource, based on scientific research and compliance with international law. The document expressly states that such long-term economic development goals are not only impossible to achieve with military means, but on the contrary, they require peace, stability and international cooperation.
Finally, the installation of military and intelligence infrastructure is not necessarily equal to an act of aggression or a signal of increased tension in international relations, but may simply constitute an act of delimiting spheres of sovereignty and protecting economic interests. As now retired U.S. Navy Adm. James Stavridis, former U.S. European Command commander, put it, "Not all military capabilities are designed for force."
Nevertheless, the development of military capabilities in the Arctic from 2008 onward may also be interpreted in a wider context of increased East–West tensions since the 2008 Georgian War. And given the Ukraine crisis from 2014 on, it is likely that these tensions will continue for the foreseeable future. However, even under the tensions of the Cold War, the Arctic remained a remarkably peaceful region, despite or because of the manifold military operations that took place there.
To date, there has never been any armed conflict between any of the Arctic Five in the region. International initiatives such as the Arctic Military Environmental Cooperation Program, its successor, the Nunn-Lugar Cooperative Threat Reduction Program, or the 2011 Nuuk declaration, demonstrate that cooperation in security-related areas among the Arctic Five is possible and workable.
Marcus Matthias Keupp (mkeupp@ethz.ch) holds the chair of defense management at the Military Academy of the Swiss Federal Institute of Technology Zurich. "The Northern Sea Route" is the result of a two-year research project he created and led.


Topics: International