Brazil Orders Upgraded Amphibious Vehicles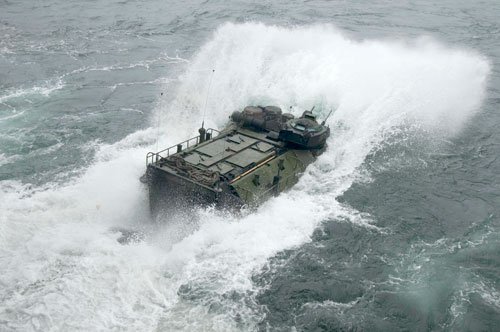 BAE Systems will be providing upgraded AAV7A1 RAM/RS vehicles to Brazil. Photo Credit: BAE Systems
The Brazilian marine corps recently negotiated a contract for 23 upgraded amphibious assault vehicles to be delivered in 2017.
BAE Systems — the manufacturer of the Assault Amphibious Vehicle, or AAV7A1 — was awarded the $82 million contract in late December 2015 to modernize and deliver the platforms.
Under the terms of the contract, the company will provide the upgraded vehicles and supply all tools and test equipment to support maintenance. Deliveries will begin in February 2017 and continue through the end of the year.
Brazil will receive a newer AAV7A1 variant that will have the reliability, availability and maintainability/rebuild to standard — or RAM/RS — configuration.
Over time, the vehicles degrade and the enhanced configuration is necessary to buy back performance, said Deepak Bazaz, director of new and amphibious vehicles at BAE. "What the RAM/RS does is it addresses the obsolescence issues," he said. The modernized variant has a more powerful, 525 horsepower turbo-charged engine, improved suspension and enhanced water jets.
Continued foreign military sales of the AAV7A1 family are critical because they keep the production line open and have helped the company design its offering for the U.S. Marine Corps' amphibious combat vehicle program, Bazaz said. The goal of the ACV program is to build the next generation of amphibious assault vehicles.
In November, BAE was selected as a finalist in the competition and was awarded a $103.8 million engineering and manufacturing development contract to build 13 prototypes, with an option for an additional three depending on future funding.
"Having the AAV experience is critical because that's what gives us the insight to have a very good design moving forward," Bazaz said.
Amphibious vehicles operate in a complex environment, and the company has optimized the design of its offering by surveying models and feedback from users around the world, he said. "These vehicles [are operated] on different terrains — coming on shore in Japan is different than coming on shore in Argentina is different than coming on shore in San Francisco Bay — so the ability to collect the data from all of those different events goes back into the models that we can then use to show the predicted performance of our vehicles" for the ACV program.
Other than Brazil, countries in South America that currently operate variants of BAE's amphibious vehicles include Argentina and Venezuela, Bazaz said. There has also been significant demand for such systems in the Asia-Pacific region. Taiwan has 54 AAV7A1 vehicles in its inventory and South Korea has 166, according to the company.
Bazaz said he envisions future opportunities in Japan and with existing customers — such as Brazil, which has 26 older variants of the platform in addition to the recent sale — that want to upgrade to the RAM/RS configuration.
Topics: Combat Vehicles, International