Battelle Unveils Active Shooter Response System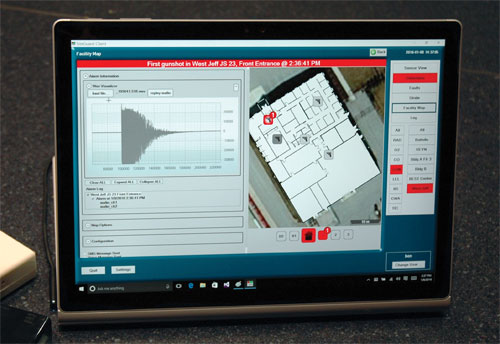 Photo Credit: Battelle
Battelle has developed a system that can notify police and security forces within moments of the first shots fired during an active shooter situation.
Analysis conducted by the company showed that delays in notifying law enforcement and human errors during such incidents "are really the things that allow shootings to go on too long and have too high of a human toll," said Ed Jopeck, business manager for critical infrastructure security and resilience at Battelle.
During the chaos of an active shooting, it can sometimes take several minutes before police are called. Further, information relayed to law enforcement can often be incorrect, such as the address of the building or which floor the shooting is happening on, he said.
To help police officers receive the information they need right away, Battelle developed the SiteGuard Active Shooter Response system. Sensors placed inside a building can listen for gunfire, and when detected will dispatch information via voice alerts or text messages to a designated security professional or automatically call 911, Jopeck said.
An extremely loud noise, like the sound of a hammer hitting a nail, isn't enough to trigger the sensor, he said. The system's algorithm measures "against a huge number of data points across the spectrum of a gunshot's audio signature to determine if it matches enough of those points."
SiteGuard also comes with a web-based control center that allows users to pinpoint and track the location of gunshots and see where the last shot was fired. They can also analyze the sound of the shot to determine if it is a false alarm. Further, if programmed to do so, SiteGuard can lockdown an area and automatically shut doors, Jopeck said.
Each sensor has a range of 30 meters. Using the SiteGuard system — which is accessible via desktop, tablet or mobile phone — the sensors can be used as a communication device to speak to the shooter or victims nearby, he said.
The system was in research and development for two years. The price continues to fall, but Jopeck did not give a specific cost figure. Battelle currently has half a dozen to a dozen clients for SiteGuard that are in varying stages of acquisition, he said.