McCain: Defense Industry Mergers Driving Up Cost of Weapons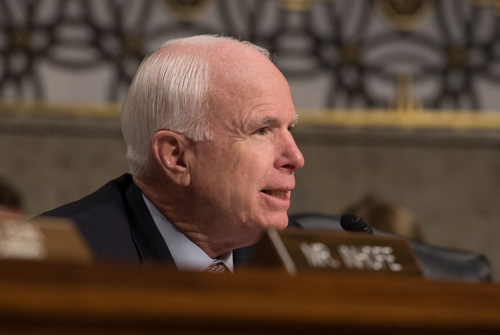 Rising weapons costs will continue to hit the Pentagon as long as industry monopolies dominate the defense sector, said Sen. John McCain, R-Ariz., chairman of the Senate Armed Services Committee.
"Future mergers need to be examined carefully," he said during a breakfast with reporters Feb. 25.
There was a time after the end of the Cold War when the Pentagon leadership believed "mergers were good," McCain said. Even back then, "I was kind of startled" that the Defense Department would take that position.
A cursory glance at the cost trends in big-ticket military programs today offers a cautionary tale, he added. "I think it's very obvious that when you're the only game in town, you can name your own price."
Case in point is the Pentagon's sole provider of space launch services ULA, he said. Until SpaceX emerged as a viable competitor, ULA had a monopoly. "We were paying ULA $800 million a year to stay in business," McCain said. "What corporation in the world wouldn't love a deal like that?"
Aircraft carriers are another example of the military's dependence on single-source markets. McCain has been a long-time critic of the Navy's carrier construction program, and has compelled the Pentagon to study alternatives such as smaller ships that could compete with the big-deck carriers for certain missions. If conventional fighter aircraft were replaced by smaller drones, for instance, the Navy and Marine Corps could use smaller ships.
McCain said he understands the arguments made by corporations that they need to consolidate to cut expenses and become more competitive, especially in a market that puts daunting regulatory burdens on suppliers. But he still believes that mergers ultimately end up shifting the cost to the taxpayers. "I don't know of anyone who can make a plausible argument that all these mergers have saved the taxpayers any money. I fact I would argue the opposite."
The Pentagon has taken a similar stance on corporate mergers and acquisitions, although it has not blocked any transactions of late. Undersecretary of Defense for Acquisition, Technology and Logistics Frank Kendall has called for a policy review of defense industry mergers and acquisitions. Lockheed Martin's purchase of Sikorsky Aircraft Co. drew a strong reaction from Kendall, who argued the combination of these large companies was detrimental to national security as it leaves the Pentagon with fewer competitors in the industry. The acquisition passed a U.S. government antitrust review but, in Kendall's view, it should not have been approved.
McCain said the Pentagon also contributes to the soaring cost of weapons by agreeing to pay suppliers for all design and development expenses under "cost-plus" contracts. "Monopolies and cost-plus contracts, they seem to go hand in hand," he said, "It has got to stop."
He specifically pointed at the Air Force's $23.5 billion development contract awarded to Northrop Grumman Corp. for a long-range strike bomber as having the potential to saddle the Pentagon with a much bigger bill than currently estimated. "My biggest concern about the bomber is that it's a cost-plus contract," he said. Pentagon officials insist that a cost-plus contract is appropriate in this case because some of the technology is immature and requirements could change. That thinking irks McCain. "The mindset in the Pentagon that somehow these are still acceptable is infuriating," he said. "Cost-plus contracts are an evil that have grown and grown and grown over the years. I will not stand for it on any weapon system."
McCain suggested he may take legislative action to halt the bomber program, even if the contract has been signed. "We can disapprove it," he said. "We don't have to authorize it." No matter what the Air Force signed, he said, "Congress authorizes procurements."
Pentagon procurement reforms are on the Senate Armed Services Committee's front burner, he said. While he supports adding more money to the Pentagon's 2017 budget, it would be wrong to keep pouring more funds into the Pentagon without some accompanying efforts to cut wasteful spending.
A minimum of $17 billion should be added to the president's $582.7 billion request, said McCain. "But it's hard for me to ask for $17 billion more when we're building an aircraft carrier that costs $2 billion more than it was supposed to. That's why so much of our emphasis is on acquisition reform," he said. "We're also going through proposals to fundamentally restructure the Department of Defense." Legislation is being written now and should be ready by May.
The Pentagon is under enormous budget pressures at a time when the nation faces increasingly complex national security crises, he said. The Army is cutting troops, the Navy is buying fewer ships and the Air Force is delaying purchases of fighter jets, for instance, to pay for operations costs. "The money has to come from somewhere," said McCain. "Unfortunately, the money is coming from reductions in acquisitions. We all know what happens when you do that. When you cut acquisitions to less than optimal numbers, you end up costing more in the long run. That's just economics 101," he said. The "salami slicing" that the Pentagon does with its programs has to stop, he said. "History shows us that is one of the worst ways of doing business."
Topics: Business Trends, Mergers and Acquisitions, Procurement, Acquisition Reform