Kendall: DoD to Decide Fate of Major Satellite Programs Within Months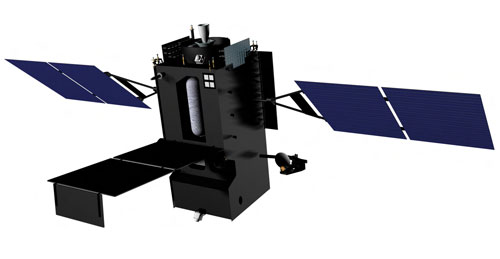 Space-based infrared system (Air Force)
The Defense Department within a few months will choose a way forward for two major satellite programs that are vital for strategic nuclear defense: Advanced-EHF and the space-based infrared system, a senior Defense Department official said Feb. 23
Undersecretary of Defense for Acquisition, Technology and Logistics Frank Kendall said in the final year of a presidential administration there are issues that are put aside for the next leaders, and others that demand decisions. With that in mind, the administration will soon release its plans to replace the two satellite programs, Kendall said at a Washington Space Business Roundtable speech in Washington, D.C.
Advanced EHF provides protected communications during a nuclear war, and SBIRS provides early warning for missile launches. They both struggled through the Air Force acquisition process, but are now in serial production, he noted.
"We haven't made final decisions about those yet, but we intend to over the next couple of months," he said.
"We are now in the process of working our way through figuring out what to do about the follow-ons to those systems," he said. The changing nature of the threats in space, namely anti-satellite weapons and jammers being developed by countries such as China and Russia, are driving some of the thinking, he added.
The two systems' primary purpose is for the nuclear mission, but they both have subsystems that provide tactical capabilities. With space being more contested, it might make sense to spread the capabilities around on other, smaller satellites, a process known as disaggregation, he said.
Also on the table is whether the Air Force and the Defense Information Systems Agency will continue to buy commercial satellite capacity to make up for communication satellite capacity shortfalls. Buying it on the spot market is expensive and industry has been asking the Defense Department to move away from year-by-year purchases.
"I am prepared to address the commercial satcom thing in this administration," Kendall added.
There are many commercial satellite providers with plans to launch robust communications satellite systems, he said.
"We're talking to commercial enterprises and we are trying to position ourselves to take advantage of that if it does" come to pass. Meanwhile, the Defense Department needs to look at its next-generation of communications satellites. "That is very much a work in progress," he added.
Kendall also addressed the "highly political" issue of space launch, namely the replacement for the RD-180 rocket engine. Congress has provided money to the Air Force to spark development of a U.S.-made engine that would end reliance on the Russian-made engine used in Atlas 5 launches.
The Defense Department doesn't want to own engines or rockets, he said. It wants to purchase these services from the private sector in a public-private partnership where the DoD provides some development money in exchange for predictable launch costs.
There are currently two providers capable of lofting heavy satellites: United Launch Alliance and SpaceX. Kendall said the Pentagon's priority is reliable access to space, which means at least two providers.
"We will partner with selected providers to help them close their business case in return for some assured pricing for future launches," he said. "It's a very non-traditional thing for DoD to do. Unfortunately, we have had a hard time communicating this to people because everyone wants us to go out and buy rockets and engines. We don't want rockets and engines."
When it comes to this plan, the RD-180 situation has "muddied the water enormously," he said.
Congress in the 2016 spending bill lifted a law that would have banned future purchases of the RD-180. Kendall said the Defense Department is awaiting a final opinion from the Treasury Department, but "as far as we can tell … at this point in time, sanctions do not affect our access to the RD-180. But the fact that it comes from Russia has raised some obvious concerns."
Meanwhile. Congress has continued to fund a replacement for an engine and contractors have been working on the project.
Kendall said he was aware that this might give the recipient of the engine an unfair advantage. "If we did buy an engine, it would be associated with a launch vehicle and be essentially subsidizing one launch service provider. We would prefer not to do that."
"We are trying to work our way through this minefield. We have gotten some specific guidance from the Congress, which we have followed. We are obeying the law, but at the same time arguing with Congress to give us a more general approach," he said.
He said if one launch provider had a competitive advantage over the other and the playing field wasn't even, the Defense Department might have to step in and allocate some launches.
"In that situation we would consider allocation to the less cost effective provider to keep some capability. … We would have to feel comfortable that it really was necessary, and there was a need for some allocation."
"We still want to get on to — and industry I think agrees with this — more efficient and more effective launch systems in the future," he said.
Topics: Space