Defense Committees Poised to Receive Military 'Unfunded Requirements' List [UPDATED]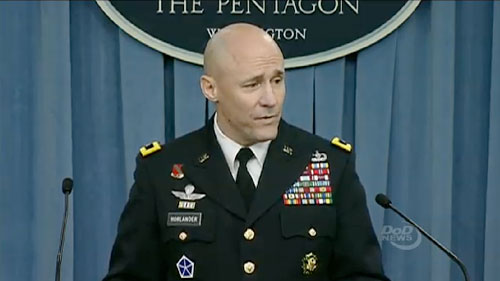 Army Maj. Gen. Thomas Horlander, deputy assistant secretary for financial management (DEFENSE DEPARTMENT)
The Senate Armed Services Committee last week asked the military chiefs to submit a detailed list of items that were not funded in the president's fiscal year 2017 budget request. This annual drill — known as the "unfunded requirements" list — is taking on added significance this year as congressional defense hawks seek to make a case that the Pentagon should receive tens of billions of dollars more than what the president requested.
"Each one of us is developing a list that we'll submit to the department," said Army Maj. Gen. Thomas Horlander, deputy assistant secretary for financial management. The service chiefs received a letter last week from Sen. John McCain, R-Ariz., asking them to itemize programs that they believe should be funded if more money were available.
Horlander did not discuss any specific items that might be on the list, but he did suggest that a recent blue-ribbon commission report clearly identifies funding shortfalls in the Army today. The Army's 2017 budget proposal was prepared before the January release of the report by the Commission on the Future of the Army, which catalogued 63 recommendations for how to modernize and reorganize the Army as it prepares for future conflicts.
The report has created an "interesting dynamic for this budget," Horlander said Feb. 24 at a National Defense Industrial Association breakfast meeting in Arlington, Virginia. "We built this budget before we saw the recommendations."
[UPDATE] Horlander said the most challenging issue for the Army is to balance resources for personnel, combat readiness and modernization. The force is being downsized from over 1 million troops in fiscal year 2016 to 990,000 projected for fiscal year 2017, and on a path to dip further next year unless budgets are increased. Procurement funding has been cut by more than $1 billion. Funds for military construction projects are the smallest since 1999 — plummeting from $4 billion a couple of years ago to $800 million in 2017. As part of congressionally mandated overhead spending cuts, the Army has pursued reductions in the civilian workforce and support contractors, focusing on headquarters led by two-star officers and tier-two senior executive service positions and above.
The defense committees will be reviewing the military's unfunded requirements lists as House leaders continue to negotiate top line federal spending limits in anticipation of a budget resolution some time next month.
Pro-defense lawmakers such as McCain and the leaders of the House Armed Services Committee are calling for a substantial funding boost for the military. Their demands are being weighed against those of the fiscally conservative Freedom Caucus that wants deep spending cuts.
There is a nearly $100 billion gap between the defense funding level that defense hawks want compared to what the anti-spending camp would recommend.
"The challenge for Tom Price is that these are two very strong Republican groups," said former congressman Jack Kingston of Georgia, who used to chair the defense appropriations subcommittee. House Budget Committee Chairman Price, a fellow Georgian, needs 218 votes from the Republican caucus to break the logjam and move the budget forward.
"The defense hawks want the Gates budget level, which nobody believes is possible," Kingston said Feb. 23 at an industry conference hosted by the law firm Squire Patton Boggs. The long-term budget that former Defense Secretary Robert Gates had put forth before his departure was at least 10 percent higher than current levels.
According to Kingston, the pro-defense side would like to see a $649 billion military budget — compared to last year's $610 billion, which included supplemental war funds. "They said they'll settle for $628 billion," he said. "But the budget hawks want to go to $550 billion." Any increase would be added to the military's supplemental war fund, the overseas contingency operations account, which is exempt from the spending caps set in the Bipartisan Budget Act of 2015.
How House leaders move past this impasse has become the biggest budget story in Washington. "Right now you have too many strong personalities that do not want to come together and do anything," said Kingston. In a preemptive move, Price has gone back to the authorizing committees and asked them to submit their priorities, including items they would be willing to cut, "instead of coming up with some artificial number that we're going to shoehorn ourselves into and pretend like that's what we'll get," Kingston said. "If they're willing to cut some entitlement spending, then Tom says we're all in."
Of the entire $4.1 trillion federal budget, 70 percent goes to mandatory spending — entitlement programs and interest on the national debt. The fight is over the 30 percent discretionary share, of which defense gets half.
Even if Republicans agree on a budget blueprint, they will need some Democratic votes and that means any increase to defense would have to be matched with domestic spending. "You're not going to get the defense increase without Senator Barbara Mikulski saying 'parity, parity, parity,'" said former Sen. John Breaux, co-chair of Squire Patton Boggs' public policy practice. "The House will never allow Paul Ryan to agree to that," he said, which sets the stage for protracted gridlock. With so little time on the House calendar for the remainder of the year, "they might as well do the CR now," said Breaux, speaking of a continuing resolution that would keep the government funded at last year's levels until a new Congress and a new president are sworn in. "I don't know how they're going to get this done with the division that exists," he said. "It's a crisis we're headed to."
Former Republican Senate Majority Leader Trent Lott said there is still hope that the House will deliver proper appropriations bills. "I think they may decide they are going to do a budget. Price seems to be making some progress. But they're going to have to get $17 billion to $20 billion more for defense."
EDITOR'S NOTE: This story was updated with additional clarifications from Maj. Gen. Horlander on Army budget priorities and overhead spending reductions.
Topics: Defense Department, DOD Budget