Defense Budget Fight Begins in Earnest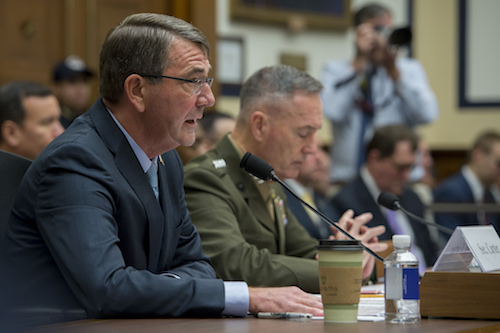 Defense Secretary Ash Carter and Marine Corps Gen. Joseph F. Dunford Jr., chairman of the Joint Chiefs of Staff, testify before the House Armed Services Committee. (Defense Dept.)
Defense Secretary Ashton Carter and top military leaders will be on Capitol Hill this week making their case that Congress should pass the president's budget proposal for fiscal year 2017 so the military can be spared the disruptions caused by unpredictable funding.
Any hopes for a stable funding cycle, however, have been rapidly fading as battle lines are drawn and factions on Capitol Hill prepare to fight over government spending.
Although the government's discretionary budget top line was agreed upon in October by congressional leaders and the White House, that deal is being challenged both by anti-spending conservative Republicans in the House and by GOP defense hawks. The agreement set a $1.070 trillion top line for discretionary spending, and the Pentagon's request accounts for $523.9 billion. Defense would get an additional $58.8 billion in war supplemental funding.
Much is at stake for defense in the ongoing tussle in the House over 2017 appropriations. Amid growing pessimism that an agreement can be reached and appropriations bills passed before the end of the fiscal year, the Defense Department's best case scenario would be Congress approving funding at or slightly above the limits set in the Bipartisan Budget Act of 2015. If internal dissent in the House derails the budget process, federal agencies would face the real prospect of being funded by a continuing resolution at 2016 levels until a new president and new Congress are sworn in next year.
"House leaders have a challenge," said Marc Goldwein, senior vice president and policy director of the Committee for a Responsible Federal Budget. Speaker Paul Ryan and Majority Leader Kevin McCarthy are looking to bring up a budget blueprint this week that would set discretionary spending totals for fiscal year 2017.
The funding allocated by a budget resolution serves as a guide for appropriations committees that mark up budget requests. Fiscal conservatives have said they will reject any blueprint at the BBA spending levels and have called for a $30 billion cut. Goldwein expects the House leadership to work out an agreement to bring the conservative wing onboard. "Some members of the caucus see the BBA as a ceiling, not a floor. They would like to spend below that. Some pro-defense members want to spend more," he added. "At the end of the day we will end up spending at or near those BBA cap levels. I don't think it's likely that we're going to completely reverse the decisions made in the BBA."
A continuing resolution, which has been virtually the norm in almost every budget cycle of the Obama presidency, is not a common practice in the year right before a change in administration.
Members of the congressional defense committees have demanded that more money be added to the military's war budget, known as the overseas contingency operations fund. The controversial OCO funding is not counted within the spending caps and some lawmakers have hinted that they want to boost war funds by $10 billion to $15 billion to offset reductions the Defense Department made to its base budget.
"If they want more money, technically Congress makes its own rules," said Goldwein. "If they all agree they want to spend more, they can do that." OCO is a "huge budget game."
Defense industry analysts are watching the defense baseline budget and OCO fight closely. Some investors are betting that Congress is bound to add more funds to the 2017 request, wrote analyst Byron Callan, of Capital Alpha Partners. "We hardly think this is a slam-dunk."
Industry consultant James McAleese, of McAleese & Associates, anticipates a "strong congressional push" for up to $18 billion in additional 2017 funding. The Defense Department lost about $22 billion in total 2017 funding compared to last year's request. The OCO request includes about $5 billion to plug base budget shortfalls. An additional $5 billion to $6 billion were offset from savings from fuel costs and lower than forecasted inflation. This left an $11 billion gap that required cuts to many procurement programs across the military services, mostly aircraft and ships, McAleese noted. Defense officials have been "genuinely offended" by suggestions that they are cutting these programs knowing that Congress will restore the funding by boosting the OCO budget.
Causing the most frustration among defense hawks are continuing cuts to the Army's budget at time of heightened instability in Europe and the Middle East. "The Army has been fundamentally flat-lined at $125 billion a year in base funding since 2013," McAleese said.
Last week, HASC members Rep. Mike Turner, R-Ohio, and Rep. Chris Gibson, R-NY, introduced legislation that would halt the downsizing of the Army. It is not clear, though, where the funding to do that would come from.
Topics: Defense Department, DOD Budget