Space Command: RD-180 Rocket Engine Replacement May Fall Short of Payload Goals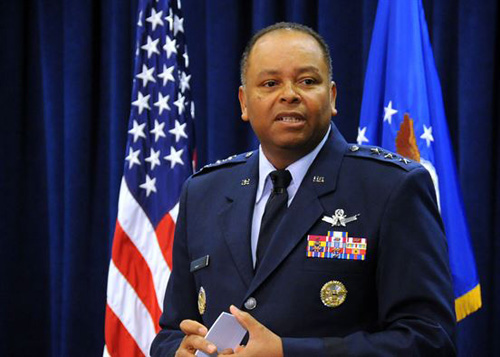 Lt. Gen. Samuel Greaves (Defense Dept.)
The commander of the Air Force Space and Missile Systems Center warned Feb. 19 that a new rocket engine under development may not match the capability of the Russian-made RD-180 it is intended to replace.
Congress is pushing the Defense Department to find an alternative to the Russian-made RD-180 rocket engine — which the United States has been using to put payloads into space — as tensions between Washington and Moscow have reached heights not seen since the Cold War.
Lt. Gen. Samuel Greaves said at a breakfast in Washington, D.C., that "assured access to space requires end-to-end space launch capability, not just the rocket engine. It requires the engine and the rocket to work together. Simply put, just replacing the RD-180 engine will not deliver the same performance in the current design of any rocket. In fact, it may result in a system that delivers less payload to orbit at a higher cost."
The Air Force will make a major effort this year to persuade lawmakers to support the development of commercial space launch systems, he added.
"The DoD is both guided and constrained by law and policy in how we develop, acquire and sustain national security space launch capability," he said. "This year is our opportunity to help convince the Congress that the plan we have laid out makes sense and have them agree to it."
Acquiring a new, domestically produced rocket engine is only part of the solution, he said. Significant launch system development is needed to incorporate a new engine, he said, making a case that a public-private partnership would offer many potential benefits.
"By investing in industry's launch systems we leverage industry's investment," Greaves said. It also "offers the best chance of solving our technical challenges to meet our schedule goals [and] it provides the opportunity to harness industry's creative ideas."
Design changes early in the development process would cause fewer headaches than design changes made later on, the space and missile chief noted.
"As these commercial systems are being designed — if they're designed with national security space requirements in mind — that offers the least costly and best approach," he said. "We've got eight reference orbits that we need launch systems to service, and commercial providers don't normally service all eight of those reference orbits. So we need to ensure we … influence those designs early enough to ensure those systems deliver payloads to those eight orbits."
Early Defense Department investment would also benefit industry, Greaves said.
"It helps to close the business case which will allow industry to use commercial systems to provide launch services that meet our more stressing national security needs," he said.
The Pentagon's goal is to have two or more domestic, commercially viable launch service providers. Maintaining at least two reliable systems capable of putting national security space satellites into orbit would ensure continued access to space should one of the systems be grounded for any reason, Greaves said.
Investments in domestic rocket propulsion systems are now being made, including funding for SpaceX and ATK Launch Systems prototypes.
"Our main focus going on [into the future] will be on launch service investments via innovative public-private partnerships, with launch service providers to provide launch services that use domestic propulsion systems," Greaves said. "With the support of the Congress, and only with the support of the Congress, these launch service investments will begin in [fiscal year] '17."
Once new launch systems have been developed, estimated in the 2022 to 2023 timeframe, the Defense Department will transition to a strategy of "sustained competition" between domestic, commercially viable launch providers, he said. Another top goal is supporting the U.S. launch industry's commercial viability in a global marketplace, he added.
But lawmakers have yet to approve the Air Force's fiscal year 2017 budget request or Space Command's roadmap.
"If we can not convince the Congress [to support it] … then we're on a different plan," Greaves said.
Topics: Space