Red Flags Go Up As Chinese Firm Seeks to Acquire U.S. Defense Contractor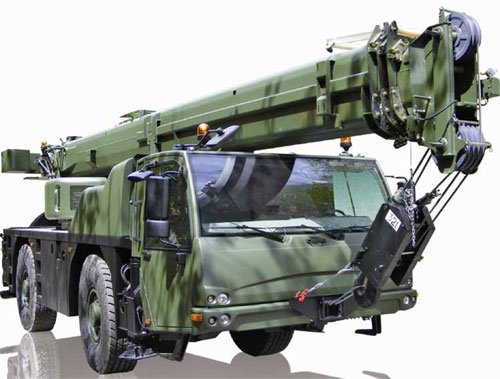 Photo: Terex military crane (Terex)
Following news that crane manufacturer Terex Corp. received an unsolicited $3.3 billion acquisition proposal from China's heavy equipment maker Zoomlion, a member of the House Armed Services Committee is urging the U.S. government to block such deal on national security grounds.
In a letter to Treasury Secretary Jacob Lew, Rep. Duncan Hunter, R-Calif., raised alarms about the national security implications of a Chinese company that supplies hardware to the PLA also becoming a Pentagon contractor. Terex provides cranes and other infrastructure and logistics support equipment to the U.S. Army and other government agencies.
If the companies agree to a deal, it would have to be approved by the Treasury-led Committee on Foreign Investment in the United States. In the Feb. 17 letter, Hunter asked Lew to make sure the transaction receives "thorough scrutiny." He noted that he has a "great deal of concern about the implications this possible takeover could have on our national security."
The proposed acquisition is still under review by the Terex board of directors. The board "continues to analyze the non-binding acquisition proposal by Zoomlion for $30 a share," Terex spokesman Tom Gelston told National Defense in an email Feb. 19. "We have no other update or comment on it until such time that the board of zirectors completes their review."
If the deal moves forward and is submitted to CFIUS for review, it could reignite contentious questions about foreign ownership of American military contractors, which are especially polemic when the acquirer is from China.
CFIUS was created in 1975 by executive order of President Gerald Ford. Chaired by the Treasury secretary, it includes representatives from State, Defense, Commerce, Justice and Homeland Security. White House national security and economic advisers, the U.S. trade representative and other top policy makers also participate.
In 1988, Congress passed legislation that gave the president authority to examine proposed foreign takeovers of U.S. companies and block them if it was determined that they posed a risk to national security.
If Zoomlion hypothetically were allowed to acquire Terex, it would be required to establish a U.S. controlling company in order to continue selling cargo handlers and other equipment to the military.
Terex has five major businesses: aerial work platforms, construction, cranes, material handling and port solutions, and materials processing.
According to an industry source, Terex has 97 contracts with the Defense Department.
Companies in that sector are watching closely. "You can be sure that there is lots of interest in this takeover," the source said. "As the Chinese company is buying stock, they will be an outright owner very quickly and the chances for a negotiated solution to retain Terex's DoD business will be hard to put in place," he added. The Defense Department should "exercise due diligence of its responsibility to oversee foreign owned companies."

The Zoomlion bid comes as Terex — based in Westport, Connecticut — is in the midst of merger talks with Finland-based Konecranes Plc.
Gelston said the Terex board of directors has not changed its recommendation on the proposed combination with Konecranes. "The work continues on the required anti-trust filings with the United States and European Union, and other countries. And work continues on the SEC and Finnish filings," he said. "The merger with Konecranes remains subject to both Terex and Konecranes' shareholder approvals, antitrust regulatory approvals, and other closing conditions."
Topics: Business Trends, Mergers and Acquisitions, International, Logistics