Industry Should Look at Pacific Fleet as a Laboratory, Navy Commander Says (UPDATED)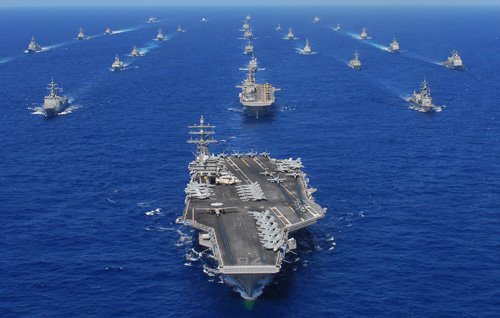 Photo Credit: Navy
SAN DIEGO — The defense industry and the Navy must work more closely together as the sea service pursues innovation, the commander of U.S. Pacific Fleet said Feb. 18.
"I want industry to look at the Pacific fleet as a laboratory," said Adm. Scott Swift during a keynote speech at the annual AFCEA/U.S. Naval Institute WEST 2016 conference.
During this summer's Rim of the Pacific exercise — the largest international maritime warfare exercise — the Navy plans to conduct more than 40 experiments, he said. He invited industry to reach out to the service to test new technology.
In general, there needs to be more dialogue between industry and the Navy, Swift said. However, he stressed that it must be done through official channels.
"We've got this rule set in place, this barrier that prevents us from talking through it between industry and … warfighters," he said. He encouraged companies to approach service members through lawyers to ensure that if their products do win competitions, that they would not face protests.
"I can't tell you how frustrating it is when somebody comes to me, not just industry, but anybody, and they say, 'This is going to rock your world. It's going to change your life.' And my first question is: 'Tell me about my life,'" he said. "It's not a rhetorical question, because I'm not sure I understand the threats that we have out there. I want that dialogue, that back and forth. But invariably, the discussion ends at that point because we haven't had that connection."
As the Navy seeks out innovation, it must be willing to make mistakes and suffer failures, he noted.
"I went to Silicon Valley and I heard stunning things," he said. "I heard things like 'fail fast, fail early.' I mean they use fail in the same sentence twice. I haven't been exposed to that in I don't know how long."
Culturally, the military is too risk adverse and there is intolerance for making mistakes, he said. However, risk is an inherent part of warfighting and should be embraced.
"We are no longer in a resource environment where we can afford to put the resources against any level of risk and drive it down to the levels that we've been able to in the past — and there are two resources that I'm talking about: one is money … and the other is people. We still have a very stressed force, both sailors and Marines, including our civilian sailors."
And as threats change around the globe, risks must be undertaken to meet varying demands, he said.
The Pacific has become a hotbed of instability with both Russia and China stirring the pot, Swift said.
"We've got two peer competitors out there, both in Russia and China, with a great lack of understanding of exactly what their … intent is — you know, a lack of transparency," he said. "That's what's driving angst into the theater."
China, in particular, has been accused of eschewing international laws by claiming sovereignty over disputed islands in the South China Sea. The United States would continue to sail freedom of navigation operations in the region despite Chinese protests, Swift said.
"The U.S. Navy certainly, and I think the rest of the forces as well, are going to continue to operate guided by international law, not necessarily by laws of an individual country, certainly where they don't align with what the international rule set is," he said.
U.S. allies are constantly asking the Navy for a higher presence in the region, Swift said. However, even if the entire Navy were home ported in the South China Sea, allies would still say more presence is needed, he said.
"It's not so much a reflection of what we're doing as the United States, it's a reflection of the angst that's in the region about the uncertainty of the future," he said.
Recent actions by China on a disputed island in the South China Sea may be a cause for concern, Swift said. China recently made headlines as new reports claimed the nation had tested an HQ-9 surface-to-air missile system on Woody Island.
"The fact of the matter is that HQ-9s have been out on Woody Island before — twice before that I know of — [and] both times have been associated with exercises," he said. "That context is important. In that context, this isn't exactly something that is new."
In a previous exercise, the system was used to shoot down a drone. However, "what's different about this deployment is it's not associated with an exercise," he said. "The real question is, what's the intent? How long is it going to be there? Is this a permanent forward deployment of this weapon system or not?"
Correction: The name of the conference has been corrected.
Topics: Defense Department, DOD Leadership, Shipbuilding