Cost to Maintain Weapons Eating Into Military Budgets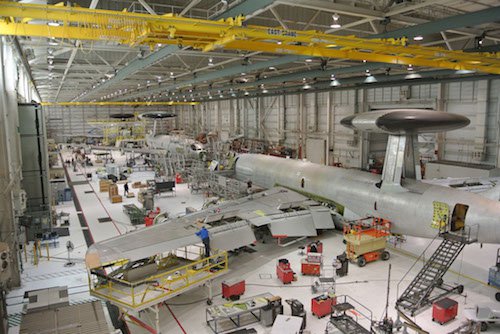 Photo: An E-3 AWACS surveillance aircraft undergoes depot maintenance at Tinker Air Force Base, Oklahoma (Air Force).
In reaction to the soaring prices of Pentagon weapon systems, Congress has passed volumes of legislation aimed at reversing the cost curve. And more is on the way as the House Armed Services Committee prepares to unveil a new procurement reform bill next month.
Only rarely mentioned in the humdrum of Pentagon acquisitions are the runaway costs of maintaining the equipment after it is delivered to the armed forces. For an average weapon system over its entire service life, the purchase price is only one-third of its cost. Operating and maintaining it accounts for nearly two-thirds.
These so-called "operating and support," or O&S costs — buried in the Pentagon's $200 billion a year operations and maintenance funds — consume about one-third of the Pentagon's discretionary budget, and have been rising at an alarming pace, noted former Pentagon Comptroller Robert Hale.
While U.S. military forces have been downsized over the past decade, equipment O&S costs have grown sharply, Hale told the House Armed Services Committee. If one includes the operations and maintenance appropriation, plus the cost of military personnel involved in those activities, O&S has grown by 20 percent since 2000 in inflation-adjusted numbers, Hale said.
With the top line of the defense budget likely to stay flat for the foreseeable future, the O&S cost trend is unnerving, he added. "It's so important that I believe it should be the next frontier for acquisition reform."
The Pentagon has recognized the problem but appears to have limited power to turn it around. The Pentagon's cost assessment and program evaluation office known as CAPE has issued guidelines on how to better predict and manage O&S costs. The office published a 110-page "Operating and Support Cost Estimating Guide" that provides detailed instructions and examples.
For most defense programs, O&S will be the largest of four cost categories — the other three being research and development, procurement, and disposal, the manual says, "Which is why there is renewed emphasis on O&S affordability and cost management."
Hale said the Defense Department has taken steps over the years to contain acquisition costs, but has not paid as much attention to holding down operating and support costs.
Analysts who have studied the Pentagon's budget are not surprised by the difficulties of predicting and tracking these costs. Unlike many corporations that manage huge fleets of equipment, the Defense Department does not use modern big-data tools that exist today to forecast and manage O&S costs, says Eric Gillespie, CEO of Govini, a federal contracting intelligence firm. "Given the technology available, we have a hard time understanding why the Department of Defense isn't using similar tools to more precisely predict cost," he says. "The private sector has figured it out. We don't understand why DoD hasn't figured it out."
Another problem is the jumbled accounting systems that make it difficult to follow the money, says Arun Sankaran, Govini managing director. The Pentagon is trying to fix that under a broad initiative that is being watched closely by Congress to pass a "clean audit" in 2018. "Hopefully it will set the foundation to do more predictive analytics," he says. A Govini study of military spending on contractors for logistics support found that these costs are not all funded in the O&M account but spill across the procurement and foreign military sales accounts.
"The budgeting process and procurement process are very disconnected," says Sankaran. "You have to do a lot of in-depth analysis to connect programs in the budget to what's being paid out in contracts. This in part explains why DoD has trouble estimating O&S costs."
The Pentagon agrees that better analysis is central to its cost control plans. According to the CAPE guidebook, "The first step in preparing a credible O&S cost estimate is the development of a sound analytic approach."
Hale suggests Congress should intervene, too. "I think it would be especially important for this committee and other defense committees to hold hearings on the implementation and enforcement of affordability caps with a focus on the operating and support portions," he told the House Armed Services Committee. "Congress can also use reporting requirements to shine a spotlight on operating and support costs." The Nunn-McCurdy legislation that requires reporting on weapons programs that breach thresholds for unit acquisition costs could serve as a model for O&S oversight, Hale says, "and I know from personal experience sitting in staff meetings, these focus the attention of senior leaders. It's time to consider similar reporting requirements for operating and support costs."
CAPE says the earlier O&S costs are probed when a weapon development program gets under way, the better. "At Milestone A, information about the system design, performance, physical characteristics, and O&S concepts are preliminary and tentative. Nevertheless, rough O&S cost estimates are required, primarily to identify key cost drivers." At Milestone B, when a program is more technologically mature, "O&S cost considerations are very important," says CAPE. After a system is officially in the inventory, the focus is to "monitor and assess system O&S costs over time, and identify reasons for adverse trends."
Defense acquisition expert and industry consultant Jon Etherton says the concerns raised by Hale and others on O&S costs have been widely recognized for a long time, though it remains to be seen whether congressional committees will want to take it up as a major issue.
Sankaran says some of the more recent Pentagon procurement reforms that promote the use of "open architectures" in weapon systems will help reduce the cost of modernizing equipment.
So far, despite repeated attempts to tackle O&S costs, the Pentagon has fallen short, Hale says. His persistent focus on the topic during the HASC hearing earlier this month prompted Chairman Rep. Mac Thornberry, R-Texas, to reassure Hale: "Message received on operation and support costs."
Topics: Logistics, Manufacturing, Procurement, Acquisition