Five Takeaways From the 2017 Defense Budget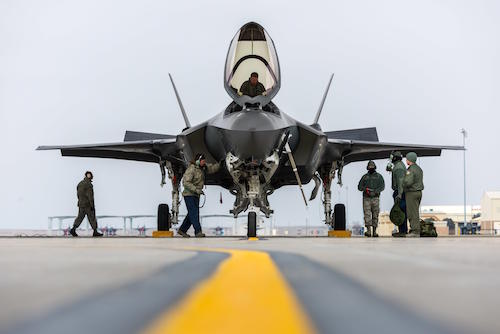 PHOTO: An F-35A at Mountain Home Air Force Base, Idaho (AIR FORCE)
The Army's pivot to Europe, cuts to the F-35 joint strike fighter and partisan disagreements over war supplemental spending have been the attention grabbers of the Pentagon's 2017 funding request. As the dust begins to settle after last week's budget release, a deeper dive into the spending plan reveals five key trend lines of particular interest to the defense industry.
A Shift to Conventional Warfare, but No Buildup
Defense Secretary Ashton Carter cast the 2017 budget as one that positions the military to dominate potential nation-state rivals like Russia, China, Iran and North Korea. Still, the Pentagon's procurement accounts are taking a haircut. The 2017 request of $523.9 billion for the Pentagon's baseline budget includes $112.1 billion for procurement, or about $7 billion less than the $118.6 billion that Congress approved in 2016.
Military contractors remain "frustrated by the department's difficulty in expanding procurement activities at the rate that everybody would like," said budget analyst Douglas Berenson, of the consulting firm Avascent. The five-year procurement forecast is relatively flat — modest upticks are projected to $118 billion in 2020 and $124 billion in 2021.
The Pentagon turning its attention to major combat operations against nation states should not be viewed as a military buildup in the traditional sense, said Berenson. "Ash Carter is thinking more than just stepped up production of weapon systems. He's trying to orient the department toward new technologies that have the potential to really preserve America's edge. And that would require more than just sustained procurement rates." Carter has elevated the status of the Pentagon's four-year-old "strategic capabilities office" and expects this organization to come up with novel ways to use existing weapons. A case in point is his suggestion that the Air Force build an "arsenal plane" by equipping aging bombers with cutting-edge munitions.
A spike in funding for efforts to contain Russia — called the European Reassurance Initiative — is viewed as a return of sorts to the days of the Cold War. But the $3.4 billion request for ERI — up significantly from $800 million last year — is only a short-term move and nowhere near what would qualify as a military buildup, said NATO expert John R. Deni, professor of national security studies at the Strategic Studies Institute. "We are making a bigger deal of this than we should," he said. The funds pay for an Army brigade to deploy to Eastern Europe on a rotational basis, as well as support equipment. "This is not as dramatic as the media may lead us to believe," said Deni. This is meant to counter criticism from allies like Poland and Estonia that have been "very disappointed with the NATO and U.S. response to date," he said. "This will not be a sustained buildup in Europe or in the Army writ large."
Amid an escalating war against the Islamic State in Iraq and Syria, the Air Force is increasing procurement of some types of munitions. But if the Air Force also had to fight a conventional war against a major power, it would need a dramatic boost in funding, according to officials. To achieve its goal of 80 percent readiness for high and low end conflicts, the Air Force "could spend $800 million a year for 10 years on top of what we have to fill that gap," said Air Force deputy chief of staff for strategic plans and programs Lt. Gen. James M. "Mike" Holmes.
"Delay in modernization has become a trend that allows our competitors to close the capability gap," said Air Force Deputy Assistant Secretary for Budget Maj. Gen. James F. Martin. "Since fiscal year 2012, we deferred 75 F-35s. This equates to approximately four squadrons." World events thus far appear to have limited impact on procurement funding. As has been the case historically, procurement accounts will continue to be adjusted to fund other priorities. "Acquisition accounts are the most volatile," Pentagon Comptroller Mike McCord said during an interview with Defense News. With spending caps still legally in place for 2018 through 2021, it would be reasonable to expect further cuts to procurement. The budget deal that gave the Pentagon relief from the caps for 2016 and 2017 "gave us zero guidance beyond those two years," said McCord.
In the 2017 budget, the Pentagon had to cut spending by $22 billion compared to what it planned to request a year ago. Officials have indicated that in 2018 they would submit a request higher than the caps set by Congress, and noted that there is a $100 billion gap between the caps and the Pentagon's projection of what it needs to keep the military in a steady state.
No Reason to Panic Over Procurement Bow Wave
It is a recurring alarm that is sounded with every budget request: Too many weapons systems are projected to ramp up production at the same time, creating a fiscal bubble that would bust the Pentagon's finances. The Air Force, for instance, is poised to begin full production of the F-35, a new bomber and a refueling tanker, all at the same time it is scheduled to replace aging intercontinental ballistic nuclear missiles. "Our real problem starts in 2022," said Holmes. That is when the bills to recapitalize or extend the life of the legacy conventional force, and the bills to modernize the nation's nuclear force all come together.
"We are hoping to have a national conversation on the priorities," Holmes said. "That's been the purpose of a lot of our engagement on Capitol Hill." The demands keep growing but the budget stays flat, he said. "We will have to make some trades. We won't be able to keep our current capacity, keep that capacity relevant and do the modernization we have to do based on where our budget has been in the past few years."
These worries are somewhat exaggerated, however, said Berenson. The Pentagon has dealt with bow waves for decades. "Every year the department has to figure out what to push off," he said. "There's a lot of stuff out there. But I don't think we're going into a phase that is fundamentally different than what the department is used to." It is also worth remembering that many of the systems that make up the bow wave are still in development. "Almost certainly they will take longer to mature toward production readiness than anybody predicts. That is simply the nature of defense procurement. Everything takes longer," said Berenson. "The notion that we know exactly when the bow wave will hit is a bit fallacious. We don't really know what systems are going to be ready to transition to production in large numbers."
Analysts say a more concerning hazard for Pentagon leaders is the fiscal bow wave that the nation faces in the 2020-2030 timeframe as millions of baby boomers retire and collect benefits. This will stress the Treasury and could squeeze discretionary government spending. So far, no one has laid out a plan for how to cope with that potentially disastrous fiscal time bomb.
The Third Offset Is Real, But Change Will Be Slow
The Pentagon's push to unleash a new wave of innovation — known as the "third offset" — will include investments in directed energy, hypersonic weapons, robotics, undersea systems, cyber warfare and other cutting-edge technologies. McCord estimated the 2017 budget proposes $3.5 billion for these initiatives. Although that is a small fraction of the defense budget, it is a significant step as Carter tries to reshape the military, he said. "Innovation in his mind is not just money, but the way you think. The strategic capabilities office is about taking what you have and using it differently, in clever adaptations of what you have."
Berenson predicts the third offset will continue to influence research and development spending, which is projected to grow from $72 billion in 2017 to $75 billion in 2018. "I see evidence in this budget that the department is doing a third offset; it's in the RDT&E account."
Other analysts are more skeptical. Byron Callan, managing director of Capital Alpha Partners, warned that current defense industry and Defense Department investments, as well as an outdated procurement system, will hold back U.S. efforts to sustain global defense superiority. The defense sector is fading compared to a commercial industry where the top 10 technology companies spent about $85 billion in R&D in 2015, Callan wrote in a research note.
Aging Platforms Are Here to Stay
The highest priority in the 2017 budget, military officials have stressed repeatedly at every opportunity, is the combat readiness of the force. That means personnel, operations, maintenance and training expenses take precedence over acquiring new equipment. Military officials have accepted that reality and intend to continue to update and remanufacture Cold War-era weapons systems for the foreseeable future.
The Air Force's radar ground surveillance plane, called JSTARS, is several decades old, Lt. Gen. John Cooper, deputy chief of staff for logistics and engineering, told members of the House Armed Services readiness subcommittee. "About 50 percent of the airplanes are in depot," he said. "That's emblematic of really our larger fleets. We have a number of fleets that are almost as old as JSTARS and we just have to keep on recapitalizing our fleets."
Twenty-five years of continuous combat operations and budget cuts "have made the Air Force one of the smallest, oldest and least ready forces in its history," said Air Force Vice Chief of Staff Gen. David L. Goldfein. In 1991, the average age of aircraft was 17 years, and 80 percent of the fighter force was ready for full-spectrum conflict, he said. Today, the average age of Air Force aircraft is 27 years, and less than 50 percent of the combat Air Force is ready for full-spectrum conflict.
Delays in F-35 development worsened the problem and led to congressional action to delay the retirement of the A-10 close-air support aircraft. Sustaining that fleet will cost the Air Force $3.4 billion over the next five years. The deferral of 45 Air Force F-35 aircraft frees up about $4.9 billion. Upgrades to portions of the F-16 and F-15 fleets are funded to fill the gap until the F-35 is ready. "We'll have to fly them longer as we are not going to be able to buy replacements because of changes in budget level and changes in the performance of replacement programs," said Holmes.
A similar trend is seen in the Army, where it has become the norm to delay procurements. "You can see that the only growth from fiscal years 2016 to 2017 is in our operations and maintenance accounts," said Army budget director Maj. Gen. Thomas Horlander. "Resourcing constraints did not allow us to modernize our equipment and facilities at the same pace as we sought to minimize the risk to current readiness."
The Pentagon for years has coped with a "chronic growth in O&M costs," Berenson said. "I think this is a problem that will always squeeze procurement."
Budget Outcome Depends on Speaker Ryan
What happens next in the budget process is the subject of much speculation in Washington. Republicans — congressional defense hawks and some presidential contenders — have blasted the budget proposal as inadequate. Meanwhile, House fiscal hawks — known as the Freedom Caucus — are calling for a do-over of the October budget deal which they believe is $30 billion too large.
No matter what, said Berenson, "Congress will take a red pen to this budget."
If history is any guide, Congress will add back some of the cuts the Pentagon made to the procurement account. Industry consultant James McAleese, of McAleese & Associates, said he expects Congress during an election year to increase procurement by $6 billion to $8 billion. The plus-up likely will be spread across shipbuilding, aviation and ground vehicles.
Todd Harrison, budget analyst at the Center for Strategic and International Studies, said the Pentagon is fairly certain that it can get some additional procurement funding in the OCO budget. One scenario is Congress adding $5 billion to $15 billion to OCO, but the only way that happens is if Republicans agree to Democrats' demands for a dollar for dollar increase on the nondefense side.
Berenson argues that the biggest deciding factor in what happens to the defense budget is how House Speaker Paul Ryan deals with internal rebellions in his caucus. Ryan has said he wants a return to a regular order process, but factions in his caucus just don't want to do that, Berenson said. "The House Freedom Caucus wants to fundamentally renegotiate the October budget deal. Armed Services Republicans want to renegotiate the overseas contingency operations budget figure. … I think if Paul Ryan tries to go into a budget negotiation he's courting disaster. If the House and Senate go directly to an appropriations process with the top-line that was already negotiated, then I think there's a reasonable chance that the Defense Department at least could see a budget more or less on time," he said. "The House is the main show in terms of getting clarity on fiscal year 2017."
Callan said he doubts that an OCO plus-up will be anywhere near the $15 billion to $23 billion that HASC Chairman Rep. Mac Thornberry, R-Texas, is seeking. "A bitter and time-consuming debate over President Obama's nomination for the Supreme Court will take time away from other issues before Congress, including the budget," he wrote. Defense investors should consider the possibility that a temporary funding measure, or continuing resolution, will be passed before the fiscal year ends Sept. 30, which punts the 2017 appropriations to after the November election.
Topics: Aviation, Joint Strike Fighter, Defense Department, DOD Budget, Logistics, Strategic Weapons, Procurement