Air Force Outlines Future Space Launch Plans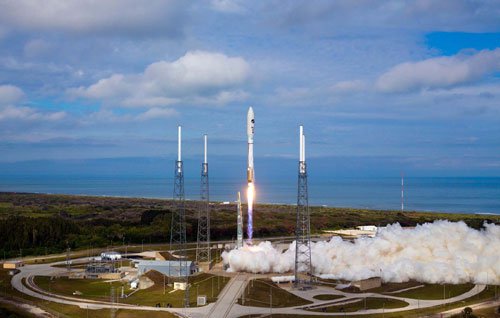 Atlas V rocket (Air Force)
The Air Force has developed a strategy to acquire new space launch systems, including replacing a Russian-made rocket engine with one that is domestically produced.
Service officials outlined their plan during a roundtable with reporters on Feb. 11 to discuss the recently released fiscal year 2017 budget request. The proposal includes about $5.5 billion in Air Force space investment, an increase of approximately $250 million — or 4.5 percent — over the fiscal year 2016 request.
The money will fully fund the evolved expandable launch vehicle program, which helps put payloads into orbit, said Winston Beauchamp, deputy under secretary of the Air Force for space.
EELV "will preserve our ability to access space [while] investing in an indigenously produced launch capability," he said. "This serves not only as a capability to replenish space assets as they reach end of life, but also to improve our capabilities and reconstitute our forces."
As tensions have increased between Washington and Moscow, Congress has directed the Defense Department to stop using Russian-built RD-180 rocket engines as soon as possible. The engines power the United Launch Alliance's Atlas V rocket, which are part of the EELV program. ULA is a joint venture between Boeing and Lockheed Martin.
"We are working diligently towards that objective … [but] there's a lot of work to be done by [U.S.] industry," said Maj. Gen. Roger Teague, director of space programs in the office of the assistant secretary for acquisition. "To get off of that [RD-180] engine it's important that first our U.S. technical industrial base build itself up back up and restore excellence in hydrocarbon engines."
The Air Force laid out a multi-phased approach.
"The first step is to try to shore up the industrial base and take … the technical maturation and risk reduction activities necessary to build up that industrial base," Teague said. "Then take the efforts of that tech maturation work and be able to have it explore or support any and all competitor launch service providers who would be able to take advantage of those key technologies, and provide it in support of a rocket propulsion system or engine … That engine work then helps transport transitions to our next step, which is a launch system development."
SpaceX and ATK Launch Systems were recently awarded contracts to develop rocket propulsion system prototypes. For now, the Air Force says ULA needs to continue using the RD-180.
"We're trying to manage this transition period until we get the new family next-generation of launch systems certified and able to support our requirement," Teague said. "Until that happens, and in order to promote competition, ULA would need to have access to the RD-180 engine to be able to competitively compete with SpaceX and their Falcon 9. And so if the direction is we're going to get off RD-180 now and we will have no further access or authorization to use any additional RD-180 engines, then we're going to have to look at a different strategy to be able to satisfy our launch manifest requirement until those new entrants are satisfied."
The Air Force is looking for a complete launch system capability, not just a rocket engine. Teague noted. The service is trying to promote technology maturation "to evolve from … new engine technologies, to a launch system, to ultimately launch services and certified launch capabilities — and that's our end state [and] what we're trying to achieve," he said.
But Congress has created a roadblock that could impede progress toward the Air Force's ultimate goal.
"We have some restrictions in the [fiscal year 2016 National Defense Authorization Act] that limit … our additional work beyond a current rocket propulsion system," Teague said. "We're working with Congress to try to … be able to move forward. But the intent is to then proceed to the next phase and … solicit proposals for launch systems and then evaluate that as part of a total launch solution and then finally be able to select … at least two national security space launch systems."
The Air Force hopes to have next-generation launch systems ready to be fielded and certified for use to support national security space missions by 2022, he said.
Topics: Space