2017 Pentagon Budget Targets High End Capabilities to Counter Russia, China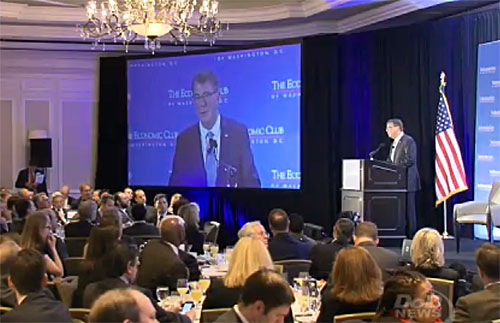 The Defense Department's fiscal year 2017 budget request will emphasize high tech capabilities to counter Russia and China, Secretary of Defense Ash Carter said Feb. 2.
The upcoming budget release, slated for Feb. 9., marks "a major inflection point" for the Pentagon, he said.
"Key to our approach is being able to deter our most advanced competitors," he said at a speech hosted by the Economic Club of Washington. "We must have — and be seen to have — the ability to impose unacceptable costs on an advanced aggressor that will either dissuade them from taking provocative action, or make them deeply regret it if they do."
The Pentagon chief described Russia and China as "our most stressing competitors."
"They have developed and are continuing to advance military systems that seek to threaten our advantages in specific areas, and in some cases they are developing weapons and ways of war that seek to achieve their objectives rapidly before they hope we can respond," he said. "Because of this, and because of their actions to date — from Ukraine to the South China Sea — DoD has elevated their importance in our defense planning and budgeting."
Carter made clear that he is willing to sacrifice force structure to pursue cutting edge systems. "Budgets often require tradeoffs," he noted. "Where tradeoffs among force structure, modernization and readiness posture needed to be made, we generally pushed to favor the latter two."
Equipment for the Navy received high priority in the new budget submission. Of the $582.7 billion that the Defense Department is requesting for fiscal year 2017, $8.1 billion is slated for undersea and anti-submarine warfare capabilities. Over the next five years, the Pentagon plans to invest: $40 billion to buy more advanced payloads and munitions; unmanned underwater vehicles; advanced maritime patrol aircraft; and nine of the most advanced Virginia-class attack submarines, some of which will be equipped with the Virginia Payload Module, which increases the platform's strike capacity from 12 Tomahawk missiles to 40.
The Defense Department leader cited space, cyber space and electronic warfare as key domains on par with air and sea. The United States' reliance on those domains has created vulnerabilities that adversaries are eager to exploit, Carter said.
To counter those threats, the Pentagon plans to spend nearly $7 billion in 2017 and almost $35 billion over the next five years, he said. The investments would improve network defenses, build more training ranges for cyber warriors, and also develop tools and infrastructure needed for offensive operations, he said.
For 2016, the Pentagon added more than $5 billion in new investments to make the military better postured to protect space systems, Carter noted. "In 2017 we're doing even more, enhancing our ability to identify, attribute and negate all threatening actions in space," he said.
To beef up the pursuit of advanced capabilities, the budget request would grow the Defense Department's research-and-development accounts to a total of $71.4 billion in fiscal year 2017.
The Pentagon's Strategic Capabilities Office is working on a number of projects, Carter said, including: putting micro-cameras and sensors on small diameter bombs to augment their targeting capabilities; swarming, autonomous vehicles such as self-driving boats and high-speed micro-drones; hypervelocity smart projectiles for missile defense; and an "arsenal plane" which would serve as a "flying launch pad" for a range of conventional payloads.
"In practice, the arsenal plane will function as a very large airborne magazine, networked to 5th-generation aircraft that act as forward sensor and targeting nodes — essentially combining different systems already in our inventory to create wholly new capabilities," Carter said.
In another measure aimed at deterring Russia from adventurism in Europe, the Pentagon intends to ramp up its investment in the European Reassurance Initiative, quadrupling last year's request to $3.4 billion in 2017.
"That will fund a lot of things — more rotational U.S. forces in Europe, more training and exercising with our allies, more prepositioned warfighting gear, and infrastructure improvements to support all this," Carter said. "When combined with U.S. forces already in and assigned to Europe … all of this together by the end of 2017 will let us rapidly form a highly-capable combined arms ground force that can respond across that theater if necessary."
Other major threats include North Korea, Iran and terrorist organizations like the Islamic State, Carter noted.
The new budget request doesn't neglect counter-terrorism or counter-insurgency funding. As the U.S. military continues to wage war against the Islamic State terrorist group in Iraq and Syria, the Defense Department is requesting $7.5 billion in 2017 to fund operations against the group, a 50 percent increase over 2016.
"This will be critical as our updated coalition military campaign plan kicks in," Carter said. The U.S. military is starting to run low on GPS-guided smart bombs and munitions, he noted. The Pentagon plans to spend $1.8 billion in 2017 to buy more than 45,000 of these munitions.
The Defense Department will also invest money to maintain more 4th-generation fighter and attack jets than previously planned. That includes A-10 Thunderbolt II close-air-support planes, which the Defense Department had previously been trying to eliminate as a cost-saving measure. The aircraft "has been devastating to [the Islamic State] from the air," Carter said.
The budget would defer the A-10's final retirement until 2022, replacing it with F-35 joint strike fighters on a squadron-by-squadron basis.
Photo Credit: Defense Dept.
Topics: Defense Department, DOD Budget