Medevac Training System Preserving Life-Saving Skills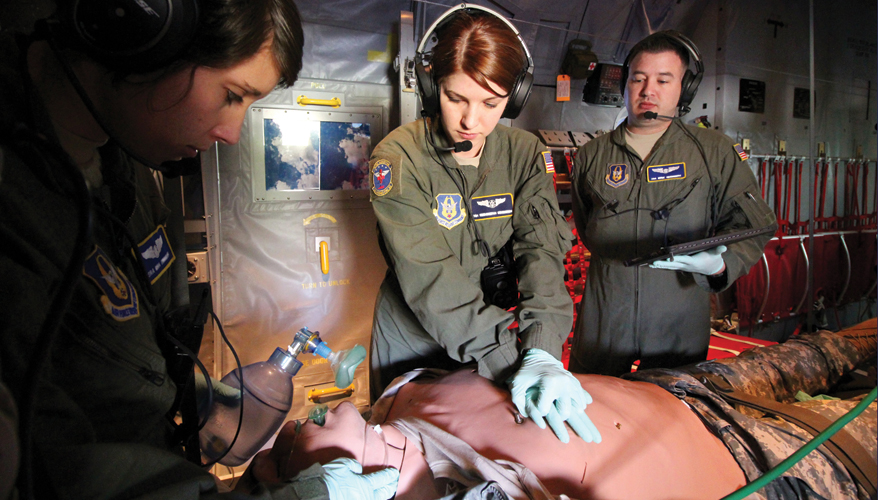 Aeromedical evacuation training system
DOBBINS AIR RESERVE BASE, Ga. — If a combat medic makes it to a wounded U.S. service member on today's battlefield, the victim has a 98 percent chance of survival.
That number is unheard of in the history of warfare, said Lt. Col. Chad Corliss, the Air Force's 94th air evacuation squadron director of operations.
In World War II, it was a 30 percent mortality rate. For the Korean War, Vietnam War and first Gulf War, it remained at about 25 percent. And that's where it was when hostilities began in October 2001, he said. The last four years have seen a tremendous leap to where only two of 100 of those who survive long enough to see a combat medic, die of their wounds.
"We want to chase zero. We want zero percent to die of wounds. I don't think that is going to happen but what I don't want to happen is for us to go back to 24 percent," Corliss said.
To that end, the Air Force has acquired a simulator that reproduces the long missions medical flight crews must endure while taking care of patients in the back of transportation aircraft.
Corliss said there is a risk as operations wind down that some of the vital skills that have kept that survival figure so high might be lost.
"We want to keep those skills. We've got them right now. We have learned a lot in 10 years of combat," he said in an interview with reporters.
"What we don't want in our next conflict with new nurses, new med-techs coming in, is not knowing what we have learned and having to learn it all over again," he said.
The Aeromedical Simulation and Training Center at Dobbins Air Reserve Base received the first aeromedical evacuation training device in the spring. Built by CAE Health USA, a division of the Canada-based modeling and simulation company, it reproduces in high detail the back of a C-130 E or H models' fuselage where medical flight crews care for mock patients in the form of realistic manikins.
It reproduces the lighting, sounds, intercom, breathable air stations and configurations of a medevac aircraft. The idea is to mimic the high-stress scenarios that such flight crews experience in the real world, Corliss said.
Since such aircraft also resupply forward positions, loadmasters must be able to push pallets off after landing. The medical technicians and nurses then have about 10 minutes to reconfigure the back of the aircraft to receive patients.
This is often done at night in hot zones, which requires crews to wear night vision goggles as they perform their tasks. The goal is to be on the ground for 30 minutes or less.
The nurses and med-techs are considered members of the flight crew and do not serve under any of the services' surgeon generals. The vast majority are Guard members or Reservists, meaning they have limited time for training, Corliss said.
As members of the aircrew, they have to understand the aircraft in which they are working. They must be qualified to serve on any KC-135, C-17 and C-130 and requalify for their wings every 17 months by passing a series of stringent tests, he said.
The simulator is not being used for basic training, which is a different course that takes some 60 days to complete. Participants here are looking to hone and keep up their skills in a refresher class.
"The medical world is a bit behind on understanding the value of simulations, but we are getting there. We know that this can improve patient safety and we know it improves our clinical performance when we are in the simulator," Corliss said.
Training in the medical world most often involves embedding in hospitals where new doctors or nurses "experience by chance" whatever occurs on that particular shift.
The center creates reproducible, standardized and validated scenarios.
"We don't want experience by chance. We want guarantees that every crew member that comes through this facility will get a chance to put hands on and go through each one of those experiences," Corliss said.
This is where they can make mistakes without harming a patient. Most of the learning takes place during debriefs, where the crew learns from their errors, he added.
The trainer allows for a variety of scenarios that cannot be reproduced with live training such as loss of cabin pressure, power failure, smoke in the cabin, and in the future, a crash-and-ditch scenario.
Base commander Col. Steven Parker, who is also commander of the 94th air wing, said: "You can shut engines down. You can do all sorts of emergencies that you can never do in an airplane, or you hope you will never see them in an airplane. But if you do see them at least you have seen them in a simulator, and you know how to handle it."
To do the crash-and-ditch scenario, and to provide even more realism, the trainer will be receiving a motion table late this year. It will be able to do about six degrees of movement. It will not be able to reproduce the G-forces, or egress, but it will be able to simulate "a very bad day," Corliss said.
When training in the air, the "bad day" scenarios are not very realistic, he noted. An instructor would just point at a cabin door to indicate that a red light has come on for a loss of cabin pressure. Now, a real red light comes on and it's up to the crew to take notice, put oxygen masks on their patients and remedy the situation.
If there is a loss of power for some reason they also have to figure out what is wrong with the electrical system and reboot it — all while making sure the patients stay alive, Corliss said.
Members of the medical flight crews are put through a series of tasks in smaller rooms during the course before they put all they have learned together and go in the larger simulator.
The "patients" are actually realistic manikins that breathe, talk and bleed. And not all of them are war fighters.
The crews take on a variety of missions that are not combat related such as disaster relief. Other federal agencies can call them in to evacuate their personnel. Military family members with medical emergencies at remote bases have been airlifted as well.
"I tell my nurses, 'You're going to move everything from pediatric to geriatric,'" Corliss said.
The manikins respond physiologically to what ever is done to them. They have pre-set scripts to tell the staff what is wrong. An instructor running the simulation in a control room can also improvise and speak for the manikin, although it will come through with a different voice.
Manikins replace real people who once acted the parts of patients.
"The difference is I can stick a tube in [the manikin] 10 times a day and he doesn't complain," Corliss said.
Reporters at a media day witnessed a pregnant manikin mother giving birth to a manikin baby with the help of a medical technician.
Corliss noted that there are many reasons for today's high survival rate other than the work of medical evacuation crews. The mine-resistant ambush protected vehicle and body armor are better at protecting troops. Combat care has also moved far forward on battlefields.
"The combat medic that is moving forward with troops is receiving training that they never would have received previously," he said.
Attitudes toward the tourniquet have also changed. It was widely used in the Civil War, then fell out of favor because it was believed that it did more damage than good. Today, it's known that a well-placed tourniquet can stop bleeding and remain in place for up to eight hours without damaging the limb. Every servicemember in a battle zone must carry at least two of them at all times.
During an operation, a spot where doctors can perform damage control surgery is set up nearby to receive any patients brought there by helicopter or other means. After they do what they can to stabilize the patient, an air evacuation coordination cell is called, which brings in the medevac aircraft. Corliss said a patient can now make it back to a stateside hospital within 72 hours. That took up to 30 days during the Vietnam War.
The five-member crews as they fly long distances are pretty much on their own, although they can radio doctors for advice.
One item on the wing's want list is satellite communications links so some telemedicine can be performed. The Air Force is requesting this upgrade, he said.
The plans are for six more such simulators, including ones for the C-17 and KC-135 variants, with some on the West Coast so Guard members and Reservists don't have to travel too far to refresh their skills.
Parker said the goal is for Dobbins to become a "center of excellence" for medical flight crew training, similar to the way Rosecrans Air National Guard Base in St. Joseph, Missouri, has become a world-renowned airlift center of excellence where new tactics, techniques and procedures are worked out.
"To get that next level of training, I think that's what we can do here," Parker said.
Topics: Training and Simulation