Trump's Air Force One Tweet Rattles Aerospace Industry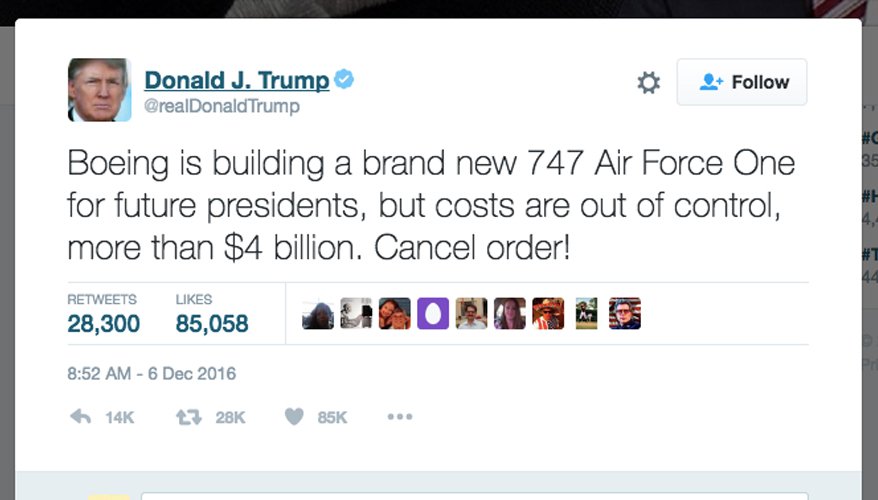 Photo: Twitter
In an eerie coincidence, hours before the Aerospace Industries Association hosted its annual media event Dec. 6 to discuss defense and aerospace industry priorities with the new administration, President-elect Donald Trump fired off a tweet blasting The Boeing Co. for the high price tag of the future Air Force One jetliner.
"Boeing is building a brand new 747 Air Force One for future presidents, but costs are out of control, more than $4 billion. Cancel order!" thundered the president-elect.
So it fell on President and Chief Executive Officer Dave Melcher to respond on behalf of the nation's largest airplane builder.
The mere notion of having to respond to such a tweet — which not only slams a major military contractor but also cites cost figures that Boeing says are inaccurate — is something that the industry may have to get used to.
"This is a relatively new phenomenon," Melcher told reporters.
During the AIA event, the entire room of more than 300 industry executives and journalists was buzzing about Trump's tweet. People were scratching their heads: What will he target next? The F-35? The presidential helicopter? And where did the $4 billion figure come from?
"What I do know is that the right response is not going to be to tweet back," Melcher said amid chuckles. "Don't expect us to be doing that."
The president-elect's tweets make news every day, but this is the first time he's specifically weighed in on a Pentagon program. Several executives at the AIA lunch said they wonder what this might mean for the future of defense contracting in the Trump administration.
In a statement, Boeing said it is currently under a $170 million contract to "help determine the capabilities of this complex military aircraft that serves the unique requirements of the president of the United States."
Melcher said it will be up to members of the transition team who are versed in defense acquisitions to explain to the president-elect the complex requirements of the future Air Force One, and why these airplanes cost far more than commercial passenger planes. Presidential airplanes are nuclear-hardened, outfitted with highly advanced communications technology and come with security features that would be unthinkable for any other airplane.
"What is tweeted today is not necessarily going to be the policy tomorrow," said Melcher. "Most of these things tend to be more emotional in context, a rapid response. … We should not overreact."
The Air Force's long-term budget includes $2.9 billion through 2021 for two new aircraft to replace today's aging models. The project is still in development and not yet ready for production.
Industry analysts wonder if this is a sign of things to come in defense procurement oversight. Buckingham analyst Richard Safran told Bloomberg News that Boeing's reputation is "being dragged through the mud" because of Trump's tweet. Edward Jones analyst Jeff Windau told Bloomberg that if the Air Force canceled the order, it would be faced with the prospect of having to re-compete the program, including the possibility of seeking bids from European manufacturer Airbus.
The irony is rich, tweets Rep. Suzan DelBene, of Boeing's home state of Washington. Donald Trump, she said, is "using unsubstantiated facts to publicly attack American aerospace workers, despite saying he'll protect U.S. jobs."
Topics: Air Power, Air Force News, Defense Department