Secretary Carter Preparing to Pass the Baton to Successor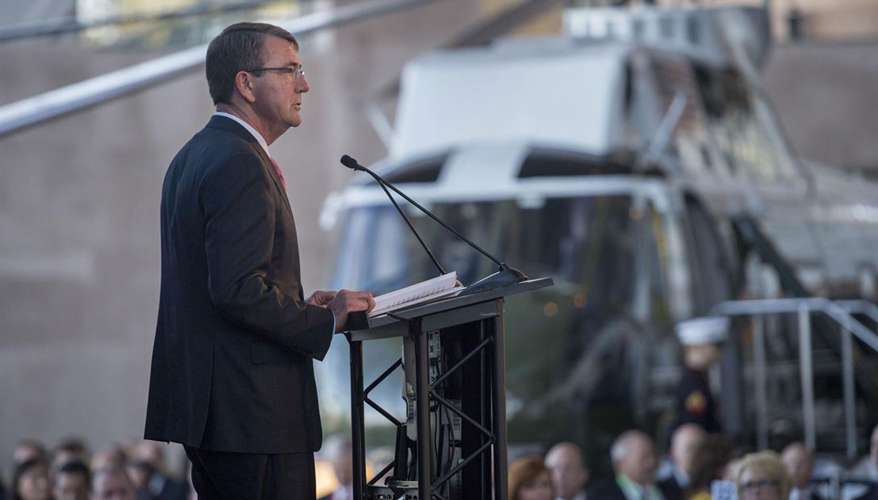 Photo: Defense Dept.
SIMI VALLEY, Calif. — Secretary of Defense Ashton Carter is preaching continuity as he prepares to pass the baton to his successor.

Kicking off his final world tour as Pentagon chief, he delivered the keynote address Dec. 3 at the Reagan National Defense Forum Dec. 3, held at the Ronald Reagan Presidential Library.

At a venue that in the past has been used to announce major new national security initiatives, Carter used the opportunity to frame his legacy and urge the next administration to continue the work that he and his team have been focused on since he took office.

Carter highlighted efforts he led to better prepare the military to counter emerging powers such as Russia and China after more than a decade of focusing on counterinsurgency warfare. That includes investments in capabilities such as anti-ship missiles, swarming drones and cyber tools that are part of the Pentagon's "third offset" strategy, as well as steps to begin modernizing the nation's nuclear arsenal.

"Defending our country in this strategic transition requires that our military be able to deter the most advanced adversaries," he said. "The U.S. military will be ready to fight very differently than we have in Iraq and Afghanistan."

Carter urged future leaders to push forward on this front and continue to invest in "leap-head" capabilities. "In our budget, our plans, our training and capabilities and our actions, we must demonstrate to potential foes that if they start a war, we will win it," he said.

The Pentagon chief hopes his successor will continue one of his cherished initiatives, the Defense Innovation Unit-Experimental, known as DIUX. It's an effort to link the Defense Department with innovative commercial firms in tech hubs like Silicon Valley. Some observers have questioned whether the initiative will survive long after Carter leaves office.

"We will always need … our strong existing defense partners to help us build our defense systems, [but] DIUX will help better connect the Pentagon to a whole new world of American innovation and help our own [traditional defense] companies to find new technologies and new people to bring into them," Carter said. "All that is an investment worth making."

Carter said his successor should continue acquisition reform by building upon the Better Buying Power initiative and looking for additional ways to make the Pentagon more agile in procurement.

Carter touted his "Force of the Future" reforms, noting that his speech marked the one-year anniversary of his decision to open all combat positions to women. During his tenure, the ban on transgender people serving in the military was lifted.

Carter tried to change the way the U.S. military recruits and retains personnel by reaching out to underrepresented communities and creating pathways for people to more easily move back and forth between careers in the Defense Department and the private sector.

The Pentagon needs "to ensure that amid generational, technological and labor market changes, we continue to attract and retain and develop the most talented people America has to offer for our military," he said. "In the 21st century, and in an all-volunteer force, that requires us to be able to draw from the broadest possible pool of people who can meet our stringent and uncompromising standards."

Carter noted that the momentum in the fight against the Islamic State shifted since he came into office, as the U.S. military took more aggressive and coordinated actions against the militant group.

"We've been squeezing [them] from all sides and across domains," he said, adding that it is a complex mission that will "take time to accomplish.

"While these results in Iraq and Syria are encouraging, we have to stay focused on the continued execution of this plan," he said.

Carter voiced confidence in retired Marine Gen. James Mattis, his likely successor who President-elect Donald Trump plans to nominate for the job once he takes office. "I've worked with Jim for many years … and I hold him in the highest regard," Carter said.
Topics: Defense Department, Defense Innovation