Defense in 2017: Disruption Is the Operative Word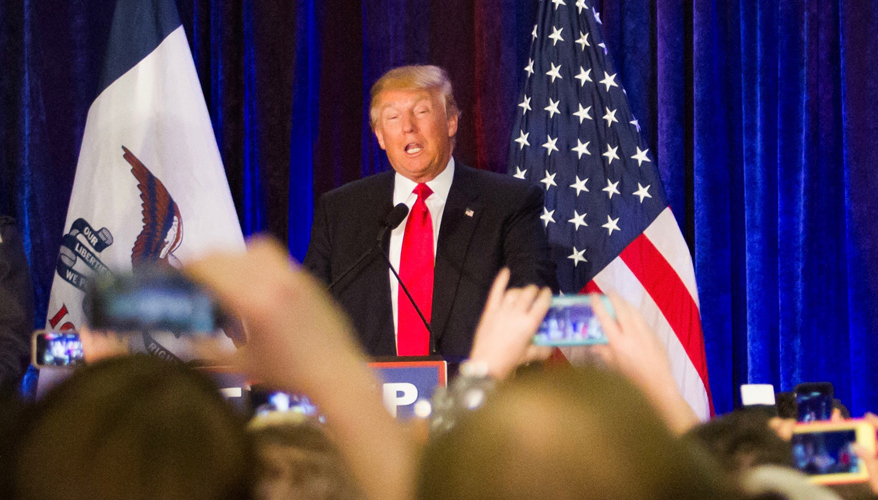 Photo: Max Goldberg
The defense industry is buckling up for the roller-coaster ride that is likely to be the Trump administration.
The sector has been stumped by President-elect Donald Trump's morsels of policy stances revealed in tweets over the past month. Shots fired against the F-35 and defense contractors in general — suggesting a broader campaign may be waged against big-ticket military procurements and Pentagon contracting practices — are hard to square with his rhetoric in favor of a bigger Navy, a modernized nuclear arsenal and a stronger military overall. The guessing continues on whether he will be a Reaganesque hawk, a slash-and-burn reformer, or if he will back off from past rhetoric once he is in the Oval Office and must deal with Congress and the world at large. Or all of the above.
An apparent lack of consistency in the incoming president's defense and foreign policy positions so far is creating both anticipation and dread.
The prospect of a president diving into the weeds of defense contracts can be both unsettling and encouraging, depending on who is asked. In the defense industry, many observers have been waiting for Trump to shed light on larger issues that will decide the future of defense spending, such as how he will unclog the fiscal jam that has kept federal budgets under tight caps. They have waited for clues from the president-elect on how he will balance his desire to boost defense against other priorities, and how his advertised tax cuts might drain government resources and possibly derail plans to build up the military.
"I have a positive feeling about things," says Charles (Chuck) Wald, a retired Air Force general and vice chairman of Deloitte Services. He believes additional scrutiny on defense programs "is probably good." Wasteful spending by the Pentagon is not "new news," Wald says. "There are areas that need to be looked at. There is room for improvement on the business side of the Pentagon."
Trump's tweets of the past several weeks should be viewed as shots across the bow, Wald says. There is a need for a broader discussion about efficiency in defense programs and also about requirements, he adds. 'What threats are we trying to answer? What are the systems we need to have an advantage? The scrutiny is fair. Do current programs earn themselves a place in the future?"
Budget Pressures

Trump may be able to squeeze some savings from the F-35, Air Force One or other weapons programs but that will not even come close to the money the Pentagon needs to plug gaping holes in its current budget, analysts say. "The dollars aren't there [to meet growing defense needs] unless you drive up the deficit in a crazy way," says Lou Crenshaw, a retired Navy vice admiral and defense industry consultant.
The same budget pressures that dogged Obama will continue, Crenshaw says. Trump will have to tackle mandatory entitlement programs that account for the bulk of government spending, and figure out how to pay for planned tax cuts. Even if every Pentagon procurement program were wiped out, that still would not begin to make a dent in the problem.
"Unless something is done, a significant portion of our treasure will go to servicing debt," Crenshaw says. He cites Deputy Defense Secretary Bob Work's recent estimate that the Pentagon is hundreds of billions dollars short of what it needs to meet requirements over the next five years.
The current five-year budget is $107 billion above congressionally mandated limits. Unless Trump can negotiate a deal with Congress, the Pentagon will have to cut spending by $21 billion a year starting in 2018, Work cautioned. The modernization of the U.S. nuclear arsenal — which Trump has indicated he will support — will require an additional $17 billion a year from 2022 until 2043.
Trump has listed among his top defense priorities the elimination of the budget caps and finding "efficiencies" within the defense budget to pay for new capabilities. To create substantial savings from so-called efficiencies, the Pentagon would have to downsize both in people and facilities, experts agree. Cutting weapons systems would save money but would leave the military with no ability to modernize. Support contractors are favorite targets, but that can be harder to do than imagined, says Crenshaw, who used to oversee Navy resources.
"It's easy to say we have too many contractors, and that there's too much fraud, waste and abuse in the system, but what do you cut?" he asks. "Those who maintain our training command aircraft? Those who feed our sailors at mess halls? Those who man sealift ships?" There are critical functions that contractors perform. "Contractor is an amorphous term people like to use as scapegoats in my opinion."
Crenshaw had to deal with that very issue when he served under then Chief of Naval Operations Mike Mullen. "We were told to pressurize the contractor account, that we had too many contractors," he says. In the end, organizations find they cannot stop doing things so they "salami slice" programs to absorb cuts. "People are doing things. You can't just tell people 'don't come to work anymore.'"
With retired Gen. James Mattis as the likely defense secretary, there is much speculation about how he might take on business reforms. Crenshaw, who has worked with Mattis, predicts he will be aggressive. "I don't want to underestimate him. Once he sticks something in his head, he is ruthless about pursuing that." The problem will be prioritizing the busy agenda that awaits him, Crenshaw says. "He's not going to be able to put the time and energy and effort into it." The responsibility likely will fall on the deputy secretary and the chief management officer. There will be many political hurdles "when you start messing with many rice bowls."
Tough Choices

Mattis' track record shows he can make tough decisions on defense cuts, says retired Maj. Gen. Arnold Punaro, CEO of The Punaro Group.
As a member of the Defense Business Board, Punaro has been involved in previous administrations' attempts to make the Pentagon leaner and more efficient. Former Defense Secretary Robert Gates made a big push in 2010 but came up short of the savings he wanted. "We looked at the combatant commands and how much they had grown, especially the Joint Forces Command that had more contractors than military personnel," Punaro recalls. Mattis at the time was commander of JFCOM. "We recommended the disestablishment of JFCOM. I consulted with Mattis, and asked him to take a hard look at his own command, and he did," Punaro says. "To me, that's the mark of a true reformer, someone who can look in his own back yard and say, 'we need to take strong steps.'"
A 2015 Defense Business Board study estimated the Pentagon could save $125 billion over five years by reducing overhead, although Punaro now believes that was a "phony" number. "There's no low hanging fruit," he says. 'There are no easy cuts to be made. I've been trying to do this for 20 years. You can't get that level of savings in the Pentagon without cutting people."
Punaro predicts budget pressures will intensify. The latest National Defense Authorization Act mandates pay raises and personnel increases that create a $48 billion shortfall in the five-year defense budget, he says.
Former Pentagon comptroller Robert Hale says the Pentagon could save $5 billion a year by reforming military healthcare, eliminating unneeded infrastructure and other measures that in recent have proved politically undoable. "None of this is easy," he says. "It requires high-level attention, care and feeding."
Industry Fears

Beyond the usual worries about budgets and the fate of major weapons systems, other concerns loom for the Pentagon and its contractors regarding Trump's trade and foreign policies and how they might affect national security.
Trump's social-media bombshells at the F-35 have been interpreted as warning shots from an incoming president who intends to stand up to the military-industrial complex and use his negotiator skills to save taxpayer dollars. But the specific targeting of the F-35 suggests Trump also may be seeking to bolster his populist bona fides by launching attacks on the multinational F-35 program. Following last week's tweets by Trump, comments posted on @NationalDefense praised the president for taking a stand against "globalists who take advantage of taxpayers … globalists in DoD that have fought and defended the F-35 for eons as the best capability."
This could be worrisome for the defense industry, Crenshaw says. "The U.S. economy, the defense budget are all inextricably tied to foreign trade and influence." He has mixed feelings about Trump's rhetoric thus far. Some members of the cabinet are businessmen who recognize the importance of foreign trade and made fortunes outside the United States. "But I do worry about pulling away from international agreements," Crenshaw says. "You can bet every time the U.S. wavers, the Chinese or Russians will step right in. We've seen that again and again."
Arms sales — particularly high-profile fighter jets like the F-35 — have been a powerful tool of U.S. foreign policy, so Trump's jabs at the program are sending shockwaves for reasons that go beyond their impact on Wall Street. "It is possible that the president may back off when he sees these realities," Crenshaw says. "Certainly Mattis realizes the importance of these relationships."
The industry remains dumbfounded by Trump's overture to the Boeing Co. to "price" a more advanced version of the F/A-18 Super Hornet as a lower-cost alternative to the F-35. No matter how outlandish this might seem, investors should "probably start planning on Lockheed's margins getting squeezed and Boeing enjoying some F-18 resurgence," writes defense investor and blogger Patrick Gunn. "There is a strong case for the number of F-35s being ordered to be cut down, for F-18s to regain some prominence."
This take on the situation may be short lived, though, until the next round of tweets. The new political reality raises the probability that "major programs could be at risk at the whim of Trump and that populism will swamp analytical assessments and the desires of military leadership," industry analyst Byron Callan, of Capital Alpha Partners, writes in a note to investors.
Trump's meddling in the fighter jet business has cast a huge cloud of uncertainty as it shows he is willing to disrupt programs regardless of the technical rationale, or lack thereof, for replacing the F-35 with F/A-18s. The Navy and Marine Corps operate F/A-18s, but the Air Force does not. The Air Force does not operate F/A-18s so there would be huge costs to integrate that type into its inventory, Callan points out. "Trump may not understand at all the international nature of the F-35 program and the impact of a decision to assess it against the F/A-18. If international partners become concerned that F-35 will not reach production rates of 150 or more by 2020, the unit price will increase."
Analysts continue to scratch their heads about all this. "Unless the rules of physics have changed, you cannot make a non-stealthy two-engine carrier based aircraft from the 1980s into a single engine, multi-role stealthy fighter from the 2000s," observes Robert Stallard, of Vertical Research Partners. And he fears that Trump's tweet "grief" has spooked investors.
As the industry braces for a new year under new leadership, the mood is tense with a hint of optimism, despite the high drama of the transition. Trump's shots at the defense industry clearly are a wake-up call to a new reality for the business as he promises not to be a business-as-usual Republican president.
Topics: Defense Department, Air Power